After the opening day produced 19 goals it was a far tighter day in the Mens competition at the SA Hockey Under 21 IPT in Eastern Cape. SG Witsies marked their arrival in the tournament when Reese Scheepers scored either side of Eduard van der Walt to give the Johannesburg men a 2-1 win over North West and leave the two teams tie in Pool A.
That result opened the door for the Northern Blues to take charge of the Pool. They twice took the lead against the KZN Raiders both times through Cameron le Forrestier. But they were pegged back through Ross Montgomery and Tyler Tomsett. At the end both teams having to settle for a 2-2 draw as no goals were scored in the final quarter.
An incredibly tight battle between two giants of South African Hockey saw Western Province and Southern Gauteng was finally lit up when Tebogo Maseko gave Owen Mvimbi's side the lead. But the cape side pulled level with Hans Neethling netting with just 8 minutes remaining. The score would finish 1-1 and the teams had to settle for a point a piece.
The hosts, Eastern Province, were the only team to keep a 100% record after day two. Craig Saunders scored the only goal in the 54th minutes of a tough game which threatened to boil over at various times.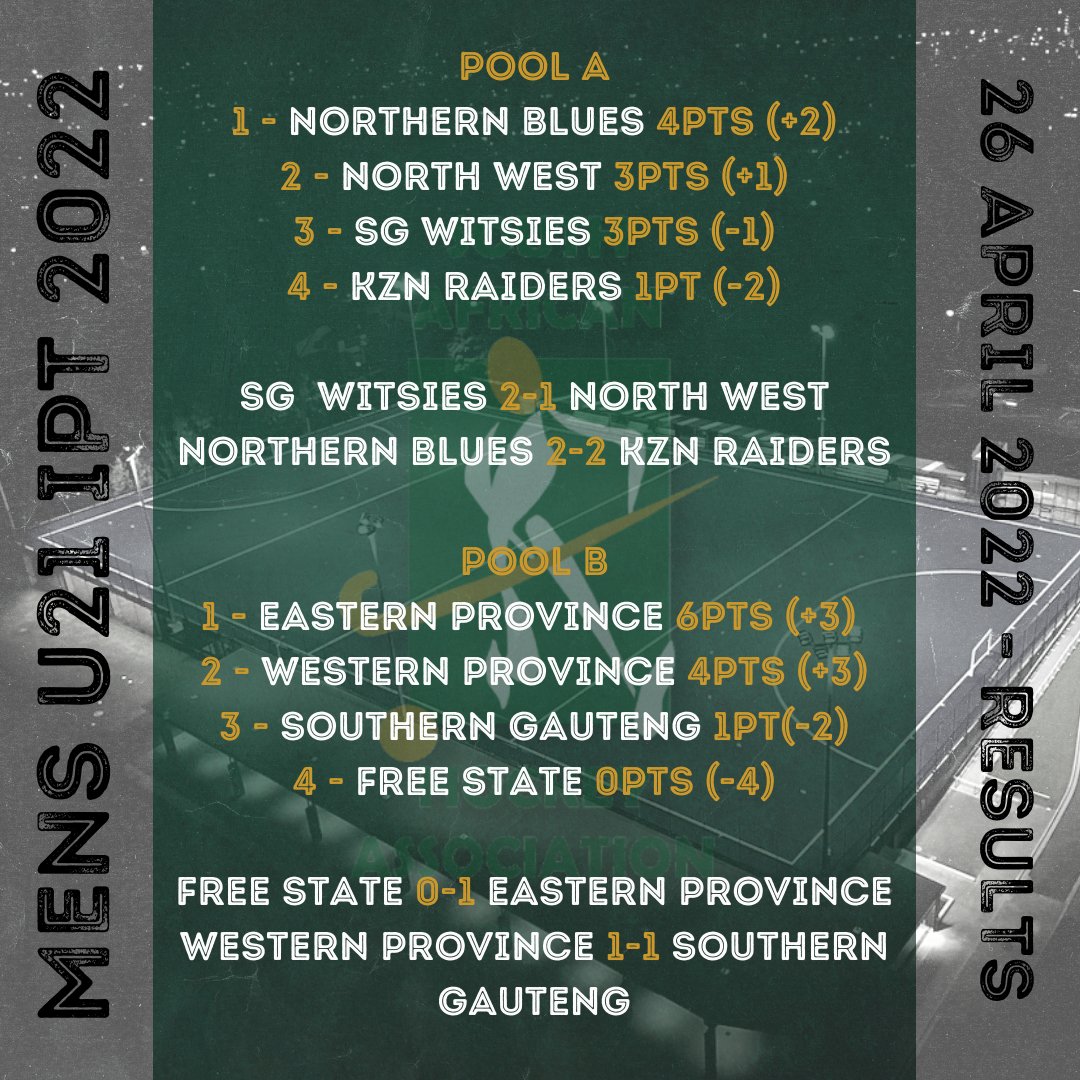 The Womens tournament got underway today with an absolute cracker as 2019 champions Southern Gauteng had to fight from two goals down to Free State (scored by Chemelda Ontong and Kayla Olivier). They did it slowly but surely through Kiara Meyer, Jesquinique Coltman and a late goal from Emma Paget that sealed the victory.
KZN Raiders and North West proceeded to produce their own five goal thriller. Kara Nel and Cailynn den Bakker got two goals to take the lead. But Carien Breytenbach pulled back for North West. Aimee-Rene JAcbos re-established a two goal lead before Micae Myburgh set up a grand stand finish with a final quarter goal. But it wasn't to be and the Raiders got the win.
It was straight forward 2-0 victories for Northern Blues (Cerian Fourie and Kutlwano May) over WP Pens and for Western Province (Julia Hoal and Katlego Bodibe) over the hosts Eastern Province.
Southern Gauteng continued where they left off in the opening game sprinting into a three goal lead over the EP Settlers. Coltman, Reabetswe Phume and Kelsey Stark all netting in the first half, although the Settlers late goal through Lara Kleinhans was perfectly timed as a potential momentum shift. That goal didn't change the momentum as Southerns became the first team to net five in either tournament as Shanna Mendonca added a brace. Coltman and Caitlin Scott added two further goals and the dominant Southerns immediately underlined their names in the favourites column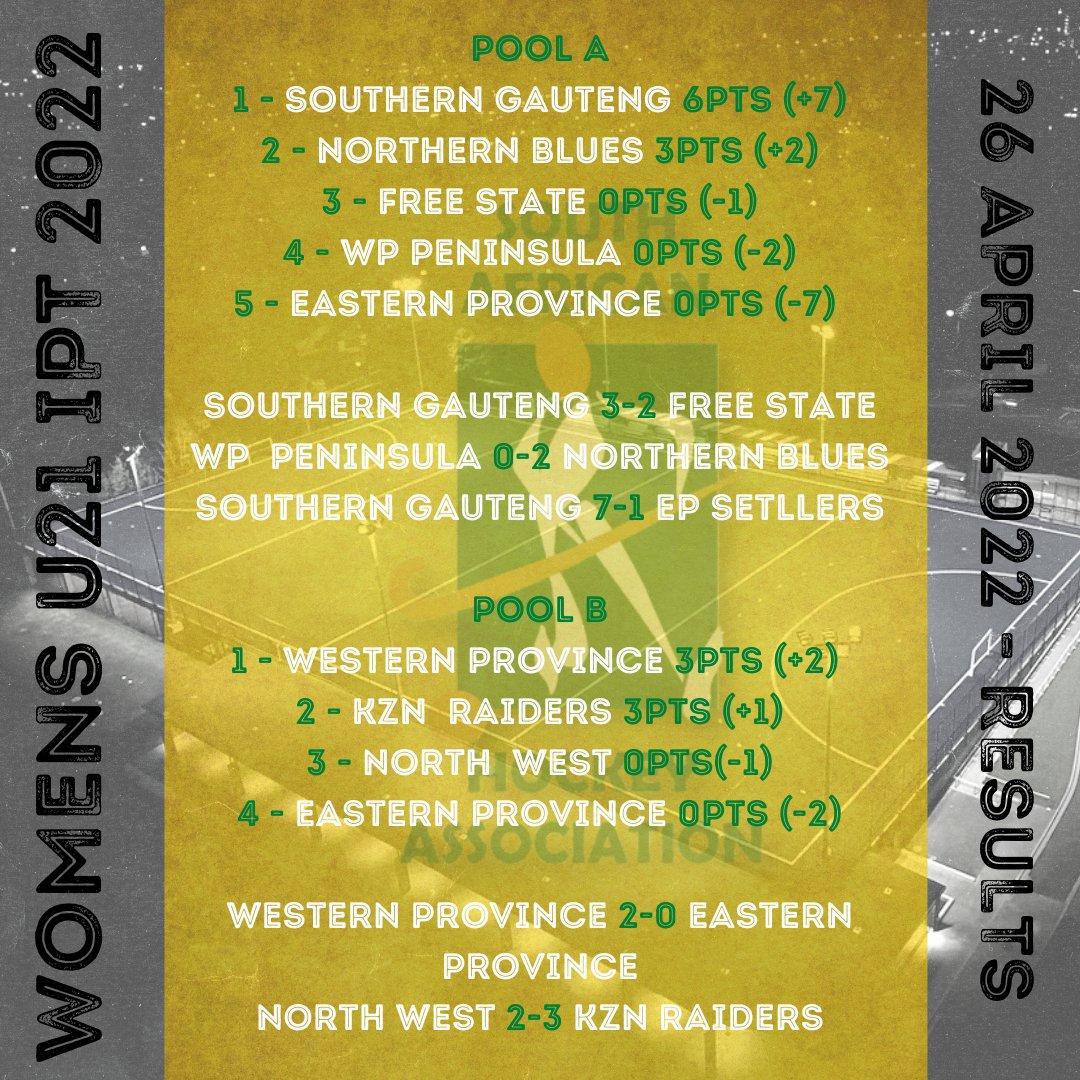 SA UNDER 21 IPT 2022 – FIXTURES – 27 APRIL 2022 - MEN
KC MARCH ASTRO – 08:00 – KZN RAIDERS VS. SG WITS
KC MARCH ASTRO – 10:00 – NORTHERN BLUES VS. NORTH WEST
KC MARCH ASTRO – 12:00 – SOUTHERN GAUTENG VS. FREE STATE
KC MARCH ASTRO – 14:00 – WESTERN PROVINCE VS. EASTERN PROVINCE
SA UNDER 21 IPT 2022 – FIXTURES – 27 APRIL 2022 - WOMEN
GREY HIGH SCHOOL – 08:00 – NORTHERN BLUES VS. FREE STATE
GREY HIGH SCHOOL – 10:00 – WP PENINSULA VS. EP SETTLERS
GREY HIGH SCHOOL – 12:00 – KZN RAIDERS VS. WESTERN PROVINCE
GREY HIGH SCHOOL – 14:00 – SOUTHERN GAUTENG VS. NORTHERN BLUES
KC MARCH ASTRO – 16:00 – NORTH WEST VS. EASTERN PROVINCE
KC MARCH ASTRO – 18:00 – FREE STATE VS. EP SETTLERS