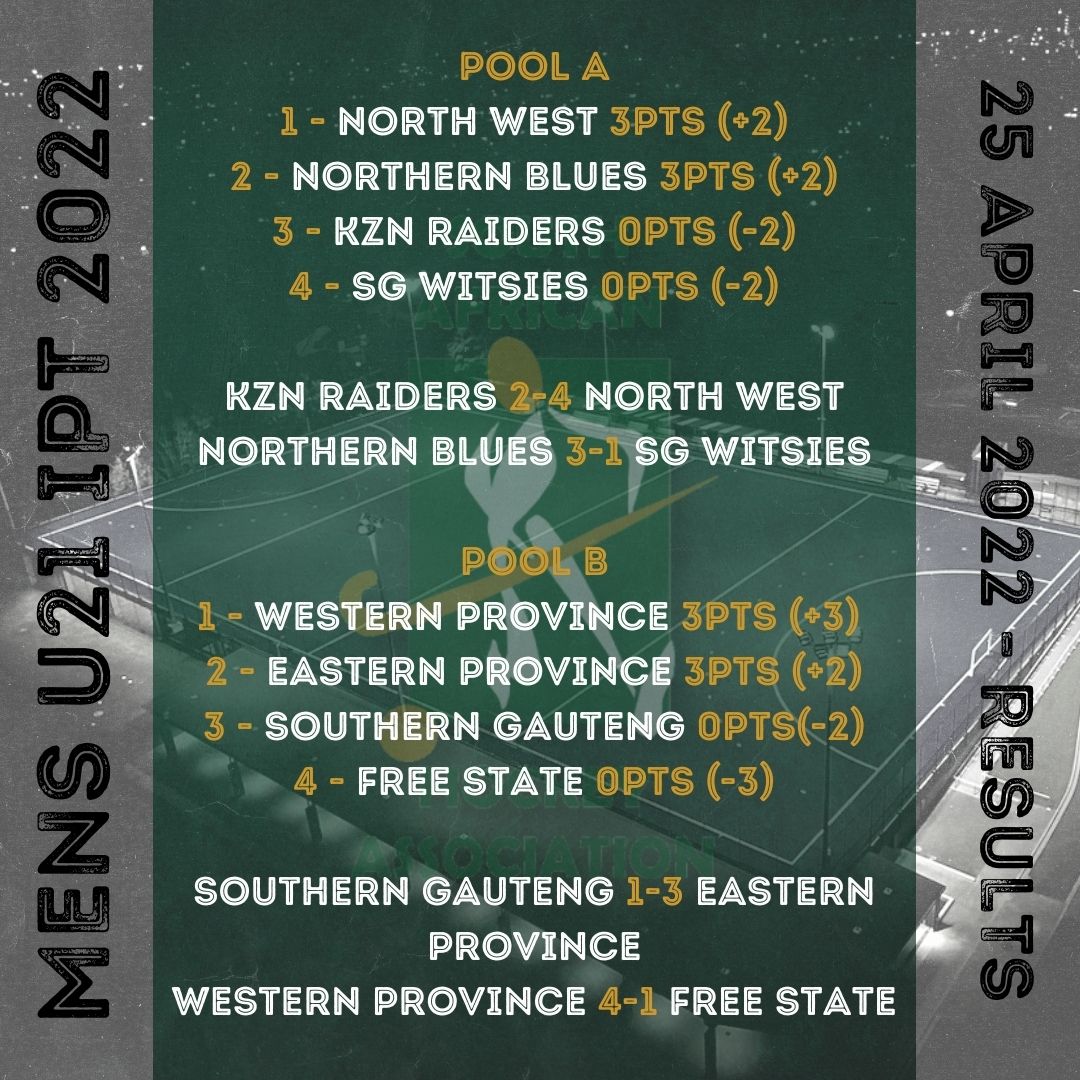 The opening day of the 2022 SA Hockey U21 IPT, the first of this tournament since 2019, saw the men's eight teams in action and all 8 got off to goalscoring starts. All four games did have winners though meaning four teams have smiles on their faces tonight, while the other four are frustrated.
North West laid down an impressive early marker in the opening game as a Keenan Wax hat-trick inspired them to a 4-0 lead (Eduard van der Walt got the other). That was the score with less than three minutes on the clock before a quick fire brace from Callum Osborne added some consolation to the score line, but also a warning that the Raiders do have some fire power in their arsenal.
Joshua Voight opened the scoring for the hosts but they were quickly pulled back by International indoor player Marvin Simons for Southern Gauteng. Southerns thought they had got a second but instead it was Storm Phillips and Nicholas Keevy who added goals for Eastern Province to set them up on a winning start.
The Northern Blues are looking to add this title to the one delivered in 2019 and they have the firepower to do that. Cameron le Forrestier, who impressed so much at the FIH Junior World Cup in India, showed why he has already earned a senior call up banging a hat-trick of goals for the men from the Capital. Unako Nowele scored the solitary goal for SG Wits, which was ultimately nothing more than a consolation goal.
Western Province got off to a flying start scoring in the third minute through Viwe Mbata, but they were pegged back by Free State when Elrich Jacobs levelled the scoring. From there on though it was always the Cape based side looking more likely and they took home their dominance with goals from Damian Knott, Cody Schoeman and Thabang Jeyi.
Tomorrow the teams look to continue their challenge and we hope for more goals after the opening day produced 19 goals across four games. All four winners and day one will take home teams looking to prove a point having tasted defeat on the opening day.
Tomorrow also sees the start of the women's tournament as the nine teams battle it out for Junior supremacy of South African hockey. Although the games will not be streamed you can stay updated on SAHockey.co.za and the various social media channels.
SA UNDER 21 IPT 2022 – FIXTURES – 26 APRIL 2022 - MEN
GREY HIGH SCHOOL – 08:00 – NORTH WEST VS. SG WITSIES
GREY HIGH SCHOOL – 10:00 – SOUTHERN GAUTENG VS. WESTERN PROVINCE
GREY HIGH SCHOOL – 12:00 – NORTHERN BLUES VS. KZN RAIDERS
GELVANDALE – 14:00 – EASTERN PROVINCE VS. FREE STATE
SA UNDER 21 IPT 2022 – FIXTURES – 26 APRIL 2022 - WOMEN
GELVANDALE – 08:00 – SOUTHERN GAUTENG VS. FREE STATE
GELVANDALE – 10:00 – NORTH WEST VS. KZN RAIDERS
GELVANDALE – 12:00 – WP PENINSULA VS. NORTHERN BLUES
GELVANDALE – 16:00 – WESTERN PROVINCCE VS. EASTERN PROVINCE
GELVANDALE – 18:00 – SOUTHERN GAUTENG VS. EP SETTLERS