After 5 days of action, we are down to a top two in both men's and women's tournaments.
Southern Gauteng took on the slightly favoured KZN Raiders in the first semi-final and a game of true quality ensued as two of South Africa's most exciting coaching locked horns in Tsoanelo Pholo and Nolwazi Nkabinde. Cloe de Souza opened the scoring for the inland giants, but Emily Macquet was on hand to equalise for the coastal side. Despite both teams trying their best they could not find a winner and the game went to a shootout. Southerns netted 3 from their four while Morgan de Jager could only be beaten once in five and it was a place in the final for the Jozi girls.
A remarkable second semi-final had a remarkable conclusion. Kayla Swarts had opened the scoring for Western Province but Kutlwano May had restored parity. Western Province thought they had the winner when Jodie Collins netted late late in the game. But the drama would still unfold as Emmere Steenkamp scored right as the hooter was warming up. A second semi-final shootout would take place and this one went all the way to sudden death. Laiken Brisset scored for Northerns and that would be enough to secure a final against their Gauteng neighbours!
Elsewhere it will be Eastern Province and Free State who play off for the fifth place as they overcame WP Pens and North West respectively.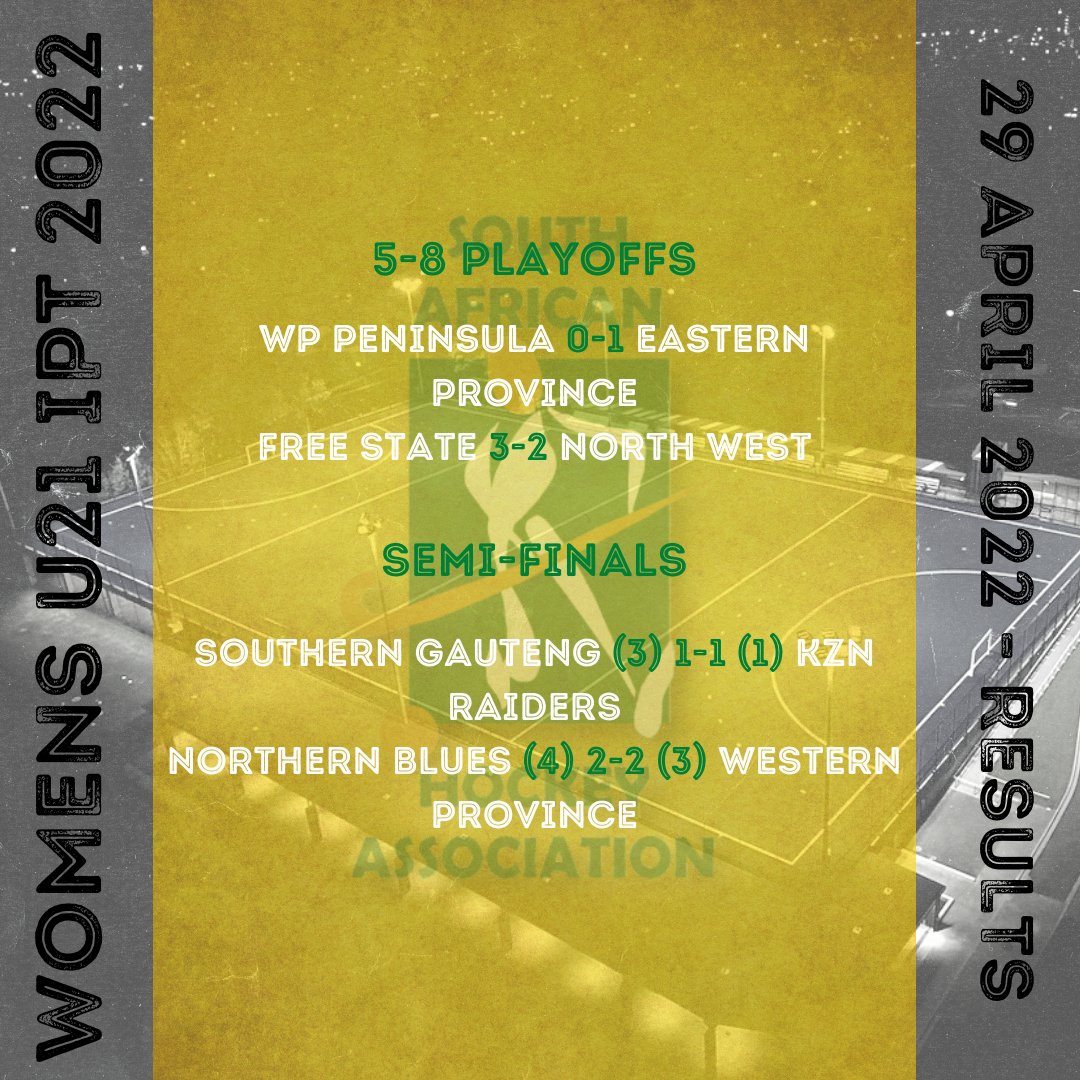 In the opening Semi-Final of the Men's, a game of frenetic goal mouth activity saw seven goals between the Northern Blues and Eastern Province split by just one. There were two for Cameron le Forrestier and two for Calvin Davis as the defending champions stormed into a 4-1 lead. But the hosts spurred back into action as Joshua Voight got his second and third within 90 seconds and the belief grew. Unfortunately, it was not enough and at the end of the day it was the 2019 champions who secured a 2022 final.
And in matching the women's final it will be an all-Gauteng affair as Southern Gauteng won their way into the final too. They had to come from behind as Daminan Knott scored first for Western Province to establish a lead that would last for 50 minutes. The lead was suffocated by the goal of Kenoe Christians, and the game went to a shootout. Southerns were more clinical, by a tiny margin and won the shootout 3-2 to seal a place in the final.
Free State and KZN Raiders will play off in the 5th place match after solid victories against SG Wits and North West respectively.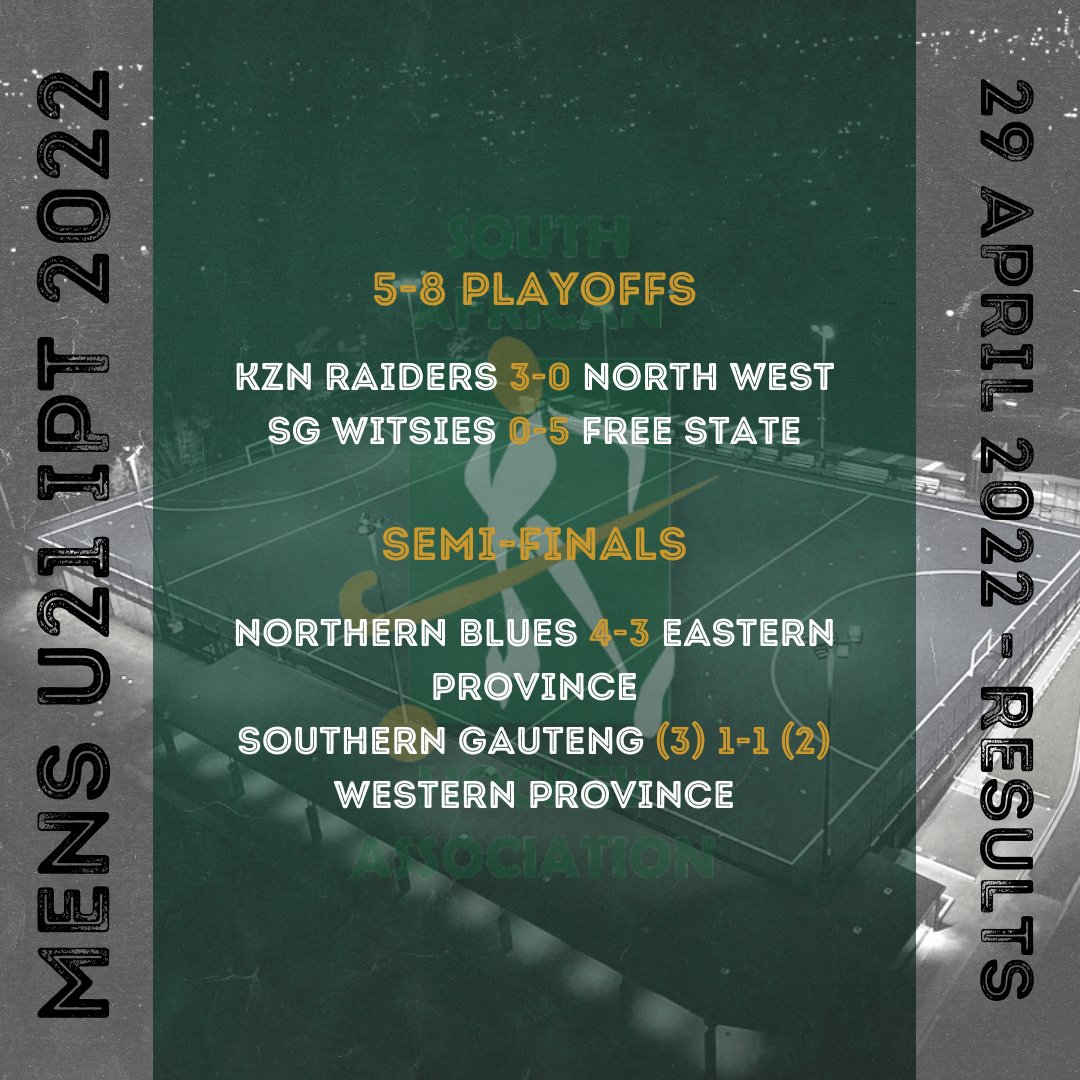 SA UNDER 21 IPT 2022 – FIXTURES – 30 APRIL 2022 - MEN
7-8 PLAYOFF - 13:00 – PEARSON
SG WITSIES VS. NORTH WEST
5-6 PLAYOFF - 15:00 – PEARSON
KZN RAIDERS VS. FREE STATE
3-4 PLAYOFF - 12:00 - KC MARCH ASTRO
EASTERN PROVINCE VS. WESTERN PROVINCE
FINAL - 16:00 - KC MARCH ASTRO
SOUTHERN GAUTENG VS. NORTHERN BLUES
SA UNDER 21 IPT 2022 – FIXTURES – 30 APRIL 2022 – WOMEN
7-8 PLAYOFF - 11:00 – PEARSON
WP PENINSULA VS. NORTH WEST
5-6 PLAYOFF - 08:00 - KC MARCH ASTRO
EASTERN PROVINCE VS. FREE STATE
3-4 PLAYOFF - 10:00 - KC MARCH ASTRO
KZN RAIDERS VS. WESTERN PROVINCE
FINAL - 14:00 - KC MARCH ASTRO
SOUTHERN GAUTENG VS. NORTHERN BLUES