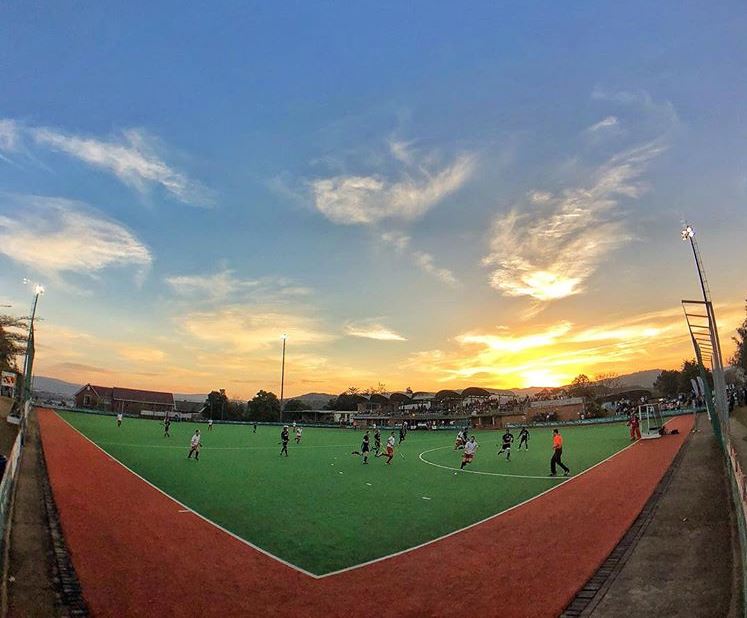 Photo - Martin van Staden
The biggest game of the tournament, on paper, so far wrapped up day 3 at the South African Hockey Men's IPT in Pietermaritzburg. It was a clash between the two Titans of SA Hockey, Tuffy Western Province and Southern Gauteng. Austin Smith vs. Nic Spooner, Rhett Halkett vs. Owen Mvimbi, Ryan Julius vs. Rusten Abrahams and Keenan Horne vs. Dan Bell. It's a collection of stars so widely respected that you can't help but get excited by the prospect of the two sides battling it out on the turf.
And battle is an apt description as the two sides slugged it out for 60 minutes to gain the supremacy in group A. Matt Brown eventually broke the deadlock with a penalty corner and Richard Pautz, the top scorer in the tournament, bagged a field goal in the last minute to settle the result, repeating the group victory from 12 months ago. The result kept Southern Gauteng top of Group A and still in charge of their own destiny in making the semi-finals.
They are currently joined atop Group A by the defending champions who highlighted the gulf in class against North West with nine different scorers including Daniel Sibbald, Jethro Eustice, Bili Ntuli and Tim Drummond amongst others. There was a phase of hockey in the third quarter where the Raiders netted 6 goals in 10 minutes, that was truly devastating.
In Group B the two Gauteng sides sit atop the table with both Witsies and Northerns Blues winning their games in much less routine fashion. Witsies getting their goals through Thabang Modise and Gerald Mpopo in a 2-0 win over KZN Mynahs, who showed a much better defensive display, while the Blues had to work extremely hard to seal a 1-0 win against Eastern Province thanks to Tim Guise-Brown.
The other A Section results saw the SA Invitational U21 side easily overcome Southern Gauteng Nuggets, while Pens and Free State played out the first, and only draw of the 18 games so far ending 2-2. Incredibly it was 2-0 to Pens in the last minute before Free State scored twice through Emile Cloete and Jacque van Tonder to steal the most unlikely point.
In the B Section it was the impressive SA Country Districts that stole the show with a dismissive 8-2 victory over Northern Cape "A", Tjoff van Staden the star with a hat-trick. Northern Cape "B" also sealed a victory to remain unbeaten in a heated match with Mpumalanga that featured 5 yellow cards and 3 greens.
Day 2 Results – A Section
WP Peninsula 2-2 Free State
SG Witsies 2-0 KZN Mynahs
KZN Raiders 10-0 North West
SA Invitational U21 5-0 SG Nuggets
Northern Blues 1-0 Eastern Province
Tuffy Western Province 0-2 Southern Gauteng
Day 2 Results – B Section
Northern Daisies 4-3 KZN Inland
SA Country Districts 8-2 Northern Cape A
Mpumalanga 2-4 Northern Cape B