In 2017 the KZN Raiders romped to the title dismissing all before them. 12 months later and the team looked significantly different. Of the 11 to feature in the tournament in Durban last year, 9 were not available leaving only Jarryd Jones and Greg Last. A host of players that featured for the Mynahs last year, finishing fifth, took the step up including Keegan Hezlett, Jayson Reed and Jonty Robinson. The remaining spots were filled by young debutants. The chances of a fourth consecutive title and the unheralded double double (back-to-back indoor and outdoor IPT champions) were a lot lower. And then they started the tournament with a defeat.
But slowly and surely game by game Cameron Mackay's team started growing in stature and composure and when they beat Pens in the semi-final it set up a third consecutive final against Southern Gauteng.
Keegan Hezlett, who had a fine goal-scoring tournament, got the early lead for Raiders. Chad Futcher, the Southern Gauteng captain, pulled a goal back and his form in this tournament deserved a title. Unfortunately, his team mates could not keep their composure and at times appeared more interested in arguing decisions than playing indoor hockey. The Raiders took advantage of this mindset and after Hezlett got his second the Jarryd Jones show started. The World Cup star was everywhere making tackles, interceptions, through balls, key passes and finishes. In the space of three minutes he took the game away from Southern Gauteng with another two goals.
After a delay to the start of the second half, the Raiders continued their dominance and South Africa's indoor hockey superstar Jarryd Jones completed his hat-trick with a beautiful finish. There was also time for a Jason Flanagan goal and a Cameron Goodwin masterclass in goals, before Julian Hykes missed a stroke too.
Chad Futcher was the scorer of the last goal of the tournament and he was honestly a superbly bright spot on a dark night for Southern Gauteng. The game was over, and the unfancied Raiders had their hands on a historic double-double.
Bronze medal was won by Namibia who were outstanding throughout with Liam Hermanus and Cody van der Merwe getting the attention of all the South African fans. Trevor Cormack is a man who coaches with class and his team are performing in much the same way.
Fourth was Pens, fifth was Northern Blues, sixth was WP, seventh PSI WP Invitational (With 16-year-old Mustapha Cassiem starring), Mpumalanga 8th, Eastern Gauteng 9th and the KZN Mynahs 10th.
Jarryd Jones was obviously named player of the tournament while Sizwe Mtembu (Northern Blues) was named goalkeeper of the tournament.
After three days of indoor hockey at the Belville Velodrome we are left with the top four in both the Mens and Women's tournament. The tournament structures meant that the men had four quarter finals to decide the final four while the women completed their group stage and the top two from each group progressed to the trophy matches.
Mens Indoor Hockey IPT 2018 | Quarter Finals
Namibia 13-0 Mpumalanga
Northern Blues 3-6 Southern Gauteng
KZN Raiders 7-4 Psi WP Invitational
WP Peninsula *7-7 Western Province
It was business as usual for the superbly coached Namibian side as Trevor Cormack's boys burst the Mpumalanga bubble with ease in a massive dismantling of the Hockey Farm alumni. They were joined in the Semi-Finals by Southern Gauteng, a team inspired by their four-goal scoring captain Chad Futcher in victory against their Northern neighbours the Blues. A three-goal burst in three minutes in the second half were the major differentiator between the two sides.
The defending champions, the KZN Raiders, were never trailing in their game against the PSI WP Invitational side, but they were well tested. Keegan Hezlett was the hero for the Raiders with four goals, but Jarryd Jones was the star of the show, regularly showing why he is so highly regarded in indoor hockey circles.
The final quarter final was a classic A vs. B team grudge match that lived up to expectation remarkably. WP Pens surprised no one with their intensity but it was enough to earn a half time lead of 4-3 with Ryan Byrne scoring the pick of the goals. The second half had the exact same score line but the other way meaning that despite the best efforts of Dale Isaac and Dayaan Cassiem, the WP men were held to a 7-7 draw with Pens and the winner decided on a shootout.
To the joy of the couple of hundred supporters and to Devin Stanton, Pens were victorious in the shootout winning 2-1 and progressing to the final four to the shock of their "A" team.
Mens Indoor Hockey IPT 2018 | Semi-Final Fixtures
Namibia vs. Southern Gauteng
KZN Raiders vs. Western Province Peninsula
Women's Indoor Hockey IPT 2018 | Group A
Pool A was ultimately decided in the morning game when SPAR KZN Raiders and Southern Gauteng played out a tremendous match to the delight of the crowd. Newly capped South African indoor player Lilian du Plessis missed an early penalty stroke but Southerns would earn the lead through Gabriella Terblanche, but national captain Cindy Hack and former national team mate Shelley Higgo turned a deficit into a lead. Du Plessis made amends with a bullet from the pc on the verge of half-time.
Petro Stoffberg was in sensational form for Southerns in goals denying Raiders with some superb saves, but she could not stop Higgo and Hack from getting their seconds and denying them a win.
The KZN Mynahs managed to seal third spot in the group, meaning they will play for position 5-8, while Free State missed out on that bracket by one goal to the WP Disa's. Eastern Gauteng finished bottom of pool A.
Women's Indoor Hockey IPT 2018 | Group B
Although the top two were decided before the last game, the final game did decide the order of the two when Western Province took on KZN Inland. It was Western Province who produced the most professional performance to snatch top spot with a business like 3-1 win. The highly impressive Nidia Vermeulen got a goal either side of half-time, pushing forward a little more than usual and catching the Inlands by surprise and when Robyn Pinder made it 3-0 it was game over. Inlands did get a superb team goal back through Taryn Turner, but it was a merely a consolation and they would have to settle for a semi-final encounter with SPAR KZN Raiders.
WP Pens secured third spot in the group with 2-1 win over SG Witsies, while Mpumalanga got into the top 8 courtesy of a defensive masterclass in a 1-1 draw with Northern Blues.
Women's Indoor Hockey IPT 2018 | Semi-Final Fixtures
SPAR KZN Raiders vs. KZN Inland
Southern Gauteng vs. Namibia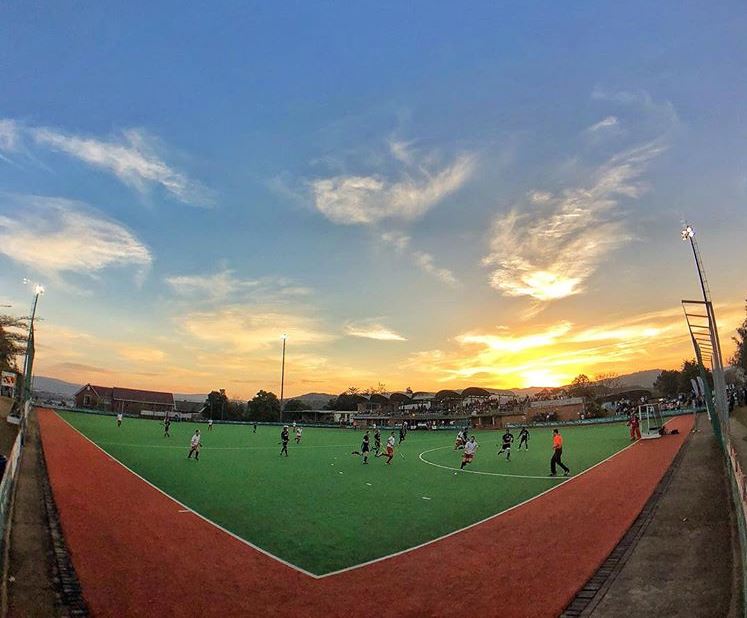 Photo - Martin van Staden
The biggest game of the tournament, on paper, so far wrapped up day 3 at the South African Hockey Men's IPT in Pietermaritzburg. It was a clash between the two Titans of SA Hockey, Tuffy Western Province and Southern Gauteng. Austin Smith vs. Nic Spooner, Rhett Halkett vs. Owen Mvimbi, Ryan Julius vs. Rusten Abrahams and Keenan Horne vs. Dan Bell. It's a collection of stars so widely respected that you can't help but get excited by the prospect of the two sides battling it out on the turf.
And battle is an apt description as the two sides slugged it out for 60 minutes to gain the supremacy in group A. Matt Brown eventually broke the deadlock with a penalty corner and Richard Pautz, the top scorer in the tournament, bagged a field goal in the last minute to settle the result, repeating the group victory from 12 months ago. The result kept Southern Gauteng top of Group A and still in charge of their own destiny in making the semi-finals.
They are currently joined atop Group A by the defending champions who highlighted the gulf in class against North West with nine different scorers including Daniel Sibbald, Jethro Eustice, Bili Ntuli and Tim Drummond amongst others. There was a phase of hockey in the third quarter where the Raiders netted 6 goals in 10 minutes, that was truly devastating.
In Group B the two Gauteng sides sit atop the table with both Witsies and Northerns Blues winning their games in much less routine fashion. Witsies getting their goals through Thabang Modise and Gerald Mpopo in a 2-0 win over KZN Mynahs, who showed a much better defensive display, while the Blues had to work extremely hard to seal a 1-0 win against Eastern Province thanks to Tim Guise-Brown.
The other A Section results saw the SA Invitational U21 side easily overcome Southern Gauteng Nuggets, while Pens and Free State played out the first, and only draw of the 18 games so far ending 2-2. Incredibly it was 2-0 to Pens in the last minute before Free State scored twice through Emile Cloete and Jacque van Tonder to steal the most unlikely point.
In the B Section it was the impressive SA Country Districts that stole the show with a dismissive 8-2 victory over Northern Cape "A", Tjoff van Staden the star with a hat-trick. Northern Cape "B" also sealed a victory to remain unbeaten in a heated match with Mpumalanga that featured 5 yellow cards and 3 greens.
Day 2 Results – A Section
WP Peninsula 2-2 Free State
SG Witsies 2-0 KZN Mynahs
KZN Raiders 10-0 North West
SA Invitational U21 5-0 SG Nuggets
Northern Blues 1-0 Eastern Province
Tuffy Western Province 0-2 Southern Gauteng
Day 2 Results – B Section
Northern Daisies 4-3 KZN Inland
SA Country Districts 8-2 Northern Cape A
Mpumalanga 2-4 Northern Cape B
When Queen penned the lyrics to "We are the champions" I imagine the thought that every major sporting event would have the song ringing out was not at the forefront of their minds. It was however at the forefront of the SPAR KZN Raiders ladies and men today as they successfully defended their Indoor IPT titles.
The SPAR KZN Raiders are a supremely well-oiled machine, who are able to click through the gears remarkably well. It is hard to pick a weakness in their team. At the back, they are superb as seen by the fact that they have not conceded more than 6 goals in the tournament. Less than two a game. Jess O'Connor, Jenna Shuker and Kara Botes offer a sturdy base, ahead of two superb keepers in Zimi Shange and Cheree Greyvenstein, from which the creative flair of Kelly Reed, Shelly Jones and Teagan Fourie are well able to flourish. Up front, the abilities of Cindy Hack and Shelly Higgo and Sethu Sithole are more than enough to punish the opposition.
In the final, the KZN Inland ladies found that out first hand as the Raiders were in clinical mood playing in their white reverse kit. Kelly Reed broke their early stalemate when she netted from a penalty corner and it was all SPAR Raiders from then. The exciting Teagan Fourie netted the second which was quickly followed up by Kara Botes with the third. Two more goals were added in the first half through Cindy Hack and Kara Botes, while Kelly Reed was showing why she is rated as one of the best players in South African Indoor Hockey in a dazzling display.
The second half saw the SPAR KZN Raiders close out the final in a professional manner, limiting the KZN Inland chances to half chances at best and finished off the final with a convincing 6th goal by Shelley Jones after more great work from Reed and Higgo. It was a victory that was well deserved for the hosts who were tested very rarely in the tournament but always passed with flying colours.
Ladies Player of the Tournament – Cindy Hack (SPAR KZN Raiders)
Goalkeeper of the Tournament – Nicole la Fleur (Western Province)
Top Goalscorer – Lilian du Plessis (Southern Gauteng)
FINAL POSITIONS
1 - SPAR KZN Raiders
2 - KZN Inland
3 - Western Province
4 - North West
5 - KZN Mynahs
6 - Southern Gauteng
7 - Northern Blues
8 - Mpumalanga
The Men's final was played between the two top teams in the tournament, with both having won five out of five to make it to the final. It was a tense affair as the two teams battled it out for national glory. Southern Gauteng had early momentum and won a few penalty corners, but they were kept out well by the rear-guard of the Raiders, who in turn had penalty corners but found Jason Briggs in inspired form consistently denying Jethro Eustice.
The game came to life in the 15th minute when Julian Hykes was given a green card and when the penalty corner was kept out Jethro Eustice popped up with the field goal to break the deadlock. Julian Hykes then had a shot saved on the line brilliantly by Robin Jones. Halftime and the score was 1-0 in favour of the Raiders.
If the first half was a tentative affair, the second half looked like it wouldn't be the same as Southern Gauteng scored a fantastic penalty corner through Spencer Botes, but in the same minute, the Raiders pulled ahead again as a Jarryd Jones cross was inadvertently directed in by Miguel da Graca. Matt Fairweather then made it 3-1 when he coolly converted a penalty stroke awarded by Peter Caulder after foul play on Justin Domleo by Rusten Abrahams.
Raiders were turning up the heat and Wade Paton then smashed home a penalty corner to put Raiders 4-1 up with just 9 minutes remaining. A minute later Jethro Eustice finished off a break to make it 5-1.  With 6 minutes remaining Southern Gauteng took off Briggs to play the extra outfield player and immediately won a Penalty corner which was converted through Julian Hykes. Jethro Eustice was then shown a yellow card for his team misbehaving on the bench and Raiders would see out the game a player short. That didn't stop them though as a mistake from Southerns was punished by Geoff Abbott finishing into an empty net.
Julian Hykes would pull a consolation goal back with the last play of the game, but it was not enough as KZN Raiders won the game and were announced as champions for the third consecutive year! Remarkably it meant that the Raiders have now continued to hold both the male and female trophies for indoor and outdoor hockey!
Men's Player of the Tournament – Jethro Eustice (KZN Raiders)
Goalkeeper of the Tournament – Chris McCathie (KZN Raiders)
Top Goalscorer – Ryan Julius (Western Province)
FINAL POSITIONS
1 - KZN Raiders
2 - Southern Gauteng
3 - Western Province
4 - KZN Inland
5 - KZN Mynahs
6 - Northern Blues
7 - North West
8 - Mpumalanga
There was a little bit of gloom in the air around Durban this morning, but that was definitely not brought on by the indoor hockey on display. The early morning saw the cross pool playoffs for position 5-8 before the big semi-finals got underway.
Ladies IPT (Danville Park Girls School)
SF 1 – SPAR KZN Raiders 3-1 Western Province
It was a pulsating affair in which Cheree Greyvenstein (KZN) and Nicole la Fleur (WP) denied every goal scoring opportunity in the first half. It was a tactical masterstroke by Brinsley Powell for WP as they subdued the free-scoring Raiders and created the best chance of the half but failed to punish the SPAR Raiders. In the second half, the Raiders raised the tempo and eventually scored when Cindy Hack set up Shelley Higgo for the tap in, this after Kelly Reed had a goal disallowed. Kara Botes put the second away from a great team effort but WP again refused to be counted out and with four minutes remaining netted through Jamie Southgate. The ladies surged forward but were caught out late on when a goal-bound effort was stopped with a foot on the line and Kelly Reed put away the Penalty stroke in the final play of the game. The SPAR Raiders had survived a mighty test and would now be favourites to defend their crown in tonight's final.
SF 2 – KZN Inland 1-0 North West
Remarkably the second semi-final looked set for a goalless first half but the Midlands ladies decided that would not be the case. 18 minutes of a tactical seesaw was eventually capped off by Kelly Trimborn netting and putting Inlands in front. The second half started with some controversy as the Inland ladies were denied a penalty stroke and seconds later had a goal chalked off. Elmien Marais then showed incredible skill to set herself up one-on-one against the Noxolo Martele but fired wide. Midlands created more good chances and then faced three final minute penalty corners but outstanding defence meant the side that finished 7th last year are now in the final!
5-8 Playoff Results
Mpumalanga 1 (Calitz 5)
Southern Gauteng 4 (Du Plessis 12,14, 28 & 29)
KZN Mynahs 5 (J Cormack 16 & 38, C van Niekerk 22, K Cormack 38 & Gaze 35)
Northern Blues 4 (Pitso 2, Evans 26, Mans 30 & Paans 32)
Mens IPT (UKZN Westville Campus)
SF 1 – KZN Raiders 7-3 Western Province
The heavily favoured Raiders started in that vein when they took on Western Province in the Semi-Final. Jethro Eustice fired a quick brace, one through a penalty stroke, to give them the early lead, before Ryan Julius pulled one back. That encouraged the hosts further who netted two more in quick succession through the talented Jarryd Jones. Legend Dale Isaac pulled another back for Western Province before Geoff Abbott scored a field goal to make it 5-2 at halftime. Early in the second half, Ryan Julius made it 5-3 with a penalty stroke before Greg Last and Geoff Abbott scored field goals to secure the defending champions a spot in the final.
SF 2 – Southern Gauteng 3-0 KZN Inland
Southern Gauteng was determined to get another crack at the final after losing the gold medal match last year and showed that determination with a ruthless first half against the Inland boys. The defence was perfect and capped off by a Penalty corner goal, field goal and penalty stroke through Brandon James, Julian Hykes and Kyle Marks respectively. The second half continued the one-way traffic and Southerns extended their lead through another Kyle Marks penalty stroke before Inland finally put themselves on the board through Brian Gravett. That would be just a glimmer of hope for the Inland Men, looking to emulate their ladies in making the final, as Southern Gauteng raised the tempo and Chad Futcher, Julian Hykes, and Reza Rosenberg netted in the space of 4 minutes to make it 7-1. Although they were too late to really scare Southerns, Inland had the last laugh netting three late goals through a Gavin Jelley brace and Jarred Mitchell to add respectability to the scoreline. What it ultimately means is that it's a repeat of the 2016 final for the men!
5-8 Playoff Results
Mpumalanga 1 (Flowers 12)
KZN Mynahs 10 (Lees 4 & 14, Nyawo 27 & 37, Mackay 6 & 21, Baker 24 & 33 & Kelly-Stack 13 & 38)
Northern Blues 7 (Janse 13 & 26, Lamprecht 4, Paulo 25, 29 & 36 & Odendaal 16)
North West 3 (Botma 24, van Staden 33 & Jeffery 40)
Coach Steve Evans gives his team instructions at Half time in the morning game against Southern Gauteng. Picture - SA Hockey
The 2017 South African Indoor Hockey IPT entered its second day in Durban with extra excitement as day one had given the supporters and players a taste of what to expect from day 2.  The morning fixtures completed the group stage with all focus then turning onto the Quarter Finals.
QF 1 – KZN Raiders 19-2 Mpumalanga
It was a dominant and clinical display by the defending champions as they netted goal after goal against the Witbank men.  Justin Domleo put away five goals and Jethro Eustice got a hat-trick. Scoring was shared across the team as 10 first-half goals became 19 full-time goals. Included in the scoring was a brace for Matt Fairweather, Jarryd Jones, Geoff Abbott and Wade Paton with a single goal for Robin Jones, Iain Evans, and Greg Last. Nathi Masango was the popular goal scorer of both of the Mpumalanga goals
QF 2 – Western Province 5-4 KZN Mynahs
Although they tasted a big defeat to Southern Gauteng in the morning, the Western Province boys would have been fairly confident that they would overcome the Mynahs. They were caught surprised when Cameron Mackay netted early for the Mynahs, but Jody Erasmus and a very quick second from Ryan Julius gave WP the half-time lead. That lead quickly stretched to 4-1 in the 27th minute when Craig Haley scored his second and that should have been the point that the door closed. The Mynahs fought back with Keegan Hezlett and Shaun Baker taking it back to 4-3 before Haley completed his hat-trick to make it 5. But the KZN boys refused to back down netting a fourth through Ryan Williams and setting up a nervy final two minutes. The Cape side held on and find themselves in the final four with a massive game against the Raiders tomorrow.
QF3 – Southern Gauteng 6-3 Northern Blues
Southern Gauteng looks the most likely to challenge the Raiders for the title but has shown a frustrating ability to keep their opponents in the games today, when they really should have put the game to bed earlier. In this game, it took just 9 minutes and the score was four-all. Steven Paulo for Northerns, Chad Futcher for Southerns, Kyle Marks for Southerns and then Francois Janse for Northerns meant the sides were level after a frenetic opening. PG Geldenhuys gave Southerns the lead for the second time and Julian Hykes doubled it before halftime. Hykes made it 5 for Southerns but some Richard Conradie made it a dangerous two-goal game in the 27th minute. Eventually, the nail was slammed home when Geldenhuys scored in the last minute of a game that Southerns probably wanted to win a little bit easier.
QF4 – KZN Inland 7-4 North West
There was no shortage of entertainment in the last game of the day as 11 goals were offered up by Inland and North West. Both teams would have heard news of their ladies heroics and would surely have been spurred on. Jarred Mitchell and the brilliant Matt Coombes made it 2-0 before Gavin Jelley added the third in a tremendous start for the Midlands men. Keenan du Toit, in his first tournament for Inland, and Coombes scored either side of a Pierre Bothma brace to make it 5-2 at the break. Jarred Mitchell quickly made it 6-2 at the start of the second half with a fine field goal before the game went into a sort of lull. Pierre Bothma then scored his third and fourth to put a bit of pressure on Inland for the closing minutes but Michael Horan denied them any hope with the final goal of the game. After falling short of the semi-finals last year, this would have been the minimum goal for the Inland side and they will see it as a job well done.
Men's Semi-Finals
11:00 KZN Raiders vs. Western Province
12:00 Southern Gauteng vs. KZN Inland
The winds were blowing at nearly 30km an hour in Durban today, almost symbolically sweeping the South African Indoor Hockey Inter Provincial Tournament into the coastal city. If the wind was fast, the hockey took up another level with some outstanding moments produced on day one of the historic tournament.
Although the main story of the tournament will be who wins, there will be two outstanding stories that develop throughout the weekend. The first is the long awaited return of the Northern Blues in both the Men's and Ladies tournaments and the second is the ongoing development of Mpumalanga as a hockey region for South Africa.
Ladies IPT
Southern Gauteng would like to go further this year than they did last year, when they fell out in the Semi-Finals and they welcomed SA outdoor superstar Lilian du Plessis into their fold. In the opening game against North West they secured a 1-0 through UJ's Lanne Rossouw. The KZN Mynahs also picked up a first round victory with surprising ease as they despatched of KZN inland 6-0 with both Carla van Niekerk and Jessica Lardant netting braces.
An incredibly young Western Province side showed their intent early on with a good 6-2 victory over Mpumalanga. Two players with Nationals caps, Heather McEwan and Natasha Rootenberg, each scored 2. The Raiders and Northern Blues completed the Round 1 action where the Blues held their own against their much favoured opposition. Eventually the Raiders emerged 4-1 victors thanks largely to Kara Botes popping up with two goals.
The second round of matches featured a superb display by the KZN Mynahs to dispatch of Mpumalanga. The incredible talent of Namibia's 16 year old superstar Kiana Cormack caught this writer's eye as she impressed with work rate and a finishing ability that many more experienced players would love. Inspired by Heather McEwan, Western Province got their second victory of the day beating KZN inlands 3-0, while the Raiders did a workman-like performance in putting 5-2 victory past a plucky North West.
The game of the day was the Gauteng derby as the two sides of the Juskei battled it out to be the provinces top team.  The Blues, featuring a very Outdoor Hockey flavoured side, showed fantastic effort and application in leading 1-0, 2-1 and 4-2. But two late goals from Lilian du Plessis, one a superb reverse stick flick, meant Southern Gauteng shared the points in an absolute classic.
Men's IPT
It appears if you want a crazy, exciting, edge of your seat match, you need to be a KZN Inland supporter. Both of their games were decided by just the solitary goal, first coming from behind to beat KZN Mynahs, while never really closing the door. Their second win was a cracker in beating Northerns 6-5 in a very vociferous game.
Southern Gauteng, Western Province and KZN Raiders all showed why they are favourites for the top four with a pair of victories. Western Province scored 26 goals in their two games, mostly through Dale Isaac and Ryan Julius, while Southern Gauteng netting 20 to sit just behind. Tomorrow morning the two heavyweights will play for top spot in their group and the "easier" cross pool game in the afternoon session.
The defending champions had no problems in a comfortable 7-2 victory against the Northern Blues men, with a hat-trick from Geoff Abbott, and then beating their "B" side the Mynahs with very little difficulty.
Remember you can follow the tournament at the SA Hockey Tournament Management System site here https://saha.altiusrt.com/
The 2016 Ladies Indoor IPT Champion - KZN Raiders
The 2017 South African Indoor Hockey Interprovincial Tournament kick-starts tomorrow in Durban for both the Men and the Ladies. The Men will be looking towards the Indoor Hockey World Cup in Berlin and the players will be doing everything they can to impress the selectors. The Ladies, although not going to the World Cup, are already working on building the squad towards and have a bumper season ahead.
The obvious question on the lips of indoor hockey and outdoor hockey supporters for that fact is can anybody challenge the dominance that the KZN Raiders currently have across both types of the game. The Raiders are the current Men's and Ladies champions in both indoor and outdoor hockey, a first for South African Hockey.
The KZN Raiders ladies side will feature almost an entire line up of national players and are joined by outdoor hockey sensation Shelley Jones. Eloise Walters will be representing the KZN Inland side which will make them extremely dangerous from a goalscoring point of view. You also can not discount the challenge that the two Gauteng sides will bring as both Northerns and Southern Gauteng will challenge the coastal sides, while Western Province is often a bogey side for many.
The remaining teams in the Ladies tournament are the "B" side for the Raiders, the Mynahs, Mpumalanga and North West. All ladies games, excluding the final, will be played at Danville. The final will move to UKZN Westville.
In the Men's tournament, it will be a similar case as the likes of Chris McCathie, Matt Fairweather, Jethro Eustice and Wade Paton who all helped South Africa qualify for the Indoor Hockey World Cup will be in action for the KZN Raiders looking to defend the title they convincingly won in Cape Town in 2016.
Their biggest challenge will come from either Western Province or Southern Gauteng, where both sides have a host of South African capped players including the exciting Ryan Julius (Province) and Rusten Abrahams (Southern Gauteng). The Challenge will further be taken up by Mpumalanga, the Mynahs, North West, and Northerns. KZN Inlands will offer up the final intriguing piece of the puzzle that completes the Men's tournament, on their day the Martizburg men can be scintillating to watch!
All the Men's games will take place at UKZN Westville. There will be daily updates on the SA Hockey website and you can follow the action on the tournament management system, https://saha.altiusrt.com. 
Ladies

 

Men's

Thursday 12 October

 

Thursday 12 October

9:30

W01 - SG vs. NW

 

10:00

M01 - INLAND vs. MYNAHS

10:30

W02 - MYNAHS vs. INLAND

 

11:00

M02 - SG vs. NW

11:30

W03 - WP vs. MPUM

 

12:00

M03 - WP vs. MPUM

12:30

W04 - KZN Raiders vs. NG

 

13:00

M04 - KZN Raiders vs. NG

14:30

W05 - MYNAHS vs. MPUM

 

15:00

M05 - WP vs. NW

15:30

W06 - SG vs. NG

 

16:00

M06 - SG vs. MPUM

16:30

W07 - WP vs. INLAND

 

17:00

M07 - INLAND vs. NG

17:30

W08 - KZN Raiders vs. NW

 

18:00

M08 - KZN Raiders vs. MYNAHS

Friday 13 October

 

Friday 13 October

9:30

W09 - NW vs. NG

 

10:00

M09 - MYNAHS vs. NG

10:30

W10 - INLAND vs. MPUM

 

11:00

M10 - MPUM vs. NW

11:30

W11 - WP vs. MYNAHS

 

12:00

M11 - SG vs. WP

12:30

W12 - KZN Raiders vs. SG

 

13:00

M12 - KZN Raiders vs. INLAND

14:30

W13 - A1 vs. B4

 

15:00

M13 - A1 vs. B4

15:30

W14 - B2 vs. A3

 

16:00

M14 - B2 vs. A3

16:30

W15 - B1 vs. A4

 

17:00

M15 - B1 vs. A4

17:30

W16 - A2 vs. B4

 

18:00

M16 - A2 vs. B4

Saturday 14 October

 

Saturday 14 October

10:00

W17 - Loser W13 vs. Loser W14

 

10:00

M17 - Loser M13 vs. Loser M14

11:00

W18 - Loser W15 vs. Loser W16

 

11:00

M18 - Loser M15 vs. Loser M16

12:00

W19 - Winner W13 vs. Winner W14

 

12:00

M19 - Winner M13 vs. Winner M14

13:00

W20 - Winner W15 vs. Winner W16

 

13:00

M20 - Winner M15 vs. Winner M16

15:00

W21 - Loser W17 vs. Loser W18

 

14:00

M21 - Loser M17 vs. Loser M18

16:00

W22 - Winner W17 vs. Winner W18

 

15:00

M22 - Winner M17 vs. Winner M18

17:00

W23 - Loser W19 vs. Loser W20

 

16:00

M23 - Loser M19 vs. Loser M20

17:00

W24 - Winner W19 vs. Winner W20

 

18:00

M24 - Winner M19 vs. Winner M20
>
>>>

JONATHAN COOK
at the YMCA

The action was fast and furious on day one of the SA Interprovincial Indoor Hockey Tournament (IPT) in the KZN capital Thursday.