Photo: Sydney Mahlangu /BackpagePix
The South African Hockey Association today has confirmed the call up of Kara Botes to the Commonwealth Games squad to replace Bernadette Coston, who is unavailable to travel with Team South Africa. An urgent "Late Athlete Replacement" application was submitted to the Commonwealth Games Federation who subsequently approved the inclusion of Botes.
Kara Botes is an established indoor and outdoor national player for South Africa having collected over 50 indoor hockey caps (the third South African to reach the milestone) and a further 31 in outdoor hockey. Kara was part of the SA Women's Hockey team that qualified for the FIH Hockey World Cup when they finished fifth at the FIH World League Semi-Final hosted at Wits University in Johannesburg.
Kara also was part of the squad that went to Egypt and won the African Cup of Nations in October last year, further underlining how she should be able to blend straight into the squad in Australia.
The South African Women begin their campaign with a tough start against the English on the 5 April, before taking on Malaysia, Wales and India looking to secure a top 2 spot in group A to qualify for the medal play-offs.
The South African Hockey Association wishes Kara and the team well ahead of their tournament.
South African hockey has been blessed with some incredible players over the years. These players have broken world records, become household names and endeared themselves to the South African public. In our newest feature, The Breakaway, SA Hockey will be catching up with former national players and finding out what exactly they have been up to since calling an end to their careers. We couldn't think of a better player to start with than former captain Marsha Cox.
In 2015 South African legend Marsha Cox hung up her stick and retired from international hockey. From her debut in 2001 aged only 18 to her 330th cap in 2015, there was never a time that South Africa as a nation got anything other than world class service from our world superstar. Marsha's career encompassed three Olympic Games, three Hockey World Cups, and Four Commonwealth Games. Marsha was also recognised globally being nominated for the FIH World XI three times, in 2007, 2009 and 2010.
We had a little chat with Marsha around what's been keeping her busy since she decided to hang up her stick.
"Being a mum, work and being co-chair of the FIH Athletes committee as the athlete's rep on the FIH officials Committee and African Hockey Athletes Rep and board member keep me busy these days" shared Marsha. Marsha has served on the committee since she was elected in 2014 and was appointed as the co-chair in 2016, where she also sits on the officials committee and the responsibility does not end there: "I sometimes step in if Annie (Panter) cannot attend Board meetings and I am also the athlete's representative on the Hockey Pro League management panel"
Marsha has also been involved in work with the International Olympic Committee which started when Thomas Bach invited her to be part of an athlete's group with the launch of agenda 2020 way back in 2014: "Since then I was invited to the IOC athletes forum in 2015 and attended the IOC athletes forum again last year as the FIH representative. I am also a member of the IOC steering committee alongside Penny Heynes and the other representatives across the globe and across a number of sporting codes. The steering committee will be establishing an Athletes charter of rights."
Of course, the game of hockey is still incredibly close for Marsha as her husband Alexander coaches Kampong in the Hoofdklasse and last year won their first title for 32 years. "Being close to hockey, that's the massive advantage of the Dutch hockey culture of going to watch the Hoofdklasse every week and staying close to the game and players while supporting my husband's team!" They have also welcomed a child into their lives, which Marsha perfectly describes as "really exciting but busy at times"
I asked Marsha if there was one hockey memory that stood out for her in her career, "there are so many, to be honest, but one of my all-time favourites is our Olympic qualifier in India in 2012. Winning that tournament will never be forgotten but just the whole story about why we were there, how we go there and what we achieved under challenging conditions was just incredible."
Of course, Marsha has also been keen on giving back and recently was involved in an initiative with the Drakensberg Dragons kit collections and Greenwood primary school. "It's a kind of long story but was actually two initiatives that came together. One being the Dragon Drive on the back of the PHL and the other being my own initiative to revive and help elevate the hockey at my primary school in Durban, Greenwood Park Primary. Together with the help of Wayne Phillips (Riverside Hockey Club – the club of Marsha's youth before the merger) the two initiatives came together nicely and will helpfully grow with Riverside Hockey Club too!" You can read all about the handover of equipment here – http://sports24seven.co.za/sa-hockey-heroes-team-up-with-rhc-to-uplift-and-empower-kids-at-greenwood-park-primary/
As the topic of the Premier League came up as we discussed the Drakensburg Dragons Drive, I asked Marsha for her thoughts on the PHL and its role in South African hockey. "I think that it's great! I think it has the potential to grow into something similar to the AHL or the NZHL and it would be great to see grow to the point that the occasional international guest player could be involved. I would love to see it grow and get more backing from supporters and corporates."
Marsha herself participated in four Commonwealth Games and is quite excited about some of the young talents in the South African squad heading to the Gold Coast and singled out Kristen Paton and Ongi Mali for praise. "I think they both present a very promising future for the team. I also am looking forward to seeing some of the players who I played with that have grown immensely since I stopped like Candice Manuel!"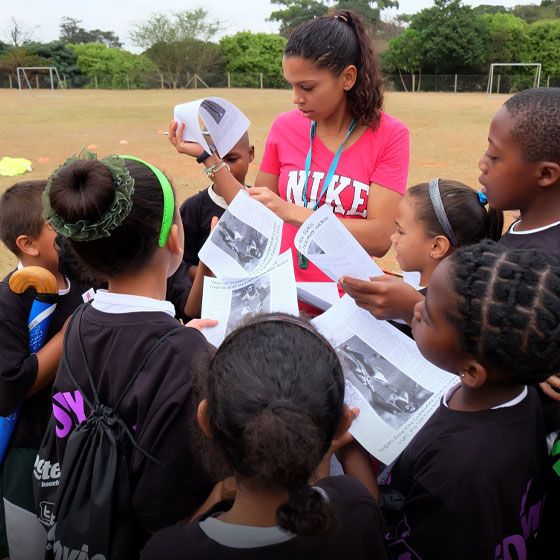 As our conversation headed towards its completion I had to ask Marsha what her plans for 2018 were, "2018 is an exciting year with the World Cup and our role as the athlete's committee to support the next AC elections. I will also continue to be involved with the IOC steering committee as well as all the other committees too! I hope to help support the first African athlete's committee election in 2018! Well in my personal life I'm looking forward to the summer with the husband and the little one while trying to keep fit as well (I run my first half-marathon this weekend!)"
One thing is for sure, Marsha was well known for giving her full go on the field and there is no stopping that effort or determination on the field! Thanks for taking the time to chat with us Marsha and good luck for the big year ahead!
The Breakaway is written for SA Hockey by Tyron "Jabu" Barnard (@TyronBarnard)
There are few names in South African Hockey as unanimously respected as the name of Connie Oh Fond. The marks of her presence will be a consistent reminder for all in SA hockey and in particular the Eastern Province Hockey community.
Aunty Connie as she was fondly and affectionately known was the founding member of one of the oldest women's hockey club in South Africa. A few years ago St Peters Hockey Club celebrated her 70th Anniversary!
Aunty Connie's hockey involvement started as a player and progressed to include various official positions ranging from EP team manageress, official senior delegate to SAWHB meetings and EPWHU President, a role she fulfilled for nearly 30 years. She also served as President of the SA Women's hockey board for a short period.
Nelson Mandela said that "Sport has the power to change the world. It has the power to inspire. It has the power to unite people in a way that little else does. It speaks to youth in a language they understand. Sport can create hope where once there was only despair. It is more powerful than government in breaking down racial barriers." There was no finer credit to this quote than Aunty Connie who was an inspiration to EP and SA hockey during the struggle years!
She was the worst critic and the most ardent supporter of hockey and all those involved with the code at provincial as well as SA level in her pursuance for the best - whether player, administrator or supporter of the code.
Wendell Domingo, member of the SA Hockey Executive committee
"You have heard that Aunty Connie had a strong character and had a low tolerance for the wrongs in life and more especially hockey. She was a no-nonsense woman and would fight for what she believed was right and at times using a few superlatives. Her hearty laugh will echo and be remembered at the hockey field for many years to come. Our prayers and sincere condolences are conveyed to the family and the St Peters Club. May her contribution not be in vain and may her dearly departed soul Rest in Peace."
On behalf of SA Hockey we would like to say thank you for the service to our sport Aunty Connie, may you rest in peace. Your work here is done, your legacy will continue!
Ticket ballot launched after unprecedented demand for showpiece event
Follows hugely successful 'Hockey Family' ticket window in April
Hockey Revolution reflected in record breaking ticket sales
London, England: The International Hockey Federation (FIH) and partner England Hockey launched a Public Ticket Ballot on Saturday 19 August for the Hockey Women's World Cup London 2018 following unprecedented demand for the sport's showpiece event.
By pre-registering via fih.ch/tickets, fans will be the first to receive the link to the official Ballot website on 19 August, while those who don't will be able to enter the Ballot directly on the website from this date onwards.
Fans will be able to apply for tickets for as many matches as they want* for the event taking place in London's Lee Valley Hockey and Tennis Centre in Queen Elizabeth Olympic Park between 21 July and 5 August 2018. Successful applicants will be selected at random with payment only being taken if ticket requests are successful after the Public Ballot closes on 6 September. Following the Public Ballot, general public sale is expected to begin later in 2017.
The launch of the Ballot follows a hugely successful 'Hockey Family Priority Window' which gave members of hockey clubs affiliated with England Hockey and previous international match purchasers the first opportunity to secure a limited amount of tickets.
This exclusive window saw a record breaking 10,000 tickets sold within the first hour of going on sale. The Public Ballot will give thousands more sports fans the opportunity to see fast-paced, action packed, world-class hockey live in London.
Demand for the Hockey Women's World Cup London 2018 certainly indicates the sport is on the rise. Following the success of the Rio 2016 Olympic Games, where over nine million viewers in Great Britain alone tuned in to watch the women's gold medal match, plus the launch of the Hockey Pro League due to begin in 2019, interest in the sport is at an all-time high.
This is further reflected by the commitment made by the event's host broadcaster, BT Sport. After televising the sport in 4K Ultra-High Definition for the first time at the 2016 Hockey Champions Trophies in London, BT Sport will continue to innovate in its coverage of the game, particularly for the World Cup, as they bid to bring fans much closer to the action.
Speaking about ticketing, FIH CEO Jason McCracken said: "This is the first opportunity for the general public to purchase their tickets to one of the biggest events in sport. Demand has been incredible thanks to outstanding development and promotional work being undertaken by our hosts England Hockey, the success of the Rio 2016 Olympic Games and excitement building ahead of the Hockey Pro League which begins in 2019."
He continued: "This exceptional demand is certainly an indication that our 10-year Hockey Revolution strategy is delivering results. Creating big, bold, packed and loud events, showcasing world-class hockey at its best, is key to achieving our aim of making hockey a global game that inspires the next generation. As a result we will be working hard to make sure this is an unforgettable event for those both in London and watching around the world."
News about this event is regularly updated on the official Hockey Women's World Cup London 2018 website worldcup2018.hockey/women whilst other updates are regularly posted via FIH Twitter, Facebook and Instagram.
Despite a solid first half the South African national women's hockey team lost the first of two test matches against Germany 1-5.
Despite an unexpected loss in the third test against Scotland the South African women's hockey team won the series against the visiting Scots. This series was part of the Private Property Summer Series.
 The victory was somewhat expected, but it is the way in which the South African women's hockey team won the match against Scotland that made for the real excitement.
The South African women's hockey team beat Scotland 2-1 at Hartleyvale in Cape Town Wednesday after leading 1-0 at half-time.

JONATHAN COOK

The South Africa women's hockey team and India drew the second Test 2-2 at Hartleyvale in Cape Town Sunday after India had led 2-1 at half-time.

The South Africa women's hockey team selection panel of convenor Mickey Gordon, Jo Morley-Jepson, Gordon Pentecost and national head coach Sheldon Rostron have settled on 48 players, 24 in each group, to take part in a training camp and an international series in February.