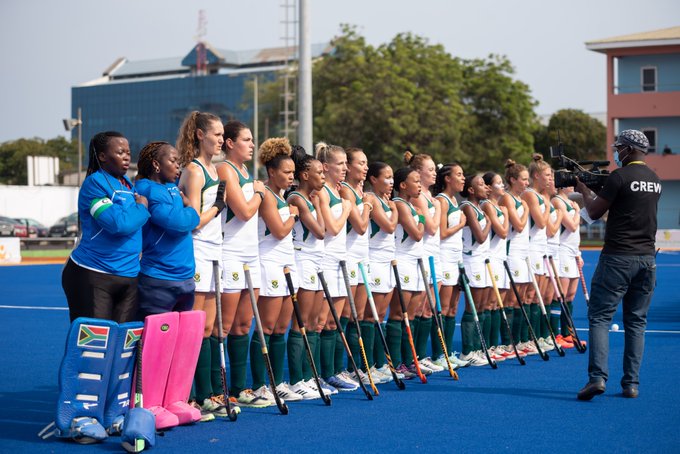 South Africa took on their Southern African counterparts Namibia on day 2 of the 2022 African Cup of Nations in Accra, Ghana. With both sides having won their opening games, a victory for the South Africans would secure a semi-final spot thanks to Zimbabwe's victory over Uganda.
South Africa started the game with good determination and looked more settled on the pitch after struggling in their opening match. Lilian du Plessis put the South Africans ahead as she continues a remarkable goal scoring record at the Continental Championship.
The South Africans were made to toil for their second, which eventually came from a penalty corner which was not cleared. Stephanie Botha reacted first and with a low shot fired her first International Goal into the bottom right corner.
As coach Inky Zondi was preparing his half time talk, he had to probably change a few sentences though when Tarryn Lombard added the third for South Africa, her second of the tournament and put a bit of gloss onto the scoreboard at the break.
South Africa struck the first blow of the second half when Nomnikelo Veto reacted first to a loose ball and assisted Tegan Fourie, who would not miss. 4-0 to the defending champions. If the Namibians were hoping for the barrage to stop, they would be left hopeless as Lombard popped up with a clinical display that gave the Namibians no chance.
It was Nomnikelo Veto who made it six of the best when she finished after Robyn Johnson's shot was saved from close quarters. Although South Africa were still able to win several penalty corners in the last few minutes of the game they were unable to convert any further opportunities and ultimately the match finished 6-0 to the South Africans.
As a result of the victory, coupled with Zimbabwe's win, South Africa are now guaranteed of a place in the semi-finals and their quest to qualify for the FIH Hockey World Cup continues. The team will still have to finish the group stage when they take on Uganda on Thursday at 19:00 South African Time.
Phumelela Mbande, captain of the South African team, shared her thoughts on the match.
"We were a lot more intentional and ruthless today. We try to improve game on game and our execution was far better. We will continue to learn as we progress through the tournament and look to deliver on our potential!"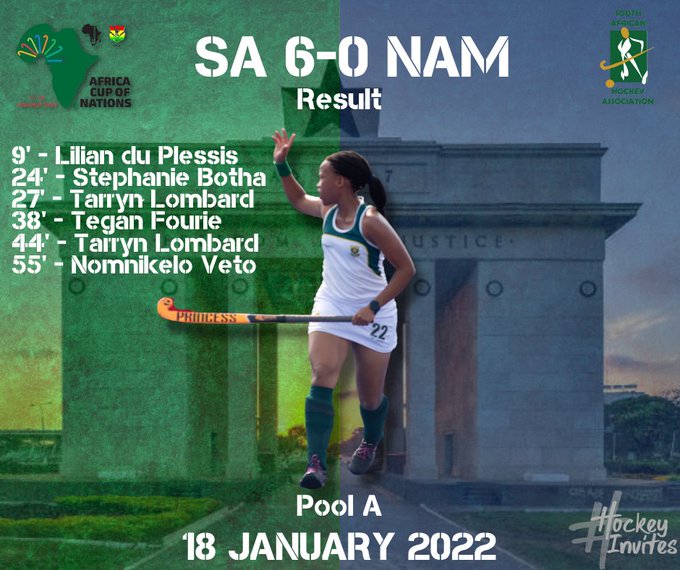 AFCON 2022 – Day 2 Results Women
Pool A
South Africa 13-0 Namibia
Zimbabwe 5-0 Uganda
Pool B
Nigeria 2-1 Zambia
Kenya 0-5 Ghana (Kenya Forfeit the game)