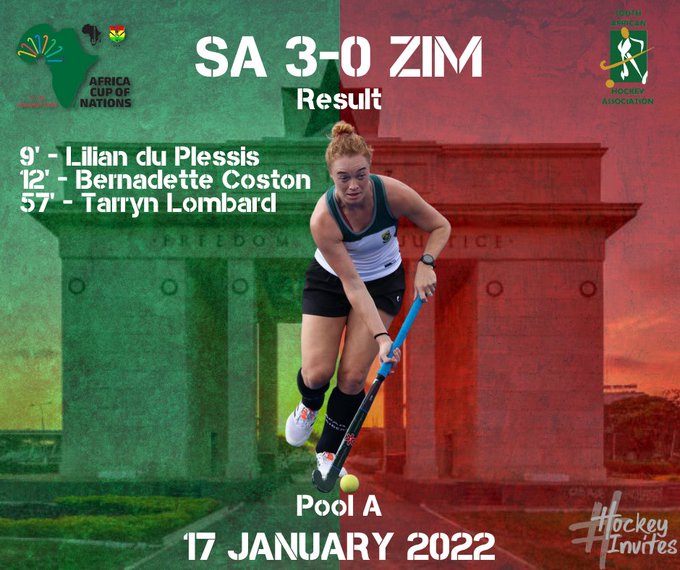 The South African Women opened their defence of their African title with a comfortable 3-0 victory over Southern African neighbours Zimbabwe. The game which marked both teams opening to the tournament as well as the first game for head coach Inky Zondi, presented as a typical opening game as both teams missed opportunities that they will expect to do better with as the tournament progresses.
The match marked the international debuts for Stephanie Botha, Hanrie Louw, Nomphilo Thenjwayo and Shindre-Lee Simmons. On the other end of the spectrum, it marked the 151st appearance for Bernadette Coston.
The champions started the game the better team and Lilian du Plessis, 2018 African Cup of Nations top goal scorer, opened the scoring with a cool, calm and collected reverse stick finish. There may have been fear that the onslaught was oncoming for the Zimbabweans as Bernadette Coston made it 2-0 with a reactive strike on the back post.
South Africa continued to create numerous circle penetrations but were either denied the goal scoring opportunity by individual errors or a collection of wonderful defence by the Zimbabweans. Jordyn Cripstone and Jenna Mathieson in the Zimbabwean goal were resolute when called on, while the defensive performance of the Zimbabweans would have made Patricia Davies incredibly proud.
Zimbabwe almost pulled a goal back in the final quarter after a rebound from a Phumelela Mbande save was fired narrowly wide. South Africa quickly went back up the other end and won their 10th penalty corner of the game. AS had been the case throughout the game though, the South Africans were unable to convert, rather disappointingly so.
As full time edged closer the South Africans finally put the game to bed. Quanita Bobbs picked up the ball in the middle of the park and surged forward with great purpose before picking the inch perfect pass to Tarryn Lombard. There was no wasting this opportunity for the South Africans as Lombard fired it brutally past Cripstone.
Despite another three penalty corners, the South Africans were unable to add to the score and would have to settle for a 3-0 victory to kick-start their title defence.
Phumelela Mbande shared her thoughts after the game:
"The Zimbabwe ladies came out and gave their best. Its the first game of the tournament, we have to get the cobwebs away and as far as that goes we have achieved what we set out to do. We will build on this game by game and we look forward to the next part of the tournament!"
At the end of Day 1, South Africa and Namibia each have 3 points following their respective victories and the two team meet tomorrow for an opportunity to seal their spot in the semi-finals at this early stage.
African Cup of Nations 2022 – Day 1 Results
Pool A
Namibia 3-0 Uganda
South Africa 3-0 Zimbabwe