A massive opportunity for the future stars of South African Hockey is presented every year at the Senior IPT when the SA U21 sides take part in the senior tournament. Its an opportunity to challenge the best of South African Hockey and also to further underline their credentials for selection in the respective Junior World Cup Qualifying squads.
The South African Hockey Association can today confirm the names of the SA U21 Men and the SA U21 Women who will participate under the Protea at the IPT In August. It is the first time the SA U21 will gather under the guidance of newly appointed head coach Guy Elliott, while the Women continue under Lenise Marais who led South Africa to the Junior World Cup in Potchefstroom earlier this year.
A familiar name selected in the SA U21 squad is that of Mustapha Cassiem. The 2021 FIH Rising Start Nominee is currently add the Commonwealth Games with the SA Hockey Men and his inclusion adds real star quality to the side. Sihle Ngubane is another that adds international experience to the squad while Cameron le Forrestier, Niel Raath and Joshua Davies were part of the core of the squad that took on the FIH Hockey Junior World Cup in India last year.
In the SA U21 Womens side Kayla Swarts has already represented the country in the Hockey5s format, while Daniela de Oliveira has about 10 caps for the SA Womens Indoor team. Ntshopa Mokoena was a standout for the SA U18 side against Namibia recently. Mikkela le Roux and Tamlyn Kock were both part of the Potchefstroom team.
SA Mens U21 Squad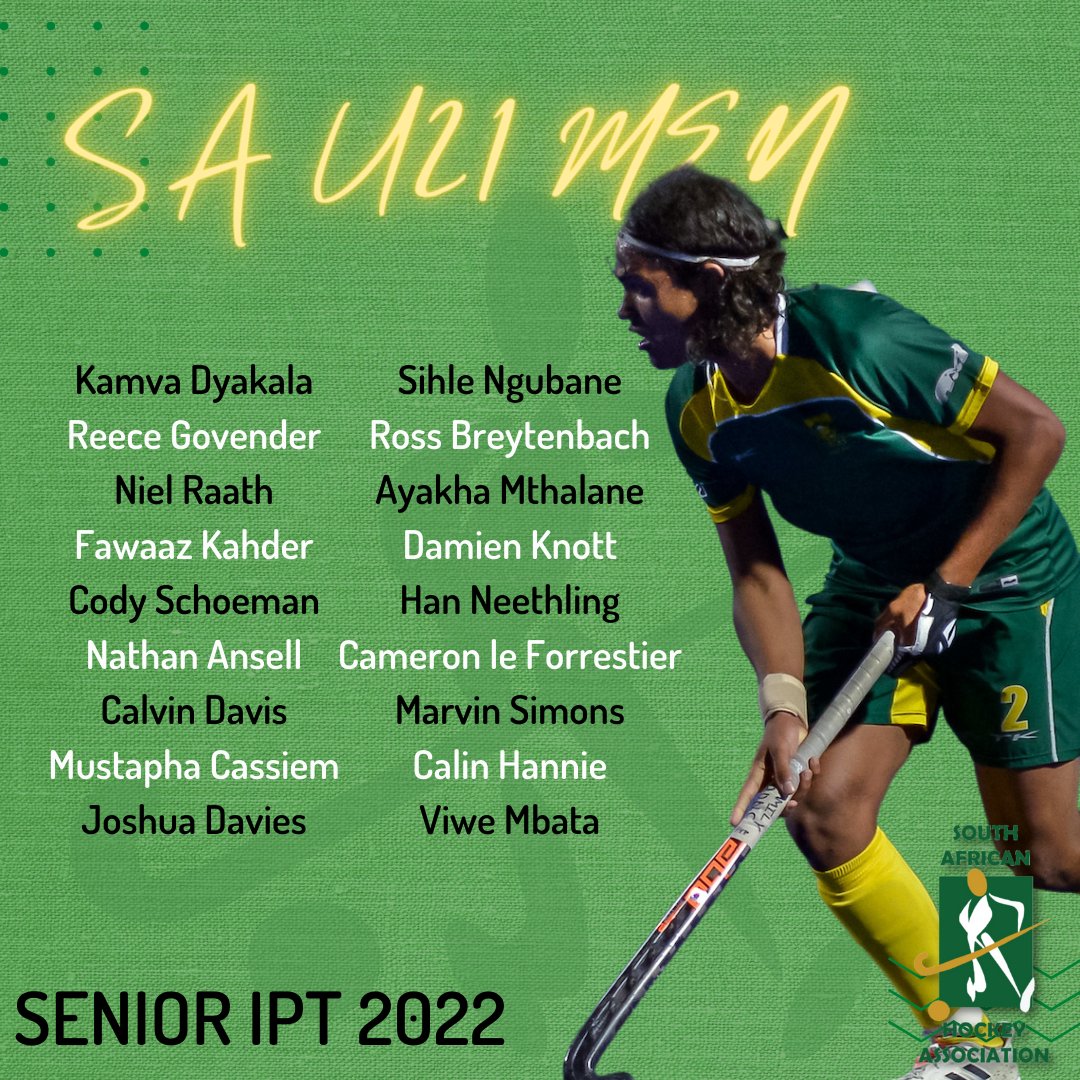 | | | | |
| --- | --- | --- | --- |
| Kamva Dyakala | (EP) | Senwesihle Ngubane | (NOR) |
| Reece Govender | (SG) | Ross Breytenbach | (SG) |
| Niel Raath | (WP) | Ayakha Mthalane | (NOR) |
| Kahder Fawaaz | (SG) | Damien Knott | (WP) |
| Cody Schoeman | (WP) | Hans Neethling | (WP) |
| Nathan Ansell | (WP) | Cameron Le Forestier | (NG) |
| Calvin Davis | (NOR) | Marvin Simons | (SG) |
| Mustaphaa Cassiem | (WP) | Calin Hannie | (SG) |
| Joshua Davies | (NOR) | Viwe Mbata | (WP) |
SA Womens U21 Squad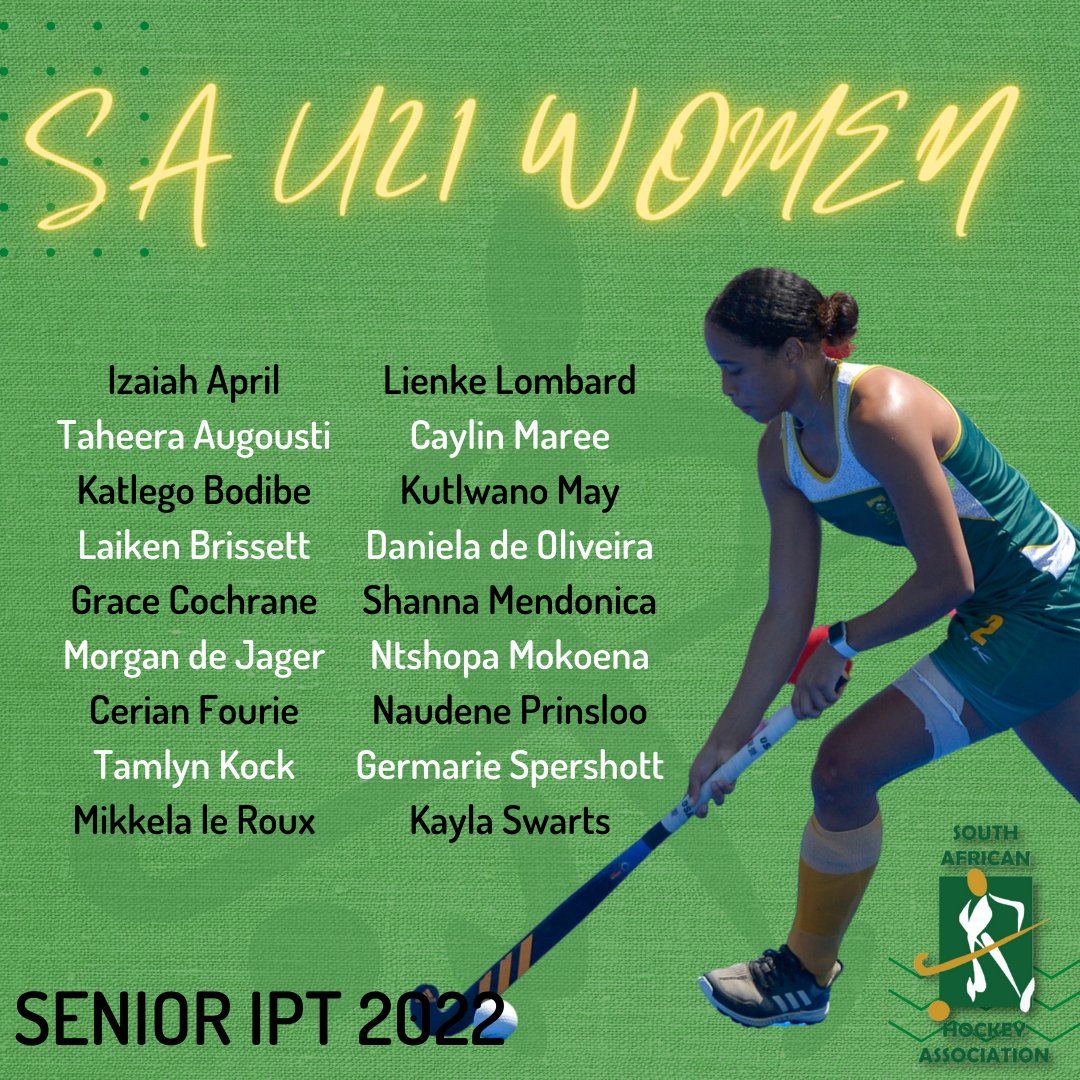 | | | | |
| --- | --- | --- | --- |
| Izaiah April | FS | Lienke Lombard | WP |
| Taheera Augousti | FS | Caylin Maree | WP |
| Katlego Bodibe | WP | Kutlwano May | NG |
| Laiken Brissett | NG | Daniela de Oliveria | WP |
| Grace Cochrane | WP | Shanna Mendonca | SG |
| Morgan De Jager | SG | Ntshopa Mokoena | FS |
| Cerian Fourie | NG | Naudene Prinsloo | FS |
| Tamlyn Kock | NW | Germarie Spershott | FS |
| Mikkela Le Roux | WP | Kayla Swarts | WP |