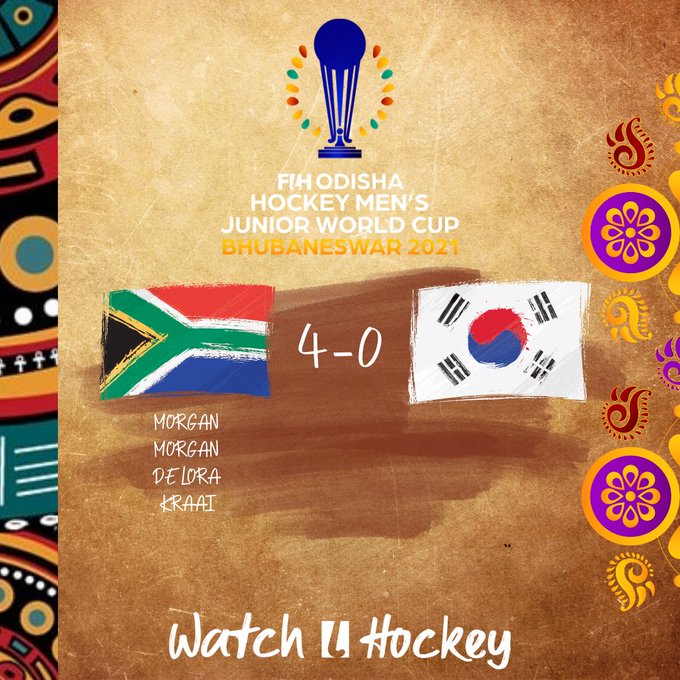 South Africa and Korea completed their Junior World Cup 2021 journey as they played out the 9th place playoff. For the Korean's it was on opportunity to end the tournament that had far loftier ambitions on a high, while the South Africans had the opportunity to complete their highest ever Junior World Cup finish, something they had at least earned a share of before the game.
The South Africans started the game of the better and created several opportunities which they were unable to convert and slowly but surely it allowed Korea to develop a foothold in the game. Despite both teams' best efforts, the half time score line was a fair 0-0.
The game sprung to life in the second half when Trevor de Lora surged into the circle only for a mistimed tackle to award the first penalty corner of the game to the South Africans. Skipper Guy Morgan stepped up and produced the most venomous flick of the tournament that almost tore through the net to give the lead to the African nation.
South Africa had the momentum and created a few circle penetrations and shots at goal in the immediate minutes after that without scoring. Korea should have levelled as they broke with two strikers, but the opportunity was wasted. As the third quarter ran down there was time for another big South African chance, but it went astray as Marvin Simons fired wide as he lost his balance. One quarter remained with the score 1-0 to South Africa.
The men in green and gold went all out in the final quarter, and they sensed their moment to re-write the history books and it was the inspirational Guy Morgan that doubled the lead with his second of the game and sixth of the tournament from another penalty corner.
As the celebrations were continuing across the country the South Africans landed another punch, that ultimately had a knockout feeling to it. Trevor de Lora stealing in and finishing superbly. Zenani Kraai though stuck in a fourth after a free-flowing team movement with a late Posthumus touch left an open goal which Kraai found with tremendous joy. 4-0.
It should have probably been more as the South Africans missed a few chances that you would be forgiven for thinking they would score,
After the game man of the match Guy Morgan shared his thoughts:
"We were a bit frustrated by our slow start, but after half-time we got it right and it's been awesome. Thank you to the organisers, the officials and everyone involved it's been a wonderful experience for our whole team, and I am extremely proud of our boys!"
After a preparation that was plagued by delays due to the coronavirus pandemic, the SA U21 Men have produced a tournament and result to be immensely proud of for the country.
#RisingStars #RisingStars @SA_Hockey v @hockey_korea Details https://t.co/QWZH3PFIgY pic.twitter.com/Dh6dEynyf6

— International Hockey Federation (@FIH_Hockey) December 4, 2021