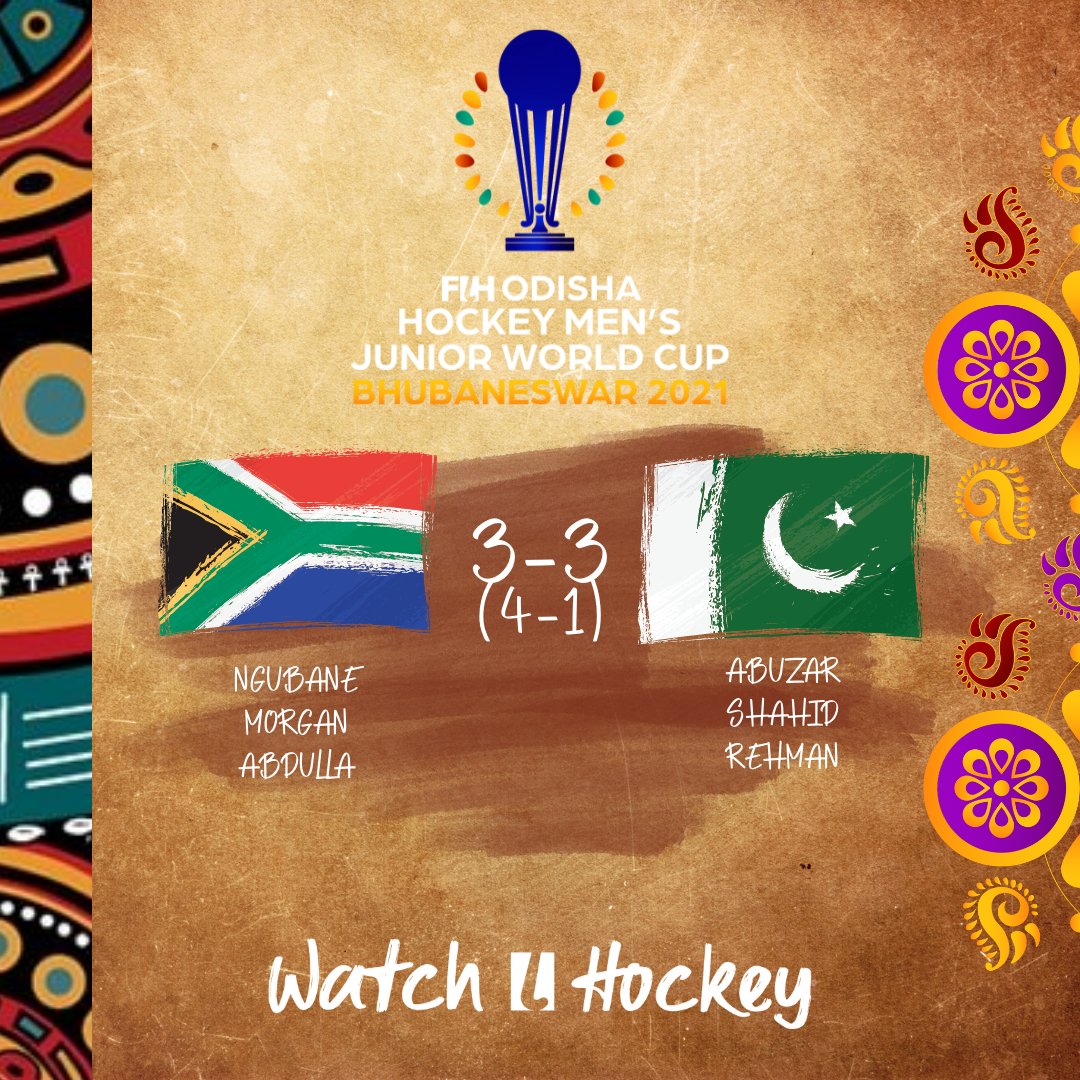 For the second time in history the South African U21 Men will finish the Junior World Cup in the top 10, after achieving tenth place in 2016 under the tutelage of Garreth Ewing. They managed to secure their place in the top 10 after a thrilling come from behind victory against Pakistan.
The two teams had both set their sights on the Top 8 at the start of the tournament, but both would have been focused on sneaking into the top 10 after the earlier disappointment. They had met once before in this tournament all the way back in 2013 when that iteration of the Pakistan youngsters triumphed 4-0.
Pakistan started brightly and duly deserved the lead they got in the 5th minute as a superbly fast interchange, reminiscent of the South African performance in Tokyo, left the defense with no chance. That the South Africans were able to quell that danger was testament to some good stability at the back.
If the first quarter belonged to Pakistan the second undoubtedly bel9onged to the South Africans. The African side created numerous circle entries, penalty corners and shots but were left scratching their heads as Pakistan converted their only chance of the quarter and somehow led at the break 2-0.  Something coach Sihle Ntuli was well aware of in the half-time team talks!
The game was lively at this point, but it took off in the third quarter as the South Africans surged back and started to make their impact on the game. First Ngubane deflected a penalty corner home to give the South African men hope, but as the sail was being cast up to catch the wind, the Pakistani attack deflated it with a Rehman goal.
While spectators quickly tried to catch their collective breaths, the South Africans surged back with the force of power returning to a darkened area. And Guy Morgan and Idrees Abdulla restored parity with offices around South Africa resonating with supporting cheer as the office bandwidth was utilised by Watch Hockey.
After fighting back superbly South Africa then produced their best defensive quarter of the tournament in denying a willing and hungry Pakistan attack. Neil Raath made one of the great intercepts of the tournament to deny a late goal that would have given victory to the Asian giants. As such the game was headed to shootouts and a spot in the top 10 would be decided in the way commonly referred to as cruel.
It was not cruel for the South Africans however as they took four out of four chances while denying two from three for their opposition. Sihle Ngubane scored the goal that ultimately sealed the fate of their opposition and set the South Africans up with a date against Poland and Korea for 9th place and a best ever finish for the country at the FIH Junior World Cup.
Result
South Africa (4) 3-3 (1) Pakistan
Full Time: South Africa 3 - 3 Pakistan (SO:RSA 4 - 1 Pak)

South Africa make a remarkable comeback to win the game in the shoot-out!

They will now play for the 9th spot at the FIH Odisha Hockey Men's Junior World Cup 2021.#RisingStars @SA_Hockey @PHFOfficial pic.twitter.com/x5wJvpaIhh

— International Hockey Federation (@FIH_Hockey) December 2, 2021