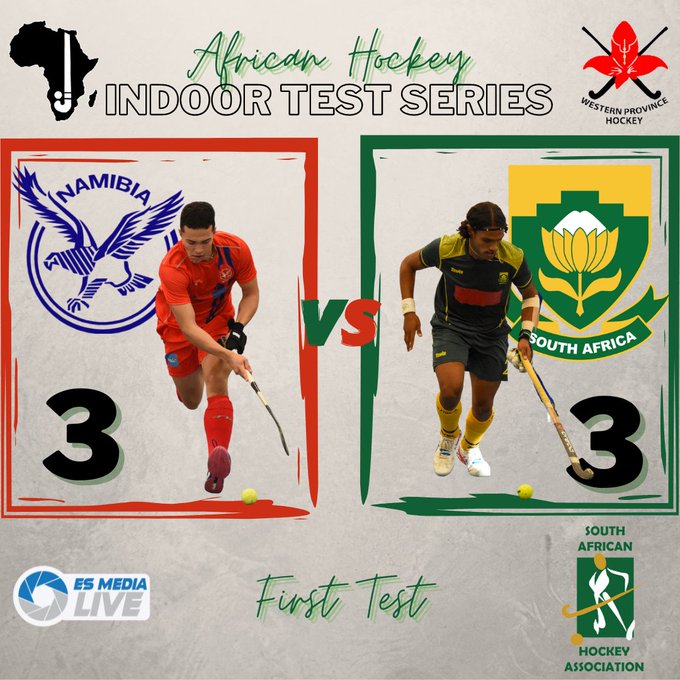 The Justin Rosenberg coaching reign of the SA Indoor Hockey Men began today at Sunningdale in the Western Cape as the hosts and African Champions took on fellow Indoor World Cup competitor Namibia. The first in a four match series was played in a repeat of the African Indoor Cup of Nations final, which the hosts won at Thomas More College 4-1 earlier this year.
Namibia, with a very settled side who have been under the coaching of Trevor Cormack, came out like the more settled side and showed incredible venom to find their feet quickly. Brynn Cleak opened the scoring in the third minute while the South Africans were still settling into the game. Before South Africa wiped the sleep out of their eyes, they were shaking off a double punch as 2020 IPT top goalscorer Liam Hermanus made it 2-0.
South Africa gradually got a foothold back into the game and struck the upright, the crossbar and the brilliant DJ Strauss on a couple of occasions. The Namibians were pressing effectively and waiting for their opportunity to strike on the counter, testing Anton van Loggerenberg.
FIH Rising Star nominee Mustapha Cassiem had a quiet first half but he started to become a thorn in the Namibian side and netted the South African opening goal and first under Rosenberg. Cassiem had been in scintillating form for Muchengladbach in Germany and has clearly not taken long to bring that form home.
South Africa surged forward looking for a leveller with Chad Futcher and Lungani Gabela looking likely. It was the latter who would convert an opportunity to restore parity and give the hosts the momentum to go and look for the win!
But Namibia should typical Namibian spirit and converted from a penalty corner with just two minutes remaining on the clock to set up a momentous victory for the visitors. Unfortunately they couldn't hold on and that man Mustapha stepped up and took advantage of a momentary blip that saw the ball cross the line with 1 second remaining on the clock and secure a draw to open the series.
Justin Rosenberg, head coach of the SA Indoor Hockey side, reflected on the match.
"We needed to make small changes to get a momentum shift and we did that better in the second half. We allowed too many easy opportunities in the first half, we cant do that at International level. If we keep to our disciplines we wont give so many opportunities away and you will see better hockey coming from our camp in the next three tests."
The teams continue the battled at 19:45 tomorrow for the second test
SA 3-3 Namibia
Namibia and SA drew 3-3 in a thrilling first indoor hockey test in Cape Town on Thursday evening. Namibia seemed to be heading for a shock victory before Mustaphaa Cassiem scored SA's equaliser in the last second. pic.twitter.com/eEIXAeDARB

— The Namibian (@TheNamibian) December 16, 2021