In a country so often plagued by darkness the 2022 SA Hockey U21 IPT has proven that the future of hockey in the country is blindingly bright. 180 goals, over 48 games. 5 penalty shootouts and two very deserving winners.
South African International Owen Mvimbi had led his team to the final and they faced a tough contest against the brilliant Kagiso Mathaba led Northern Blues side. A frenetic final was brought to life in a wonderful second quarter. Northerns took the lead with a speculative ball driven into the circle and superbly finished by Richard Porter. But they were pegged back by Southerns Colin Hannie who was on hand to finish into the net after wonderful work down the side for Southern Gauteng.
The moment of the final was to come as South African Indoor International, and member of the 2021 Junior World Cup Squad Marvin Simons produced a sensational solo goal that was reminiscent of his viral goal in the Aiken trophy a couple of years back. Southerns were able to add to the tally with a penalty stroke converted by Luke Lourens. It was the last significant moment of the match as the Johannesburgers took home the title!
In a game with more cards than I got for my last birthday Western Province secured the bronze with a 2-0 win over Eastern Province.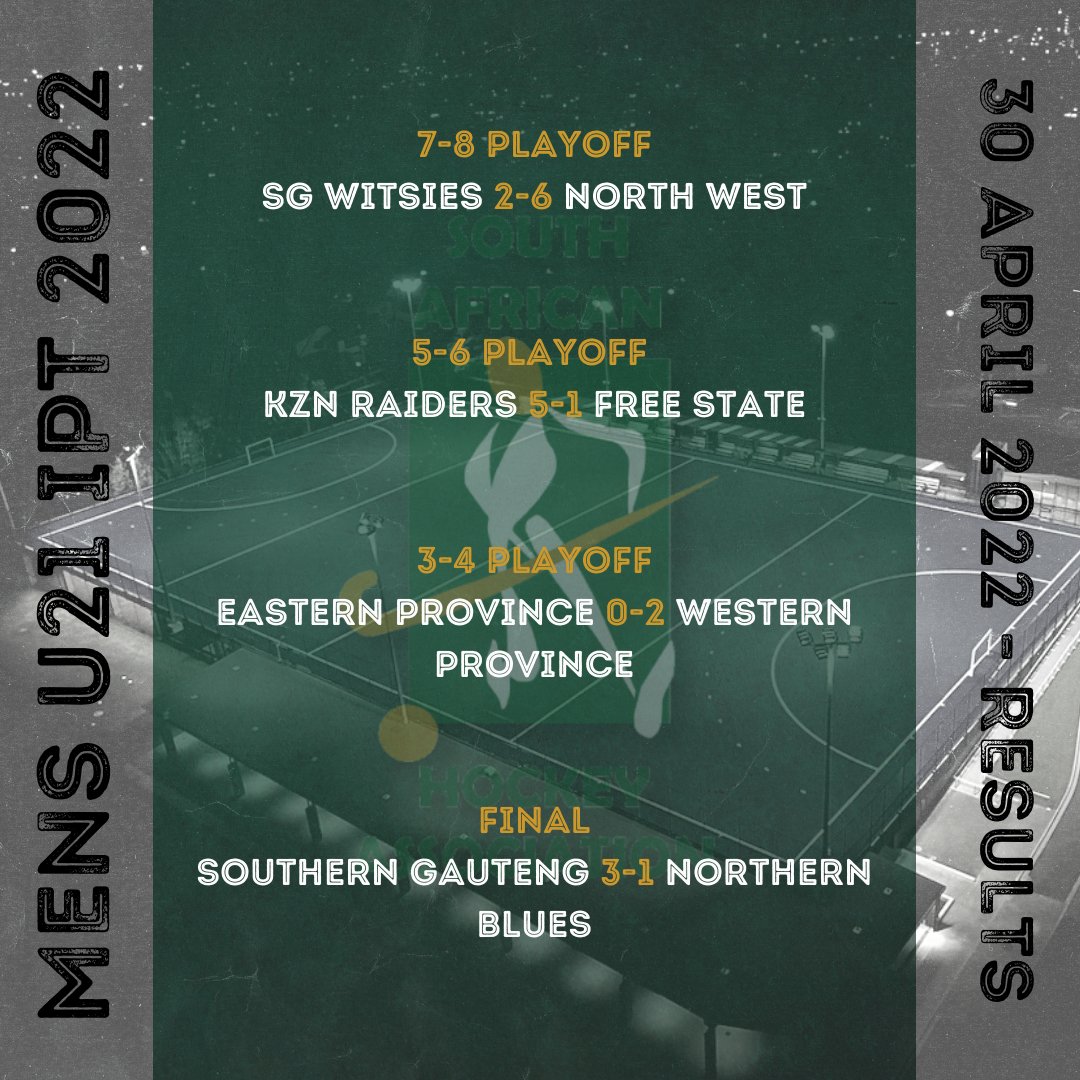 The Southern Gauteng and Northern Blues women had met in the group stages finishing level in that game without a goal being scored. It was going to be an evenly contested tournament and we saw exactly that as the two teams faced off.
The ladies in Blue were the opening statement makers when they turned an untidy penalty corner into a goal. The injection was not trapped effectively but quick thinking meant that the ball found its way back to the injector Anrize Smit who finished easily and effectively. It was a lead they would hold on to until half time.
In the third quarter though, newly appointed SA Womens Hockey 5s Coach Tsoanelo Pholo saw her side reinvigorated and restored parity with Jesquinique Coltman taking the honours. A brilliant run through the middle saw Coltman open in the circle, she received the ball and finished with the coolness so often associated with Pholo herself.
The two teams couldn't be separated, and the title would be decided by a penalty shootout. Or should we say it was decided by Amelie Classen. The Northern Blues shot stopper faced four showdowns saving three and the fourth was missed. At the same time her team were scoring to take home the 2022 title and joy for Omari Pienaar.
The Bronze medal went to Western Province who came from behind twice to triumph over KZN Raiders by 3-2.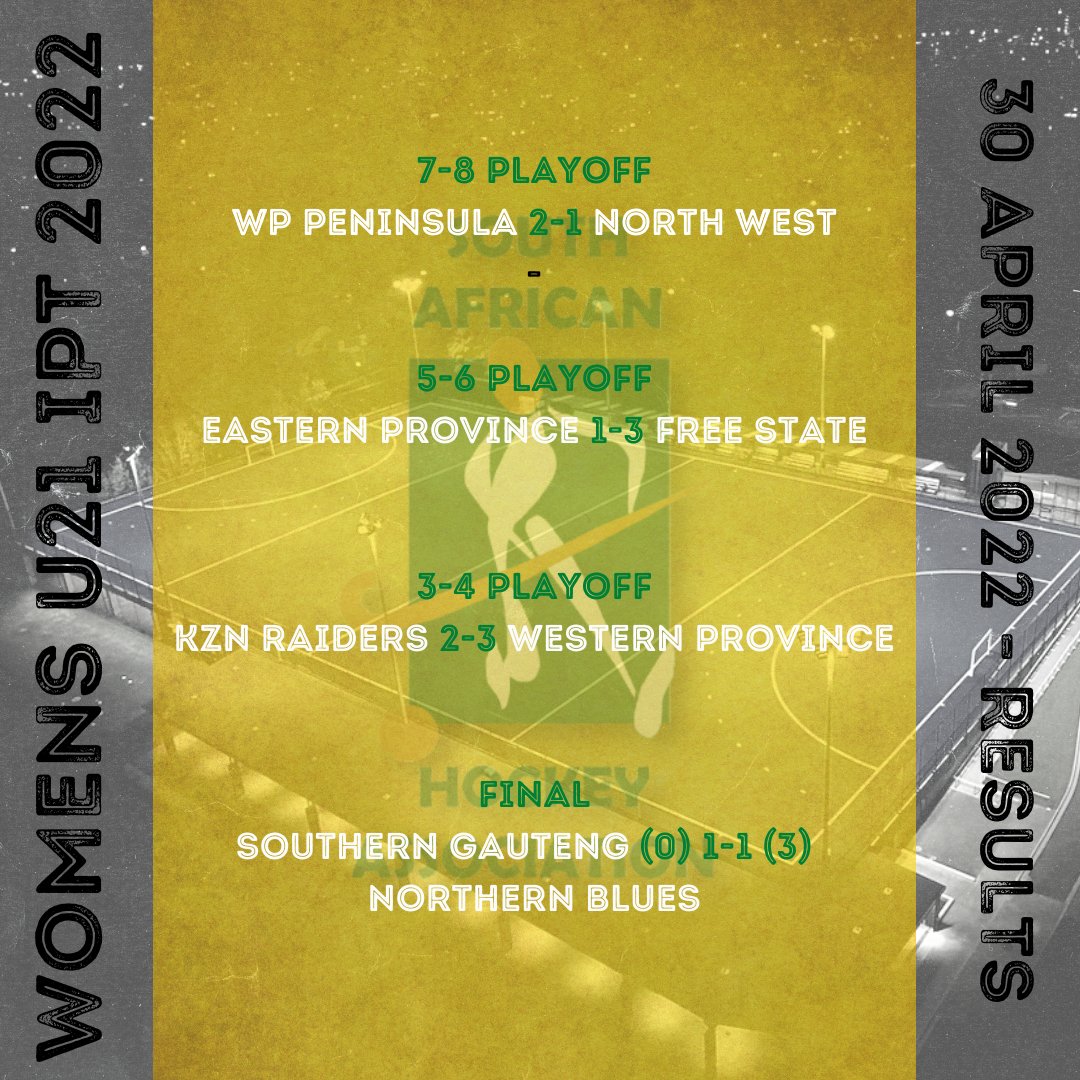 SA UNDER 21 IPT 2022 FINAL PLACING – MEN
8 - SG WITSIES
7 - NORTH WEST
6 - FREE STATE
5 - KZN RAIDERS
4 - EASTERN PROVINCE
3 - WESTERN PROVINCE
2 - NORTHERN BLUES
1 - SOUTHERN GAUTENG
SA UNDER 21 IPT 2022 FINAL PLACING – WOMEN
9 – EP SETTLERS
8 – NORTH WEST
7 – WP PENINSULA
6 – EASTERN PROVINCE
5 – FREE STATE
4 – KZN RAIDERS
3 – WESTERN PROVINCE
2 – SOUTHERN GAUTENG
1 – NORTHERN BLUES
Southern Gauteng and the Northern Blues had already virtually secured their places in the semi-finals of the SA Women's Hockey U21 IPT, with the battle really being to see who would seal top spot in the pool. The team with the first chance to stake a claim for the position was Southern Gauteng as they took on WP Pens in the days opening game.
In a tight tussle they thought they had done enough when they went ahead with a Reabetswe Phume goal on the verge of the third quarter hooter. But Morgan Barnard scored with 4 minutes remaining on the clock to seal a point and open the door for Northern Blues to take top spot.
Like a Miley Cyrus infused wrecking ball they bashed straight through the door winning 8-0 over last placed EP Settlers. There were two goals for Kiana Cormack and Bulelwa Mzimela while Laiken Brissett, Cerian Fourie, Emmere Steenkamp and Alexis Terblanche all added to the demolition job.
In the last game of the group, Free State secured a 3-0 win over Pens to leapfrog them into third spot in the Pool. Tuan van der Westhuizen, Taheera Augousti and Chemelda Ontong secured the victory for Luke Makaleni's team.
Western Province secured their semi-final spot with the solitary goal by Malikah Hamza being enough to hold onto a tight 1-0 victory over North West. Leaving a spot in the semi-finals for either the KZN Raiders (Needing only a draw) or Eastern Province.
It would be the Raiders that secured the game not looking back after an early Jessica Rochat goal and felt safe when Rethabile Mosemaka added the second. It would take nearly 30 minutes for the final goal as Chelsea Layden added some gloss to the score line and secured the Raiders top spot in Pool B.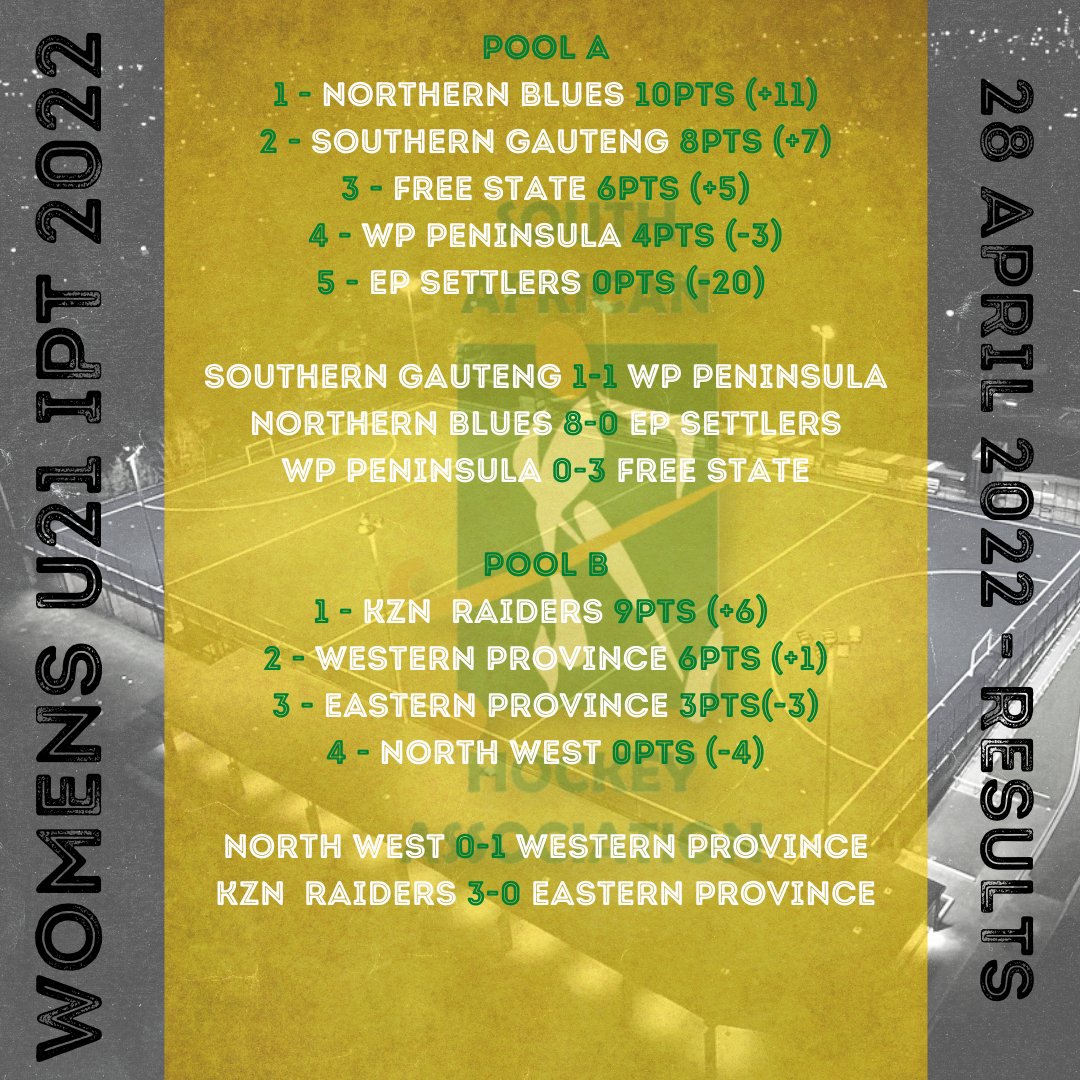 The Northern Blues continued in their quest to add to their 2019 title with a tough but convincing win over Free State. They led early through Kenny Kgongwane and added a second through Joshua Davies. Free State pulled one back heading into the final 10 minutes, but Cameron le Forrestier put the game to bed like a parent taking away a child's toy.
They will be joined in the semi-finals by the hosts Eastern Province who were pushed all the way by SG Wits. Joe Sincock scored EP's goal while Ethan Matkovich levelled for Witsies and that was all the goal action we would get. It would go to a shootout where Silindele Nobadala was the hero not being beaten while EP Scored three from three.
Western Province followed the script perfectly in a 6-0 victory over North West. They scored in the first minute through Damian Knott and systematically added to the score line throughout the game. Andrew Pick, Thomas Sickle, Caleb Oliphant and Hans Neethling (2) finding the net to secure a spot in the top 4 and a mouth-watering semi-final against Southern Gauteng.
Southern Gauteng of course made their way into the Semi-Final through a sensational first half of action. Keegan Figueira, Travis Krumples and Luke Lourens made it 3-0 at the break. The Raiders came out swinging pulling a goal back through Callum Osborne, but their Sails were ripped when Lourens added his second to make it 4-1 and seal elimination for the Raiders.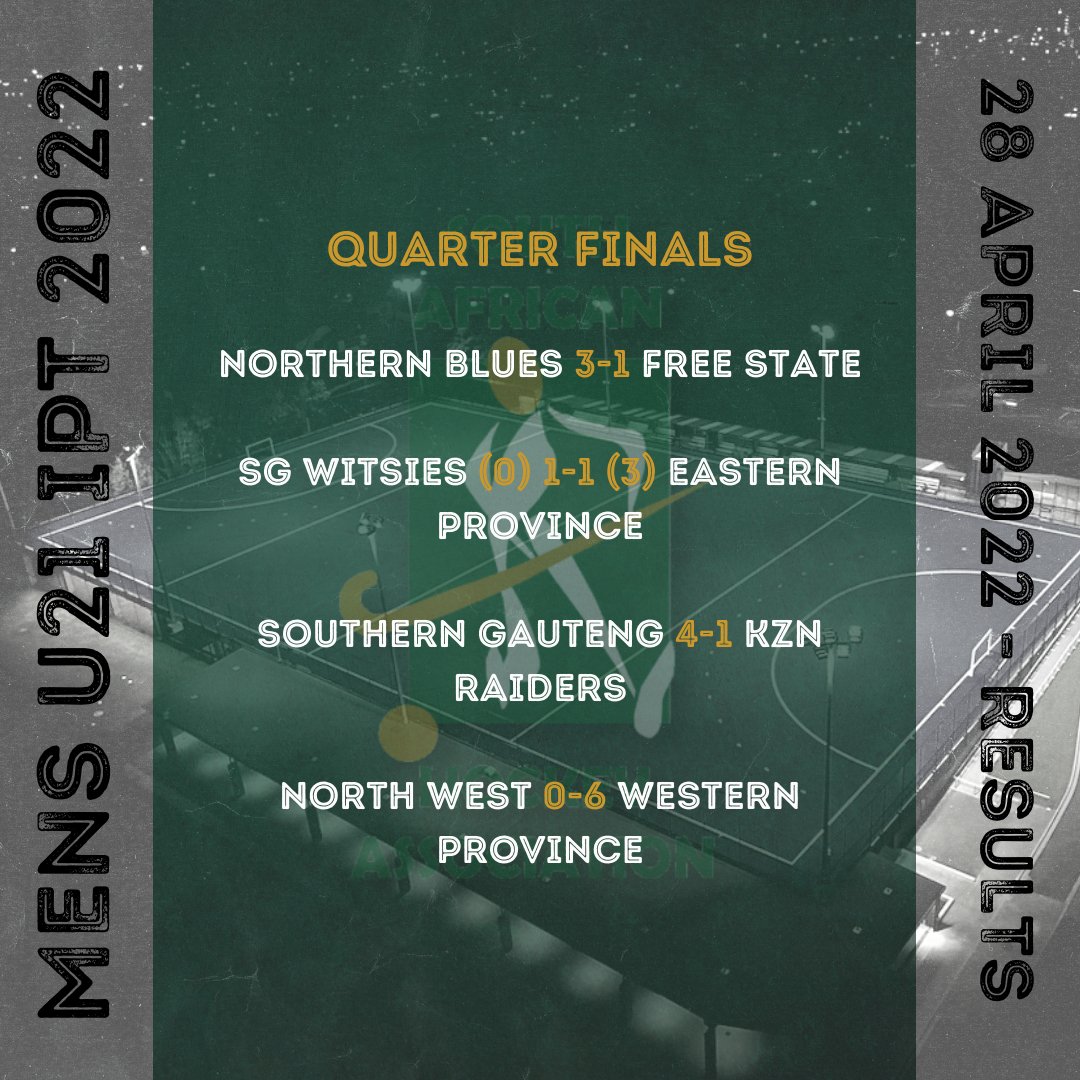 Semi-Final Action tomorrow before the champions are decided on Saturday!
SA UNDER 21 IPT 2022 – FIXTURES – 29 APRIL 2022 - MEN
5-8 PLAYOFFS
08:00 - KC MARCH ASTRO - KZN RAIDERS VS. NORTH WEST
12:00 -KC MARCH ASTRO - SG WITSIES VS. FREE STATE
SEMI-FINALS
10:00 – PEARSON - NORTHERN BLUES VS. EASTERN PROVINCE
16:00 - KC MARCH ASTRO - SOUTHERN GAUTENG VS. WESTERN PROVINCE
SA UNDER 21 IPT 2022 – FIXTURES – 29 APRIL 2022 – WOMEN
5-8 PLAYOFFS
08:00 – PEARSON - WP PENINSULA VS. EASTERN PROVINCE
10:00 – PEARSON - FREE STATE VS. NORTH WEST
SEMI-FINALS
12:00 - KC MARCH ASTRO - SOUTHERN GAUTENG VS. KZN RAIDERS
14:00 - KC MARCH ASTRO - NORTHERN BLUES VS. WESTERN PROVINCE
The third day of action at the SA Hockey U21 IPT 2022 in the Eastern Cape saw the Men's tournament complete the pool stages and set up the quarter-finals, while the KZN Raiders are the only womens team with a 100% record so far. 
The KZN Raiders jumped off the bottom of the table to secure their first win of the tournament as they beat the SG Wits side convincingly. Darryl Lotter, Dylan Ebrahim, Tyler Tomsett and Callum Osborne all netted for the coastal side, while the consolation for Wits came from Aidan le Fleur. The win saw the Raiders leap frog Wits and in so doing secure the "easier" quarter final. 
Northern Blues continued to underline their title credentials with a dominant dismantling of North West. They took the lead in the 6th minute through Joshua van den Bergh and never looked back as methodically they added goals throughout the game. Ethan Song, Cameron le Forrestier and Thomas Dixon each netted one, while a brace for Calvin Davis sealed six of the best for the 2019 champions. 
Southern Gauteng secured their own first win of the tournament with a hard-fought 2-1 win against Free State. Ryan Mann and Tebogo Maseko set the Gauteng side up for victory but a late Nhlanhla Modibela goal set up an anxious finish. Holding on for the victory meant that Southerns finished third in the pool while Free State remain pointless and finish bottom of the pool. 
Western Province were able to leapfrog the hosts thanks to a fantastic 3-0 victory. They scored through Hans Neethling, Thabang Jeyi and Corben O'Ryan. The results sees Province top Pool B as EP have to settle for second and a mouth watering clash with Southern Gauteng.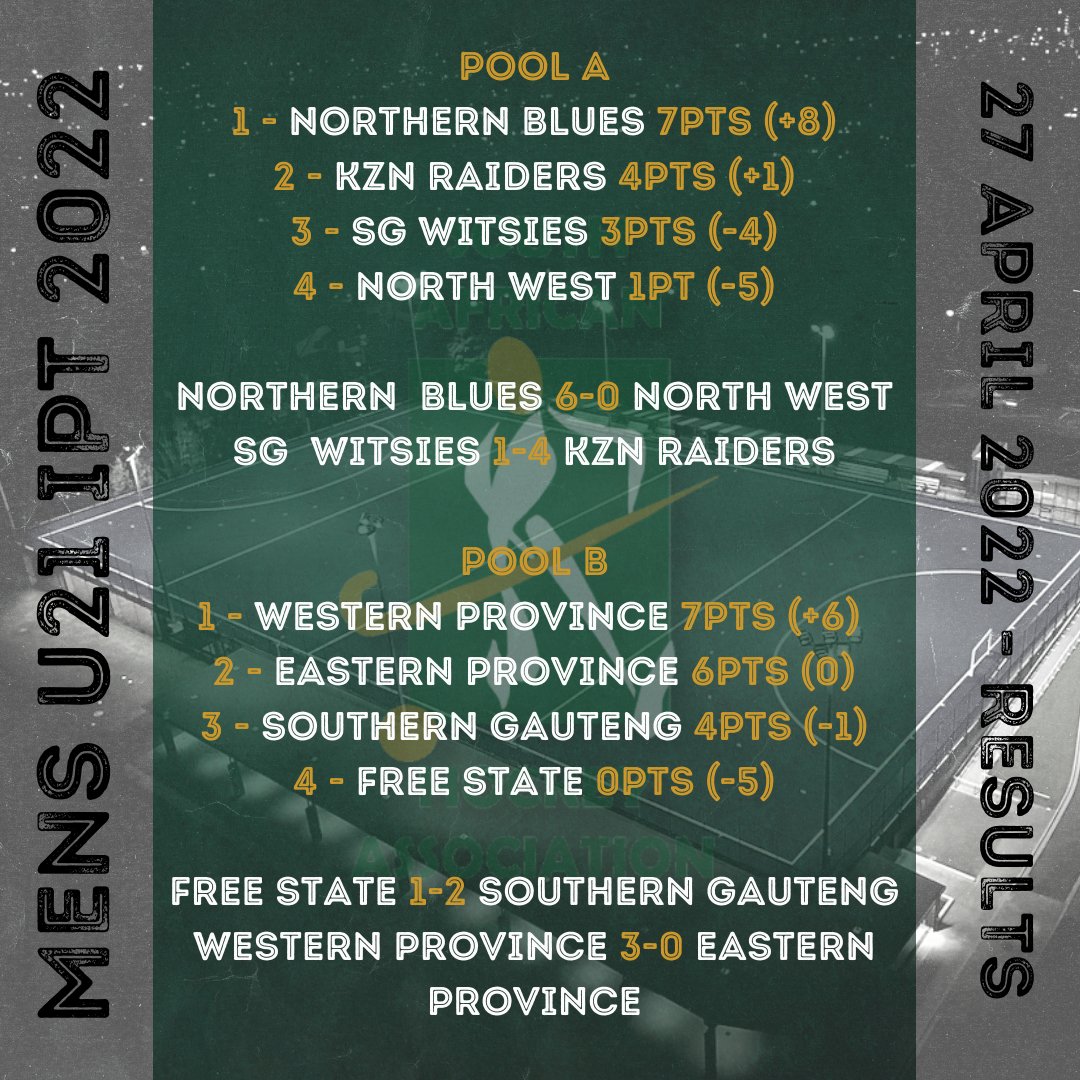 In two hours of hockey, the Northern Blues women supporters saw just one goal as the team finished the day with four points out of six. That came thanks to a goal in the first minute of their first game by Kiara Fitzhenry scoring against Free State. The next 59 minutes saw no goals, while a goalless draw against title rivals Southerns kept both teams very much in the conversation going into the final day of the pool stages. 
Mathematically WP Pens can still catch the top two and secure a semi-final spot, thanks to an Erin Coetzee brace that sealed a 2-0 win over the EP Settlers. They will have to win both games tomorrow against Southern Gauteng and Free State to sneak into the top 4. Free State themselves had a moral boosting 4-0 win over the EP Settlers having lost their opening two games.The goals coming from Kayla Olivier (2), Izaiah April and Zelmari Pretorious. 
Eastern Province gave the home faithful some moments of cheer as they kept alive a semi-final hope by beating North West 3-1. Isabelle Bisdee, Chelsey Cooke and Lily Sharp were all on the scoresheet before a late consolation goal from Michelle Claasens dented the goal difference for the hosts.
KZN Raiders have one foot in the Semi-Final following a superb 3-1 victory over Western Province. They led early through Emily Macquet but the Capetonians pulled one level through Jenna Fyvie. Tasmin Anderson restored the advantage before Olivia McDonald settled the game with a final chukka goal.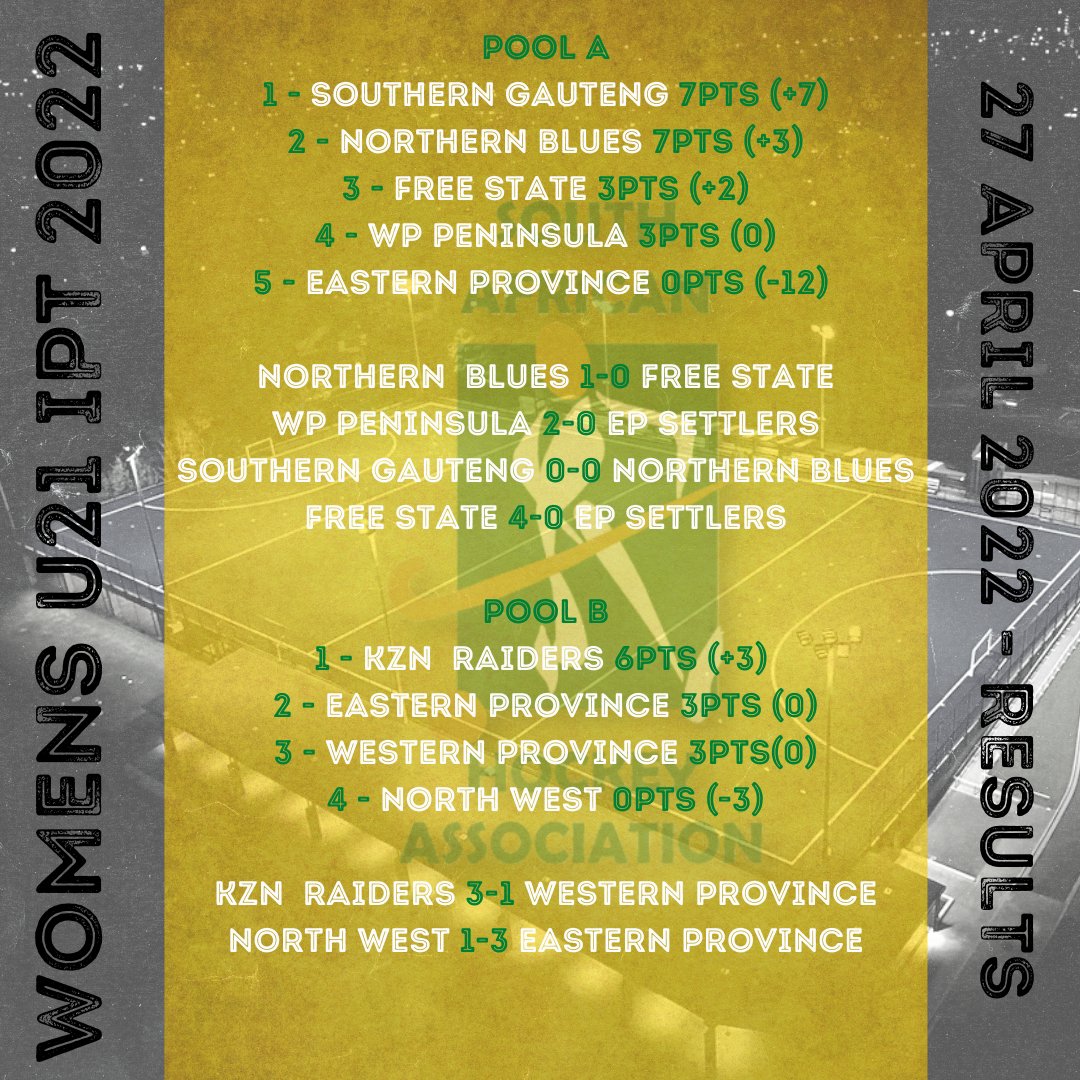 SA UNDER 21 IPT 2022 – FIXTURES – 28 APRIL 2022 - MEN - QUARTER FINALS
GREY HIGH SCHOOL – 08:00 – NORTHERN BLUES VS. FREE STATE
GREY HIGH SCHOOL – 10:00 – EASTERN PROVINCE VS. SG WITSIES
GREY HIGH SCHOOL – 12:00 – KZN RAIDERS VS. SOUTHERN GAUTENG
KC MARCH ASTRO – 14:00 – WESTERN PROVINCE VS. NORTH WEST
SA UNDER 21 IPT 2022 – FIXTURES – 28 APRIL 2022 - WOMEN
KC MARCH ASTRO – 08:00 – SOUTHERN GAUTENG VS. WP PENINSULA
KC MARCH ASTRO – 10:00 – NORTH WEST VS. WESTERN PROVINCE
KC MARCH ASTRO – 12:00 – NORTHERN BLUES VS. EP SETTLERS
KC MARCH ASTRO – 16:00 – KZN RAIDERS VS. EASTERN PROVINCE
KC MARCH ASTRO – 18:00 – WP PENINSULA VS. FREE STATE
After the opening day produced 19 goals it was a far tighter day in the Mens competition at the SA Hockey Under 21 IPT in Eastern Cape. SG Witsies marked their arrival in the tournament when Reese Scheepers scored either side of Eduard van der Walt to give the Johannesburg men a 2-1 win over North West and leave the two teams tie in Pool A.
That result opened the door for the Northern Blues to take charge of the Pool. They twice took the lead against the KZN Raiders both times through Cameron le Forrestier. But they were pegged back through Ross Montgomery and Tyler Tomsett. At the end both teams having to settle for a 2-2 draw as no goals were scored in the final quarter.
An incredibly tight battle between two giants of South African Hockey saw Western Province and Southern Gauteng was finally lit up when Tebogo Maseko gave Owen Mvimbi's side the lead. But the cape side pulled level with Hans Neethling netting with just 8 minutes remaining. The score would finish 1-1 and the teams had to settle for a point a piece.
The hosts, Eastern Province, were the only team to keep a 100% record after day two. Craig Saunders scored the only goal in the 54th minutes of a tough game which threatened to boil over at various times.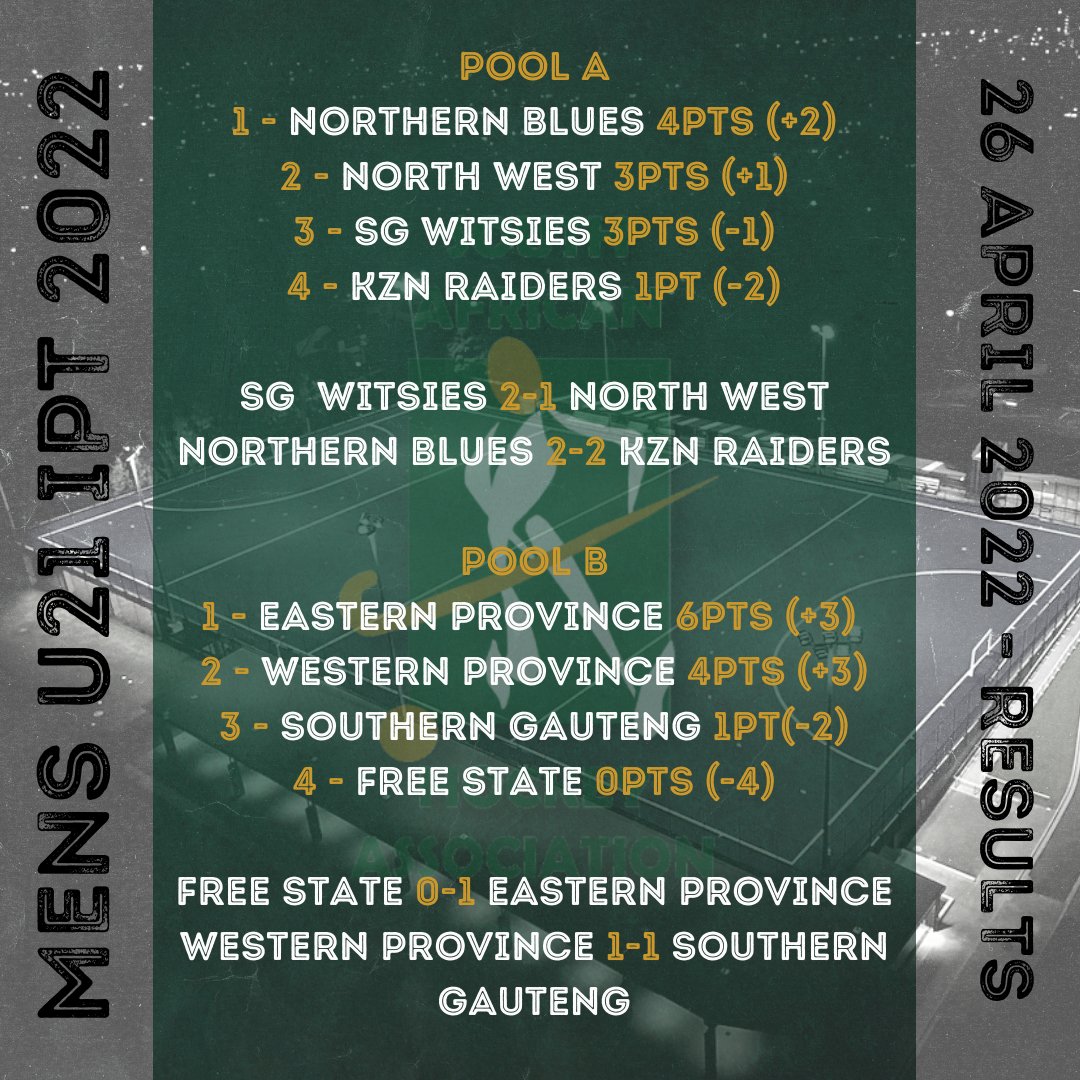 The Womens tournament got underway today with an absolute cracker as 2019 champions Southern Gauteng had to fight from two goals down to Free State (scored by Chemelda Ontong and Kayla Olivier). They did it slowly but surely through Kiara Meyer, Jesquinique Coltman and a late goal from Emma Paget that sealed the victory.
KZN Raiders and North West proceeded to produce their own five goal thriller. Kara Nel and Cailynn den Bakker got two goals to take the lead. But Carien Breytenbach pulled back for North West. Aimee-Rene JAcbos re-established a two goal lead before Micae Myburgh set up a grand stand finish with a final quarter goal. But it wasn't to be and the Raiders got the win.
It was straight forward 2-0 victories for Northern Blues (Cerian Fourie and Kutlwano May) over WP Pens and for Western Province (Julia Hoal and Katlego Bodibe) over the hosts Eastern Province.
Southern Gauteng continued where they left off in the opening game sprinting into a three goal lead over the EP Settlers. Coltman, Reabetswe Phume and Kelsey Stark all netting in the first half, although the Settlers late goal through Lara Kleinhans was perfectly timed as a potential momentum shift. That goal didn't change the momentum as Southerns became the first team to net five in either tournament as Shanna Mendonca added a brace. Coltman and Caitlin Scott added two further goals and the dominant Southerns immediately underlined their names in the favourites column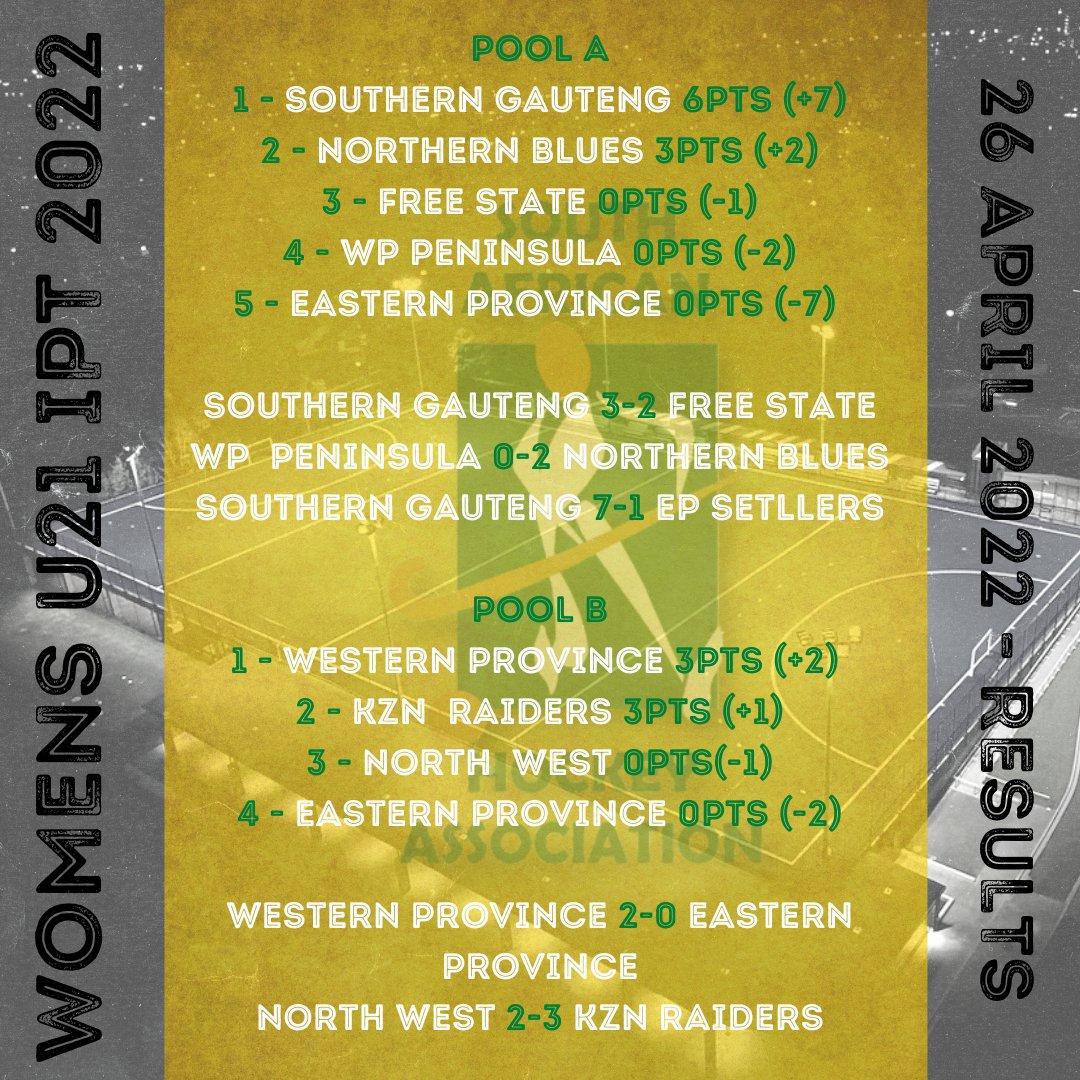 SA UNDER 21 IPT 2022 – FIXTURES – 27 APRIL 2022 - MEN
KC MARCH ASTRO – 08:00 – KZN RAIDERS VS. SG WITS
KC MARCH ASTRO – 10:00 – NORTHERN BLUES VS. NORTH WEST
KC MARCH ASTRO – 12:00 – SOUTHERN GAUTENG VS. FREE STATE
KC MARCH ASTRO – 14:00 – WESTERN PROVINCE VS. EASTERN PROVINCE
SA UNDER 21 IPT 2022 – FIXTURES – 27 APRIL 2022 - WOMEN
GREY HIGH SCHOOL – 08:00 – NORTHERN BLUES VS. FREE STATE
GREY HIGH SCHOOL – 10:00 – WP PENINSULA VS. EP SETTLERS
GREY HIGH SCHOOL – 12:00 – KZN RAIDERS VS. WESTERN PROVINCE
GREY HIGH SCHOOL – 14:00 – SOUTHERN GAUTENG VS. NORTHERN BLUES
KC MARCH ASTRO – 16:00 – NORTH WEST VS. EASTERN PROVINCE
KC MARCH ASTRO – 18:00 – FREE STATE VS. EP SETTLERS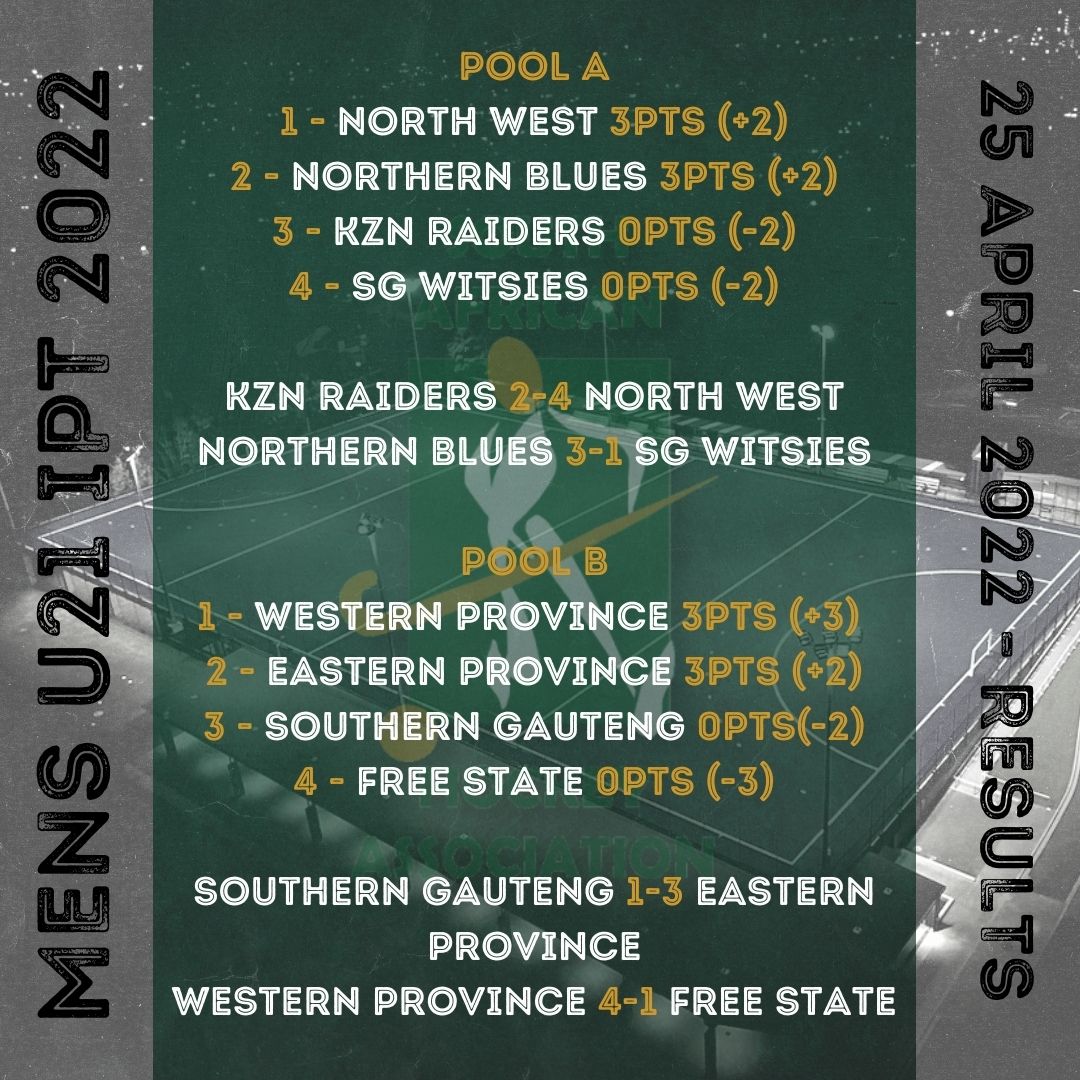 The opening day of the 2022 SA Hockey U21 IPT, the first of this tournament since 2019, saw the men's eight teams in action and all 8 got off to goalscoring starts. All four games did have winners though meaning four teams have smiles on their faces tonight, while the other four are frustrated.
North West laid down an impressive early marker in the opening game as a Keenan Wax hat-trick inspired them to a 4-0 lead (Eduard van der Walt got the other). That was the score with less than three minutes on the clock before a quick fire brace from Callum Osborne added some consolation to the score line, but also a warning that the Raiders do have some fire power in their arsenal.
Joshua Voight opened the scoring for the hosts but they were quickly pulled back by International indoor player Marvin Simons for Southern Gauteng. Southerns thought they had got a second but instead it was Storm Phillips and Nicholas Keevy who added goals for Eastern Province to set them up on a winning start.
The Northern Blues are looking to add this title to the one delivered in 2019 and they have the firepower to do that. Cameron le Forrestier, who impressed so much at the FIH Junior World Cup in India, showed why he has already earned a senior call up banging a hat-trick of goals for the men from the Capital. Unako Nowele scored the solitary goal for SG Wits, which was ultimately nothing more than a consolation goal.
Western Province got off to a flying start scoring in the third minute through Viwe Mbata, but they were pegged back by Free State when Elrich Jacobs levelled the scoring. From there on though it was always the Cape based side looking more likely and they took home their dominance with goals from Damian Knott, Cody Schoeman and Thabang Jeyi.
Tomorrow the teams look to continue their challenge and we hope for more goals after the opening day produced 19 goals across four games. All four winners and day one will take home teams looking to prove a point having tasted defeat on the opening day.
Tomorrow also sees the start of the women's tournament as the nine teams battle it out for Junior supremacy of South African hockey. Although the games will not be streamed you can stay updated on SAHockey.co.za and the various social media channels.
SA UNDER 21 IPT 2022 – FIXTURES – 26 APRIL 2022 - MEN
GREY HIGH SCHOOL – 08:00 – NORTH WEST VS. SG WITSIES
GREY HIGH SCHOOL – 10:00 – SOUTHERN GAUTENG VS. WESTERN PROVINCE
GREY HIGH SCHOOL – 12:00 – NORTHERN BLUES VS. KZN RAIDERS
GELVANDALE – 14:00 – EASTERN PROVINCE VS. FREE STATE
SA UNDER 21 IPT 2022 – FIXTURES – 26 APRIL 2022 - WOMEN
GELVANDALE – 08:00 – SOUTHERN GAUTENG VS. FREE STATE
GELVANDALE – 10:00 – NORTH WEST VS. KZN RAIDERS
GELVANDALE – 12:00 – WP PENINSULA VS. NORTHERN BLUES
GELVANDALE – 16:00 – WESTERN PROVINCCE VS. EASTERN PROVINCE
GELVANDALE – 18:00 – SOUTHERN GAUTENG VS. EP SETTLERS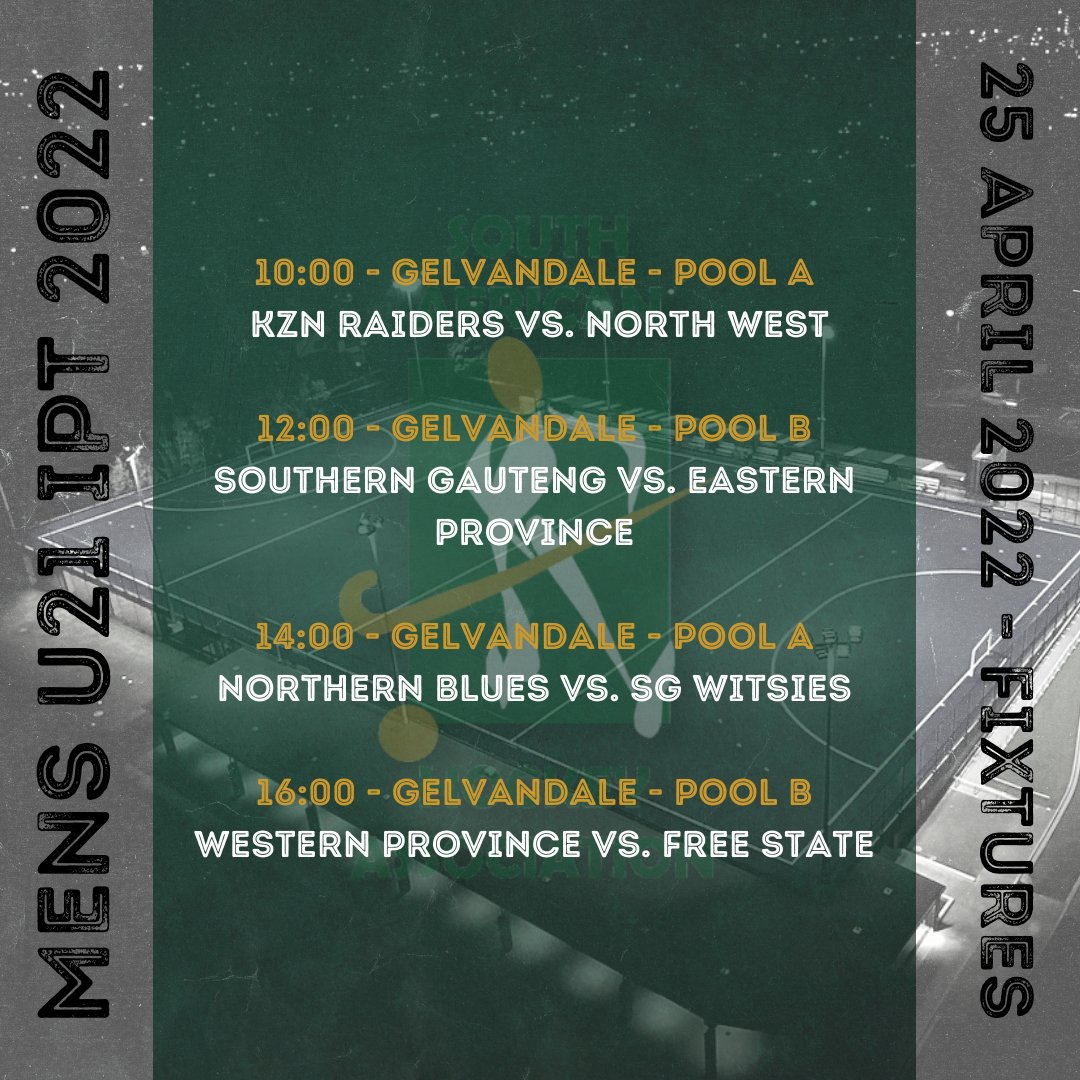 On the 13 April 2019, Sheldon Supra and Guy Morgan scored to give the Northern Blues a come from behind victory over the Western Province U21 side to claim the national U21 IPT title at the Randburg Astro. The Southern Gauteng U21 Women were also victorious on that day triumphing by the same score-line over North West.
On that day coaches and some players may have been planning what to do in the 2020 tournament. But the Covid pandemic changed the playing field, altered plans and created a new normal. That normal meant the 2020 & 2021 tournaments were cancelled and we have had to wait for three years for the next U21 tournament to take place.
Of course, the FIH Hockey Women's Junior World Cup in Potchefstroom is still fresh on the memory, but the next edition of the tournament takes place in Chile for the women and Malaysia for the men in 2023, meaning African Qualifiers will be scheduled in the next 12 months to earn a place at the tournament. With both men and women earning top 10 finishes at their respective tournaments the excitement at the junior level is probably higher than in many years.
The Men's tournament starts on Monday 25 as eight teams take on the challenge. Pool A will be contested between KZN Raiders, North West, SG Wits and the defending champions the Northern Blues. In Pool B Southern Gauteng are joined by Western Province, Free State and the hosts Eastern Province. The tournament features a traditional pool stage followed by the Quarterfinals, Semi-Finals and Finals next Saturday. The games for Monday 25 April will take place at Gelvandale Hockey Club.
The Women's tournament starts on Tuesday 26th at Gelvandale Hockey Club and is also two pools, with one featuring five teams and the other four. Pool A will be contested between 2019 winners Southern Gauteng, Free State, WP Pens, Northern Blues and EP Settlers. Pool B will see North West, KZN Raiders, Western Province and hosts Eastern Province look for ascendancy. The top two in each pool progress to the semi-finals before the finals take place on Saturday 30 April.  
The tournament is not streamed but daily updates will be communicated on SAHockey.co.za and the respective social media channels.
SA UNDER 21 IPT 2022 – FIXTURES – 25 APRIL 2022 - MEN
GELVANDALE – 10:00 – KZN RAIDERS VS. NORTH WEST
GELVANDALE – 12:00 – SOUTHERN GAUTENG VS. EASTERN PROVINCE
GELVANDALE – 14:00 – NORTHERN BLUES VS. SG WITS
GELVANDALE – 16:00 – WESTERN PROVINCE VS. FREE STATE
Over five days of action the top two teams from the tournaments have emerged and the finalists have now been decided. Here is how the semi-finals went down on a very weather affected day in.
SA U21 IPT – Women's Semi-finals
KZN Raiders 0-1 North West
It was a tactical affair as the two favourites battled it out for a spot in the final. The game was largely a fight between who was the best defence rather than the best attack and would probably be decided by only one goal. And that proved to be the fact, as Chante Ferreira's 50th minute strike put the defending champions back in the final.
Southern Gauteng (2) 0-0 (1) WP Peninsula
It was another tense affair in the other semi-final as the highly favoured hosts were kept at bay by a determined and resolute WP Pens performance. Both sides had opportunities to win the game in normal time but cam up against determined defence. In the end it was a shootout and it was Sisipho Magwaza who starred as Southerns won 2-1 in the first sudden death round.
FINAL – 13 April 16:00 – Southern Gauteng vs. North West
SA U21 IPT – Men's Semi-Finals
Northern Blues 2-1 Southern Gauteng
This was arguably the people's choice for the final, a repeat of the 2018 final, with no disrespect meant to other teams. Sihle Ntuli, in his first tournament with the Northerns Blues, was the one who got one over Miguel da Graca's men. Sheldon Supra continued his fine form netting the first but Southerns fought back with a fourth quarter goal to make it 1-1 by none other than Spencer Botes. Trevor de Lora then re-established the lead just one minute later. It was the last goal of the game as the Northern Blues underlined their quality at this age group.
WP Peninsula 2-3 Western Province
The Western Province men managed to overcome the challenge that their female counterparts had succumbed to as they emerged victorious over their "B" side. Jacque van Tonder and Mbuso Mgobozi made it 2-0 before Ben Proctor pulled one back. Wesley Gardener made it 3-1 before Jack Tevershan set up a nerve-wracking finale. The Province men managed to hang on for their place in the final and an opportunity to emulate the Men's Senior indoor side.
FINAL – 13 April 18:00 – Western Province vs. Northern Blues
Photos – Sean Burke
On day four of the South African Hockey U21 IPT, Four sides secured their spots in the Semi-Finals. Here they are and their routes to the final:
SA U21 IPT – Women's Section
KZN Raiders
They are the only team with a 100% record from the Pool stages. Coach Brinsley Powell has enjoyed some good success in his first tournament with the KZN side. Made it four out of four with a comfortable 3-1 win against Western Province. Hannah Shirley has been instrumental with 6 goals while skipper Tegan Fourie continues to lead from the front.
WP Peninsula
The underdogs of the tournament who largely secured their place with a 1-0 win over Western Province on day 2. They secured their spot in the top 4 with a 2-0 win against Witsies. Incredibly they have not conceded since the opening game showing the focus that Justin Grundlingh has put on defence.
Southern Gauteng
Tsoanelo Pholo's side snatched top spot from North West in the most dramatic style when they beat Free State 6-1 to go one ahead on Goal Difference. It was a massive final quarter that saw them over the line. Lezaan Jansen van Vuuren has led the team from the front with 6 goals while Michelle Dykman has also impressed.
North West
North West won their spot in the Semi-Finals effectively winning a Quarter-Final against the Northern Blues. Johan Jacobs has a very team effect with the goals being shared across the team with the likes of Clarise Smit, Courtney du Preez, Chante Ferreira and Sare Laubscher all contributing significantly.
Semi-Final Fixtures
KZN Raiders vs. North West
WP Peninsula vs. Southern Gauteng
SA U21 IPT – Men's Section
Northern Blues
The defending champions have played like that exactly, champions. Four wins from four games have left Sihle Ntuli's side as the favourites. Guy Morgan, Brad Sherwood and Sheldon Supra have come up good with the goals and have kept the Blues as the only mens team with a 100% record.
WP Peninsula
In a battle of the "B" teams the Peninsula Mens side mirrored their girls side to make it to the final four. They secured their spot with a draw against Wits to go through on goal difference. Cameron Baker, one of the WP Indoor stars, has been fantastic for Michael van Rensburg and his team.
Western Province
Western Province secured top spot and a game against their "B" side in the Semi with a thrilling victory over Southerns thanks to goals from Mbuso Mgobozi and Idrees Abdulla. It was as good a performance as they have produced in the tournament. Lungile Tsolekile will be a very happy man ahead of the semi-finals.
Southern Gauteng
Having already secured top four spot, they had to settle for second as they fell short against Western Province. But in Spencer Botes they have a lethal goal scoring machine and a superb shot stopper in Duncan Fischer means they set up a titanic tussle with their Northern Neighbours.
Semi-Final Fixtures
Northern Blues vs. Southern Gauteng
WP Peninsula vs. Western Province
Photos – Sean Burke
Just three days into the 2019 South African Hockey U21 IPT, only 3 teams still look back with a perfect record so far. That means there is all to play for in Day 4 as the playoffs will be finalised. The Perfect three so far are the Northern Blues and the Southern Gauteng in the Mens tournament and KZN Raiders in the Womens tournament.
The Northern Blues confirmed their status as favourites as they added their 3rd win from 3 with a 4-1 win over Eastern Province. The win also secured them a semi-final spot. Although they trailed to an early goal by Laython Coombs, the Blues won thanks to goals from Brad Sherwood, Nicholas Pio and a brace from Guy Morgan.
Southern Gautengs men made it a perfect four themselves when they defeated Mpumalanga 4-0. The result took them to 19 goals scored having only conceded one and they look a tough team to beat on the home turf. Brad Riley, Chris Makaba, Che February and of course Spencer Botes were the goal scorers for the hosts.
The only team in the ladies section with a 100% record is the Tegan Fourie – led KZN Raiders. They made it 3 out of 3 with a brutally effective display in defeating Wits 4-0. Courtney Slaney, Kerryn Swanepoel and 2 from Hannah Shirley got on the score sheet to see the Durban side home.
In the women's tournament its neck and neck in Pool B where the Northern Blues, Southern Gauteng and North West are fighting over the top 2 spots, while in Pool A the remarkable bvictory on day 2 by Pens over Western Province means they look likely to steal second place behind the Raiders.
In the Men's tournament Western Province must just avoid a heavy defeat to the hosts and the ywill join them in the semi-finals, while Pens, Daisies and Wits are all still in with a shout of second in the other pool.
The questions of who will qualify for the semi-finals and who will make the most of their opportunities will be decided in the next 24 hours at Randburg Astro! We cant wait!
SA U21 IPT – Results Day 3
Women's Pool A
Western Province 9-3 Mpumalanga
KZN Raiders 4-0 SG Witsies
Women's Pool B
Northern Blues 3-0 Northern Daisies
Southern Gauteng 3-1 Eastern Province
North West 0-0 Northern Daisies
Free State 1-2 Eastern Province
Northern Blues 1-1 Southern Gauteng
Men's Pool A
Northern Blues 4-1 Eastern Province
Northern Daisies 1-1 WP Peninsula
Men's Pool B
Western Province 6-0 Mpumalanga
North West 4-0 Northern Cape
Western Province 3-1 North West
Southern Gauteng 4-0 Mpumalanga
KZN Raiders 4-2 Northern Cape
Photos – Sean Burke
The Western Province Pens produced the display of the tournament so far, overcoming a lightning break, to produce a 1-0 win against their A side in a classic battle in the women's tournament. Ernelene Botha was the match winner for the Pens in this classic underdog tale. This after they started the day with a 3-0 win against Mpumalanga. Carienke Jacobs continued her fine form with two of the goals.   
North West and Southern Gauteng refused to be separated in their own titanic tussle for Pool A supremacy, Kaylee Hardwood netted early before the impressive Clarise Smit levelled and then took advantage for North West. But Tsoanelo Pholo's team refused to accept defeat and regained parity through a late Tamlyn Kock goal. 2-2 is how it ended.
Elsewhere it was big wins for Free State over Northern Daisies (6-2), Northern Blues over Eastern Province (6-0), North West over Free State (6-0) and KZN Raiders over Mpumalanga (7-0).
After two days it's the Northern Blues, WP Pens, Southern Gauteng, KZN Raiders and North West putting their hands up highest.
In the men's tournament the hosts, the Southern Gauteng Lions raised their voice the loudest when they put 5 past the KZN Raiders. It was once again a superb display by Spencer Botes and his team leaving Miguel da Graca a very happy coach.
Sihle Nutli was also a very happy coach as Brad Sherwood starred for his side in a smashing 5-0 win against the Wits side. It was also a superb defensive display by the defending champions. Witsies themselves kept their tournament hopes alive with a thrilling 4-3 win over Eastern Province, after being level at 2-2 at the end of the third quarter.
EP did get their own back somewhat with a 2-1 win over the Daisies in the late game of Day 2, while WP completed a spanking of Northern Cape with an 8-0 win.
SA U21 IPT – Results Day 2
Women's Pool A
WP Peninsula 3-0 Mpumalanga
Western Province 0-1 WP Peninsula
KZN Raiders 7-0 Mpumalanga
Women's Pool B
North West 2-2 Southern Gauteng
Free State 6-2 Northern Daisies
Northern Blues 6-0 Eastern Province
North West 6-0 Free State
Men's Pool A
SG Witsies 4-3 Eastern Province
Northern Blues 5-0 SG Witsies
Northern Daisies 1-2 Eastern Province
Men's Pool B
Southern Gauteng 3-1 North West
KZN Raiders 5-1 Mpumalanga
Western Province 8-0 Northern Cape
Southern Gauteng 5-0 KZN Raiders
Photo - Sean Burke