After 5 days of action, we are down to a top two in both men's and women's tournaments.
Southern Gauteng took on the slightly favoured KZN Raiders in the first semi-final and a game of true quality ensued as two of South Africa's most exciting coaching locked horns in Tsoanelo Pholo and Nolwazi Nkabinde. Cloe de Souza opened the scoring for the inland giants, but Emily Macquet was on hand to equalise for the coastal side. Despite both teams trying their best they could not find a winner and the game went to a shootout. Southerns netted 3 from their four while Morgan de Jager could only be beaten once in five and it was a place in the final for the Jozi girls.
A remarkable second semi-final had a remarkable conclusion. Kayla Swarts had opened the scoring for Western Province but Kutlwano May had restored parity. Western Province thought they had the winner when Jodie Collins netted late late in the game. But the drama would still unfold as Emmere Steenkamp scored right as the hooter was warming up. A second semi-final shootout would take place and this one went all the way to sudden death. Laiken Brisset scored for Northerns and that would be enough to secure a final against their Gauteng neighbours!
Elsewhere it will be Eastern Province and Free State who play off for the fifth place as they overcame WP Pens and North West respectively.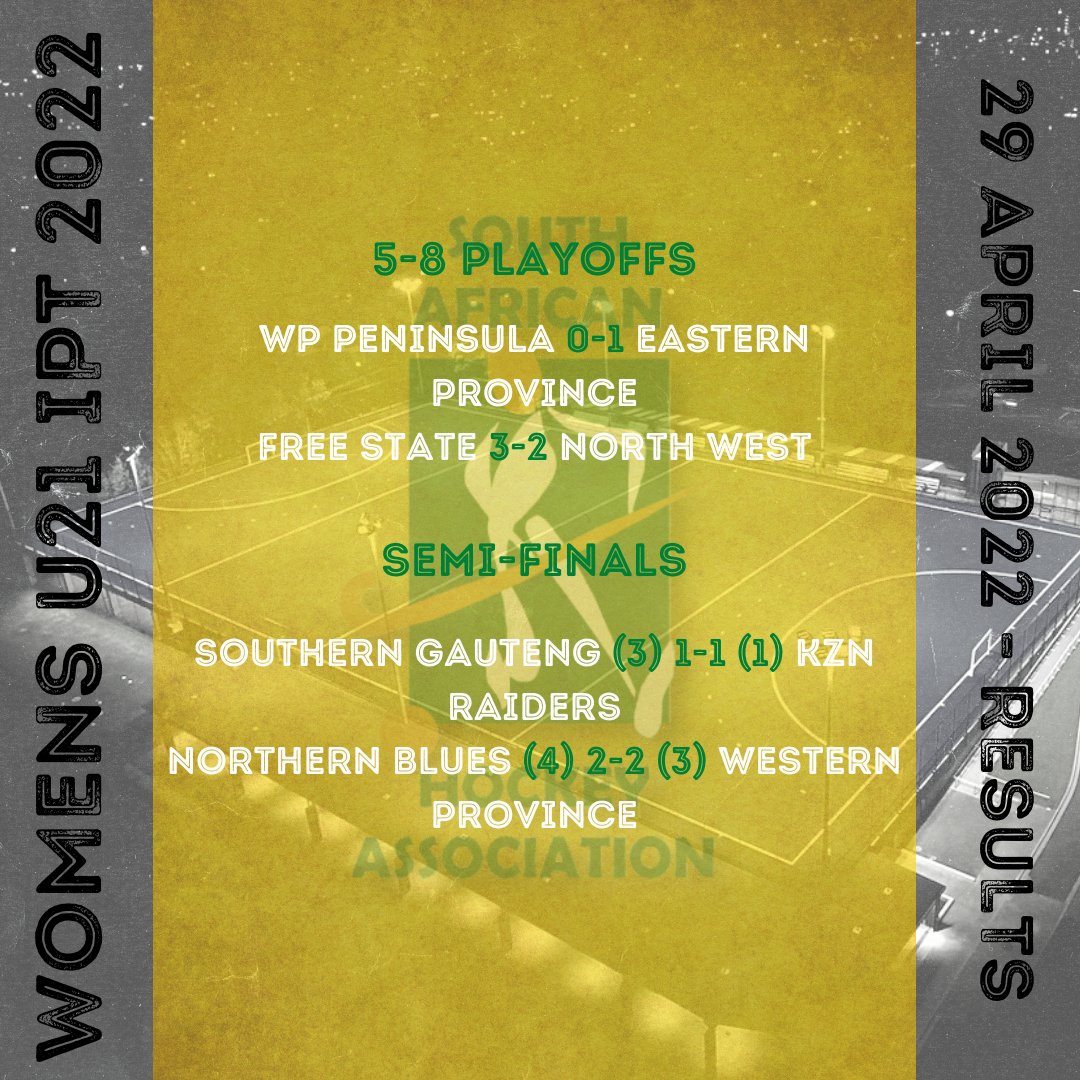 In the opening Semi-Final of the Men's, a game of frenetic goal mouth activity saw seven goals between the Northern Blues and Eastern Province split by just one. There were two for Cameron le Forrestier and two for Calvin Davis as the defending champions stormed into a 4-1 lead. But the hosts spurred back into action as Joshua Voight got his second and third within 90 seconds and the belief grew. Unfortunately, it was not enough and at the end of the day it was the 2019 champions who secured a 2022 final.
And in matching the women's final it will be an all-Gauteng affair as Southern Gauteng won their way into the final too. They had to come from behind as Daminan Knott scored first for Western Province to establish a lead that would last for 50 minutes. The lead was suffocated by the goal of Kenoe Christians, and the game went to a shootout. Southerns were more clinical, by a tiny margin and won the shootout 3-2 to seal a place in the final.
Free State and KZN Raiders will play off in the 5th place match after solid victories against SG Wits and North West respectively.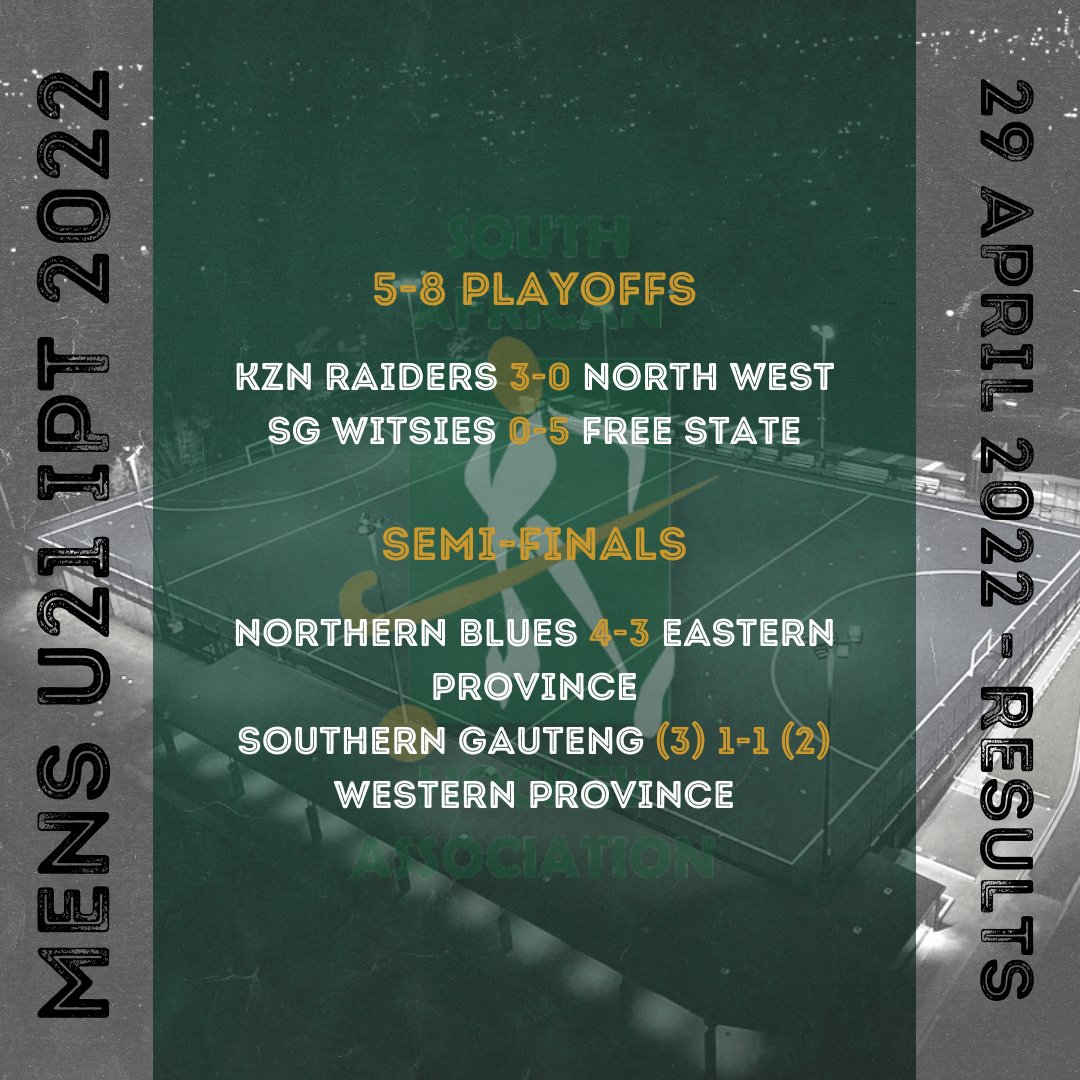 SA UNDER 21 IPT 2022 – FIXTURES – 30 APRIL 2022 - MEN
7-8 PLAYOFF - 13:00 – PEARSON
SG WITSIES VS. NORTH WEST
5-6 PLAYOFF - 15:00 – PEARSON
KZN RAIDERS VS. FREE STATE
3-4 PLAYOFF - 12:00 - KC MARCH ASTRO
EASTERN PROVINCE VS. WESTERN PROVINCE
FINAL - 16:00 - KC MARCH ASTRO
SOUTHERN GAUTENG VS. NORTHERN BLUES
SA UNDER 21 IPT 2022 – FIXTURES – 30 APRIL 2022 – WOMEN
7-8 PLAYOFF - 11:00 – PEARSON
WP PENINSULA VS. NORTH WEST
5-6 PLAYOFF - 08:00 - KC MARCH ASTRO
EASTERN PROVINCE VS. FREE STATE
3-4 PLAYOFF - 10:00 - KC MARCH ASTRO
KZN RAIDERS VS. WESTERN PROVINCE
FINAL - 14:00 - KC MARCH ASTRO
SOUTHERN GAUTENG VS. NORTHERN BLUES
Under the watchful eye of national indoor men's coach David Joshua, the defending champions Western Province took on the hosts and 2018 winners KZN Raiders in a mouth-watering final. In the Raiders ranks were some of SA Indoor Hockey royalty with the likes of Jethro Eustice, Justin Domleo and Wade Paton all having played in the previous World Cup, while coach Ryan Hack is the national assistant coach.
Western Province have their own ace up their sleeve in the coaching of Ross Willis and a team that features the dynamic brilliance of Dayaan and Mustapha Cassiem alongside the likes of Ryan Julius and Kyle Esau. On paper this was a game that you would struggle to predict. Fortunately, the game is not played on paper and Ashton College in Ballito played host to its first ever Indoor IPT final and a capacity crowd.
Province had earned their way to the final winning every game and scoring 33 goals while only conceding 13. They were victorious over Pens in their semi-final and had played a game less in the road to the final being in Pool A. The Raiders had started slowly with a 2-2 draw but had raised the game throughout scoring 39 goals and conceding 8, including a clean sheet against Southerns in the final.
South African indoor skipper and dual international Jethro Eustice opened the scoring in the final with a trademark penalty corner to give Ryan Hack's team the lead. Although Jonty Robinson received a yellow card shortly after that, Province were unable to make it count and it ended 1-0 at the end of the first quarter.
Western Province fought back in the second quarter and turned the game on its head with goals by Ryan Julius and Dayaan Cassiem to swing the game and momentum in their favour. Raiders poured forward to look for an equaliser but met an inspired Anton van Loggerenberg, playing with an injured shoulder. Loggies was in inspired form and should be proud of his performance.
With the clock winding down Raiders got the goal the match deserved with Ross Hetem the man to convert it. For the second final of the day the game would be decided by a shootout.
After six penalties the deadlock was finally broken. Dayaan Cassiem who had missed his first one on one finished with a cheeky and superb reverse flick. When Loggies kept out Keegan Hezletts final effort it was game set and match. Western Province had retained the trophy!
Indoor IPT 2020 | Men's Final Standings
Western Province
2. KZN Raiders
3. Southern Gauteng
4. WP Peninsula
5. KZN Mynahs
6. Mpumalanga
7. SG Witsies
8. Northern Blues
9. KZN Robins
10. Eastern Gauteng
11. KZN Inland
Indoor IPT 2020 | Men's Individual Awards
Most Promising Player – Luke Lange (WP Peninsula)
Goalkeeper of the Tournament – Anton van Loggerenberg (Western Province)
Top Goalscorer – Liam Hermanus (Mpumalanga)
Player of the Tournament – Jarryd Jones (KZN Raiders)
The Women's 2020 IPT B Section final offered something that is probably the next best thing to a trophy and that's promotion back to the tournaments top 8. At the beginning of the week the odds were on North West and Southern Gauteng Witsies to contest the final and both got there with varying degrees of difficulty.
North West were given a might scare in their semi-final when they went 2-0 down to Eastern Province. They managed to pull level before falling behind again and Kirsty Adams eventually scored the goal that sent them to a shootout. They were able to win that 2-0 to secure their place in the final. There was no such difficulty for Wits as they ran out 7-0 winners against Free State in a one-sided semi-final.
It was North West who opened the scoring in the final when Badrunnisaa opened the scoring in the 8th minute. Witsies were given a fortuitous stroke shortly afterwards, but it was saved by Mishka Ellis. North West should have made it 2-0 with some amazing work but a diving Elmien Nel was unable to convert. It was a chance they were quickly made to rue. Emma Paget made no mistake from a penalty corner to draw the score level at 1-1 which it remained at the half time break. Julian Hykes and Shaun Baker both had their half time talks cut out for them as they looked for the gold medal.
Halliday had the best chance of a tentative third quarter for North West, but Mishka Ellis was keeping it competitive by denying Gracious Mpe on two good occasions. Both teams were searching for the break to give themselves the title but were finding chances hard to create.
A penalty corner from North West early in the fourth beat Rebelo in goal but Jenna Lange was on the line to keep it out. Kaylee Hardwood saw yellow for Witsies but the Hykes girls were able to repel the challenge successfully. Kirsty Adams was trying her hardest to make something happen but both teams appeared ready to have the title and the place in the A Section decided by a penalty shootout. But not Hardwood. The hotshot converted a penalty corner with 1-minute remaining to give Southerns the lead and a share of the top goal scorer award.
But North West roared back and won a controversial penalty corner that was trickled home on by Kirsty Adams. North West needed a big player at the big time, and they got it from Adams. The game was going to a shootout.
After pulling level through Legaae Mentor North West finally won the shootout when Gracious Mpe struck the post with the fifth shootout.
Earlier Eastern Province had won the bronze medal. A fantastic result for Dalan Phillips team.
Indoor IPT 2020 | Women's B Section Final Standings
North West
2. SG Witsies
3. Eastern Province
4. Free State
5. KZN Robins
6. Eastern Gauteng
7. Northerns Daisies
8. Mpumalanga B
Indoor IPT 2020 | Women's B Section Individual Awards
Most Promising Player – Kirsty Adams (North West)
Goalkeeper of the Tournament – Petro Stoffberg (Eastern Gauteng)
Top Goal scorer – Amy Visagie (KZN Robins) & Kaylee Hardwood (Southern Gauteng)
Player of the Tournament - Dunell van Taak (North West)
After three days of action in KwaZulu Natal, there are four teams left to fight for honours across the three tournaments.
Men's Tournament – Ashton College – Ballito
Southern Gauteng and Western Province entertained a capacity crowd in Ballito as they produced an outstanding top of the table clash on Friday. Having led 2-0 through skipper Chad Futcher and an in-form Rusten Abrahams, Southerns would have felt satisfied with their progress so far. But the defending champions are a good side and turned a 2-0 deficit into a 3-2 lead. The goals came thanks to a wonderful piece of invention by Dayaan Cassiem, a fantastic reactionary finish by Aiden Tun and a cool calm and collected finish by Mustapha Cassiem.
Marvin Simons would make it 3-2 before Mustapha finished a second after a beautiful pass by his brother to make it 4-3. Just seconds after the restart it was 4-4 as Rusten Abrahams showed his own Cassiem-like skills, but a late Southerns error allowed the younger Cassiem to net a hat-trick and seal the win for the defending champions.
Joining the two juggernauts in the final is the KZN Raiders who convincing in victories against Mynahs and Inland to seal top spot and they were joined there by WP Peninsula, winning the unofficial award as best "B" team in the country. Pens secured their spot with a 4-2 victory over the KZN Robins
Semi-Finals
Western Province vs. WP Peninsula
Southern Gauteng vs. KZN Raiders
Women's A Section – Danville Park Girls School – Durban North
Of the four quarter finals the biggest "shock" that presented itself was when the KZN Mynahs overcame the KZN Inland side 5-3 in the second quarter final. Mynahs built their victory off the back of a great start with Cailynn den Bakker netting a hat-trick. Despite a hat-trick from Nadia Stella (Jones) they could not get into it allowing KZN Mynahs to be the only "B" side in the semi-finals.
Southern Gauteng were pushed all the way to keep their title defense alive by Mpumalanga. Tamlyn Kock continued her fine form to be the star and win the battle, but it was Mpumalanga who continued to win the hearts of the crowd in Danville. Western Province and SPAR KZN Raiders both professionally saw off their Quarter Final opponents to secure their spot in the final four on Saturday.
Semi-Finals
Western Province vs. KZN Mynahs
SPAR KZN Raiders vs. Southern Gauteng
Women's B Section – Danville Park Girls School – Durban North
Eastern Province and Free State both overturned the favourites tags by overcoming KZN Robins and Eastern Gauteng respectively to keep alive their promotion claims, while North West and Southern Gauteng Witsies both performed with the form that has seen them both considered the favourites for the B Section title.
Semi Finals
North West vs. Eastern Province
Free State vs. SG Witsies
Image - Chris Murphy Photography
The second day of the 2020 Indoor IPT being hosted in KwaZulu Natal saw the completion of the first phase of the Women's tournament while the men's action heated up on a humid East Coast.
Men's Tournament – Ashton College – Ballito
Mpumalanga were the undoubted entertainers of day 2 as their two games produced an outstanding 27 goals. In the opening game of the day Southern Gauteng were made to continuously fight for their victory as Mpumalanga remarkably pegged the difference to just one goal on four separate occasions. The game saw a hat-trick for the Lions Chad Futcher, while Liam Hermanus netted four for Mpumalanga. If the Mpumalanga fans were left breathless for that game, they would have needed extra oxygen for their match up with Eastern Gauteng.
The side from the lowveld found themselves 5-1 up after just 12 minutes and looked to be coasting to a victory with Hermanus already on a brace. But Eastern Gauteng showed superb character to net four goals unanswered, Njabulo Shongwe restoring parity at 5-5. Hermanus struck another brace to re-establish a two-goal lead, but Ryan Roberts and Bradley Nunn levelled matters again. A Hermanus goal in the 37th minute eventually broke the resolve of the East Randers, and a late Connor Flowers goal added to the gloss.
There were two other classic games on the day as WP Pens won a poor tempered match against SG Wits, with the teams getting more cards than I do on Christmas day, while the KZN derby between the Robins and Mynahs was a classic that the latter edged.
Western Province continued their fine form with a big win over Easterns while Inland's tournament is proving very quickly to be one to forget.
Women's A Section – Danville Park Girls School – Durban North
SPAR KZN Raiders secured top spot in Pool B without ever having to get out of first gear. They were comfortable winners against both the KZN Inland and Northern Blues sides. Western Province secured top spot of Group A with two 3-2 wins on the day, first against Southerns before later against their "B" side Pens. Kayla de Waal was the star in the top of the table clash against Southerns with her brace being the decider.
Southerns ended second in Pool A after seeing off the challenge of KZN Mynahs before Mpumalanga and KZN Inland wrapped up the group stages superbly. Inland had led 2-0 with 5 minutes remaining but Mpumalanga surged back and after Trinity du Preez pulled a goal back the belief was with them. It took until the final minute but when Nicole Nel scored it gave the Lowveld Ladies a deserving point in a wonderful game of indoor hockey.
The Quarter Final line up is as follows:
Western Province vs. Northern Blues
KZN Inland vs. KZN Mynahs
Southern Gauteng vs. Mpumalanga
SPAR KZN Raiders vs. WP Peninsula
Women's B Section – Danville Park Girls School – Durban North
North West secured top spot of Pool A after coming through tight tussles with both Eastern Gauteng and Eastern Province with defensive stability being the driving factor for the Potchefstroom based province. Witsies on the other hand top Pool B with a more flair-full attacking approach winning their two games on day two by scoring 16 goals.
The Quarter Final line up is as follows:
North West vs. Northern Blues B
KZN Robins vs. Eastern Province
Eastern Gauteng vs. Free State
SG Witsies vs. Mpumalanga B
Picture - Mpumalanga Hockey
The first day of the 2020 Indoor Hockey IPT did not waste time in producing some fantastic hockey while the teams battled one another, the humidity and of course load shedding. At the end of day 1 of the 2020 tournament some teams were happier then others. Here is what went down in Durban.
Men's Tournament – Ashton College – Ballito
The standout result from day 1 of the tournament was undoubtedly Southerns Wits, in essence the Southern Gauteng B side, holding the hosts KZN Raiders to a pulsating 2-2 draw. The game produced more yellow cards than goals, something that would have disappointed the two coaches, but ultimately Reza Rosenberg was the happier of the two. The Raiders had stormed to a 2-0 lead through national players Lungani Gabela and Keegan Hezlett before Keenan Wax and Armand Scorgie restored parity.
The KZN Robins, essentially the "C" team for the host region, produced their own moment of magic as they beat KZN Inland 7-4 despite a hat-trick for David Gerrard. Keegan Maccullam netted three for the Robins while Michael Baker got himself a brace.
Western Province began their own quest to retain their title with a workmanlike 5-2 win over Mpumalanga, two goals for Gareth Tate, while Northerns managed to see off their Eastern Gauteng neighbours 7-2 with Ignatius Malgraff being the star of the show. In the "B" team battle WP Pens produced a five-goal final quarter to make a comfortable 8-4 win over the KZN Mynahs.
Women's A Section – Danville Park Girls School – Durban North
The four favourites opened the 2020 with victories with varying degrees of ease. The defending champions Southern Gauteng opened their campaign with a 3-1 win over Pens thanks to goals from Erin Haupt, Gabriella Desai and Malikah Hamza. Having lost three players to the outdoor national side its going to be a tough challenge for the Joburg girls.
Western Province laboured to a 2-1 win against the KZN Mynahs. Kayla de Waal showed the value of international experience as she got the brace to give AJ Spieringshoek's team an opening day win, while SPAR KZN Raiders opened their quest to regain the title with a convincing 4-0 win against Mpumalanga. Kelly Reed got herself a brace on her return from her maternal absence, while Daniella De Oliviera made an instant mark on her Raiders debut.
KZN Inland were given a scare by the Northern Blues after romping to a 4-0 lead, as it was pegged back to 4-2. Ultimately Keagan Walters team had done enough thanks to Jenna Fyvie's brace to start with three points.
Women's B Section – Danville Park Girls School – Durban North
Eastern Gauteng caused the most eye-raising result on day 1 of the B Section when they finished 2-1 victors over Eastern Province. Aimee Kockott and Cassie Coutsides scored for the East Rand side to give them an unlikely but very happy win. Elswhere there were convincing wins for SG Wits (5-2 over Free State), North West (6-2 over Mpumalanga B) and KZN Robins (8-0 against Northern Blues B).
 Image - Southern Gauteng Hockey Association
In 2020 the South African Indoor Hockey Men and Women will take part in the African Hockey Indoor Cup of Nations with the goal of qualifying for the 2021 Indoor Hockey World Cup. With other test series planned on the Road to the World Cup it's another big year for indoor hockey and the journey starts in Durban today.
The Men's Indoor Hockey IPT defending champions will be trying their best to defend their crown they won in Pietermaritzburg last year. Ross Willis will again lead the team that features International players in Dayaan Cassiem, Mustapha Cassiem, Ryan Julius
Their biggest competition is likely to come from the hosts, the KZN Raiders who have the services of Wade Paton back along indoor hockey superstars Jethro Eustice, Justin Domleo and Jarryd Jones. Under the tutelage of Ryan Hack they have a coach who knows how to win the tournament and will undoubtedly be the team to beat in their group.
Southern Gauteng may be wearing a new lion as their crest in this tournament but as their slogan goes, you can expect the team to be "all heart". Chad Futcher will be the man called on to score the goals, which he proved in his International bow against Switzerland he can do with ease, while the retirements of stalwarts Julian Hykes and Reza Rosenberg have given opportunity for other youngsters to stake their claim. Will the likes of Marvin Simons, Spencer Botes or Fawaaz Kahder make the difference for the Lions?
Other challengers for the crown will be the SG Witsies, Northern Blues and KZN Inland who are all likely to be difficult to beat.
In the women's team the defending champions Southern Gauteng's challenge to defend their title took a curve ball when three of their star players were called up to the national outdoor squad currently taking on China in Cape Town. The challenge though will excite coach Blake Goosen who looks to join a very elite band of coaches to defend their title.
The hosts the SPAR KZN Raiders will be a tough team to beat with Jess Lardant, Jess O'Connor, Zimi Shange, Cindy Hack, Tegan Fourie and Cheree Greyvenstein all featuring over the past 12 months for the SPAR South Africa team. They were the beaten finalists in 2019 and Calvin Price will be desperate to add a gold medal to the one he won in 2018.
Western Province have shown remarkable improvements under the tutelage of AJ Spieringshoek. The likes of Kayla de Waal, Ammaarah Hendricks, Andrea Leader and Jamie Southgate are a big part of that improvement and will be called on to be the leaders in an exciting team.
KZN Inland also look a good outside bet with Eloise Walters looking to find her 2018 form after recovering from injury and will be an entertaining prospect to deal with.
The Men's tournament takes place at Ashton College in Ballito while the women will play at Danville Park Girls High School in Durban North. There will be daily updates on SAHockey.co.za and you can follow the scores by clicking on the TMS link at the top of the page.
An amazing week of hockey concluded with Western Province continuing a tradition in SA Men's Hockey over the past three years. That tradition is that the champions of the indoor hockey IPT have gone on and won the outdoor tournament too. With Southerns being the favourites on paper it was always going to be a tough challenge for Province, but they showed up in a big way.
Mustapha Cassiem, the PHL Young player of the year, was in sensational form and stepped up to give Province the lead in the 26th minute with a goal finished superbly on the reverse stick. But Southerns are a fantastic team and were desperate to step up from last year's silver medal and surged straight back up the other end. The pressure resulted in a penalty stroke which Nic Spooner duly stood up to and finished it. That's back -to-back finals that Spooner has scored in and once more underlines his big match temperament.
Western Province then had their own big match player step up from a penalty stroke and fire passed Rassie Pieterse. That player was 17-year-old Mustapha Cassiem. With a 2-1 lead going into the final quarter Province were dreaming of the trophy.
But those dreams were temporarily doused when Brynn Cleak got on the end of superb Richard Pautz work to level the final. And that ended the goal scoring for the tournament and set up another penalty shootout to decide the title.
Despite his fantastic form throughout the tournament, Rassie Pieterse was unable to deny Ryan Julius and Andrew Hobson and of course it meant that Mustapha Cassiem stood with the opportunity to seal the title. It was an opportunity he would not waste as Western Province sealed a remarkable title and Southerns wait for a title extends by another year.
The Individual Player awards for the tournament were as follows:
Goalkeeper of the tournament – Rassie Pieterse (Southern Gauteng)
Top Goalscorer – Richard Pautz (Southern Gauteng) & Connor Beauchamp (Western Province)
Young Player of the tournament – Dayaan Cassiem (Western Province)
Player of the tournament – Nic Spooner (Southern Gauteng)
SA Men's Hockey IPT 2019 – Final Placings
A Section
Western Province
Southern Gauteng
Northern Blues
SA U21
KZN Raiders
Eastern Province
SG Witsies
WP Peninsula
B Section
Free State
SACD
KZN Mynahs
SG Nuggets
North West
KZN Inland
Mpumalanga
Northern Cape
Another year of IPT action is coming to an end. After starting with 8 teams in the A Section we are down to just two who will fight it out live on Shoott SA for the title of South African Hockey Champions for 2019. The final is between the Southern Gauteng and Western Province. How did both teams progress this far.
Southern Gauteng
In an almost copy and paste from the women's tournament, the Lions have been in imperious form throughout the tournament and showed a powerful display from day one. They opened their tournament with a swashbuckling 7-4 win against Eastern Province. Goals came from all over with Richard Pautz particularly impressive. They then won the derby game against Witsies 4-2 with Thabang Modise, Richard Pautz, Chad Futcher and Gareth Heynes netting.
They then secured top spot in a superbly tight encounter with Neville Rothman's SA U21 side winning 1-0 thanks to Chad Futcher.
In the quarter finals the Lions showed their intent to go one further than the silver medal of 2018 with a 6-1 dismantling of WP Pens. Two more goals for Richard Pautz were supported by Chad Futcher, Gareth Heynes, Nic Spooner and Reza Ronzenberg. The opening quarter blitz was something special.
In the semi-final it was another encounter with SA U21 and although it was a tough test, the Lions were always in control with Heynes, Brynn Cleak, Nic Spooner and Pautz netting in a 4-1 win.
In the final they will be playing…
Western Province
The 2019 Indoor Hockey champions have a chance to make it the double by making the final. After a tough group stage where they lost to the Northern Blues and drew to the KZN Raiders they have come into their own.
They thumped Eastern Province in the Quarter Final with a brilliant 8-1 victory with Connor Beauchamp leading the attack with four goals. Reece Arendse, Musthapha Cassiem, Charlie Bowren and Dayaan Cassiem all got goals as Province sealed a semi-final spot.
This is where they produced their performance of the tournament as they stunned the Northern Blues, who had been looking sensational. Andrew Hobson opened the scoring in the 25th minute and despite the best efforts of the Blues it remained 1-0 into the final quarter. As Guy Elliots side looked for the equalizer Denzil Dolleys side gave the perfect response by landing three counter attacking punches. Mustapha Cassiem, Dayaan Cassiem and Keenan Horne landed the punches that would ultimately seal their place in the final and knock the Blues out.
Southerns will be favoured but WP have the x-factor players that can turn a game on its head. Its going to be a humdinger!
The B Section final will be between SA Country Districts and Free State.
After three days of action the tournament has completed its first stage in Bloemfontein, the group stages. With the format being used all teams are still in it with the Quarter Final stage taking place on Thursday. Here is what went down in the men's A Section group stage.
GROUP A
Northern Blues offered the most value for money for viewers across their three matches. After opening with a thrilling come from behind 3-2 victory against Western Province, they then defeated the defending champions KZN Raiders 2-1 to put their hand up for top spot. They ended up then being stunned 4-3 by Western Province Pens having led 2-1. The defeat proved to not be costly for the Pretoria boys as a draw between WP and Raiders meant that Northern's sealed top spot in the pool.
With the door having opened for a march on top spot the Raiders and Province played out an exciting 2-2 draw. Taine Paton and Jonty Robinson each scored to level for the defending champions after goals from Keenan Horne and Connor Beauchamp. That result meant the Raiders finished second by virtue of a one goal superior difference over Western Province.
GROUP B
Southern Gauteng underlined why they are favourites for the tournament with a perfect three from three in the group stages. They beat EP 7-4 having led 6-0 at a stage, while they followed that up with a 4-2 win against their "B" side Wits. They completed a perfect group stage in a tough 1-0 win over the SA U21 side thanks to the solitary goal by Chad Futcher.
Second place in the group went to Eastern Province who bounced back from that defeat with two thrilling 3-2 wins. Against SA U21 they trailed 1-0 and 2-1 before Dayne Samboer netted a winner to the delight of the EP community. Having drawn the group game 1-1 with Wits, SA U21 secured third spot in the group and the "easier" quarter final.
QUARTER FINAL LINE UP
Southern Gauteng vs. WP Peninsula
Eastern Province vs. Western Province
SA U21 vs. KZN Raiders
SG Witsies vs. Northern Blues