Ahead of an action packed 12 months for the South African Women's indoor and outdoor hockey sides, Kara Botes has decided to call time on her International career both on the astro and on the indoor courts.
The current Southern Gauteng defender is one of only three players to have amassed more than 50 caps for both indoor hockey and outdoor hockey. Having been schooled at the brilliant Pietermartizburg Girls High, there was hardly doubt that she would make a star of herself on the international stage and started her journey of 79 Indoor Hockey Caps for SPAR South Africa against Namibia back in 2014 and managed to score her first goal in her fourth game. That ratio quickly swung and Botes retires as the second highest goal scorer in South African Indoor Hockey history with 85 scored in her 79 games. A remarkable achievement considering she is primarily a defender. At the 2018 Croatia Indoor Cup, Kara netted five in a then world record 21-0 victory over Slovenia.
Kara's Indoor Hockey captain, both for her time at the Raiders and with the national team, Cindy Hack was glowing in her praise of Botes:
"I have had the privilege of playing many years with Kara. She has an exceptional ability to read the game and her eye for the pinpoint pass was unrivalled on the court. She had such great tenacity and was always someone that was better to play with than against! Kara was also devastatingly dangerous at penalty corner time and a real weapon in our attack. Thank you for your service to our country and to our game! Good luck for the new endeavors, I have no doubt you will be an immense success!"
Her outdoor career was also a superb one after making her debut in 2016 against Argentina in Bloemfontein and going on to accumulate 53 test caps including playing at the Commonwealth Games on the Gold Coast and at the Vitality Hockey World Cup in London. In recent times it has been alongside Erin Christie that she has built a superb understanding at both club, provincial and national teams.
"Kara will be missed in the SA outdoor team. Her flair, deception and creativity are what made her a great player and asset to the team. As a teammate, Kara was always available to everyone and loved picking our brains about the most interesting topics. Although she will deny it, the EXTROVERT in her brought a lot of fun and laughter to us all. We wish Kara all the best and happiness on her next adventure and no doubt it'll be a successful one."
Marissa Langeni, the CEO of SA Hockey shared her thoughts as well:
"An  extraordinary talent whether playing indoor hockey or outdoor. Kara's utmost dedication to the green & gold was rewarded by a stellar career and we would like to take this opportunity to thank her for representing South Africa over the years."
As Kara leaves a massive gap on the hockey field, we know she will be smashing it in the business world with that same flair!
Article was originally publish on FIH.CH
Marsha Cox is an undisputed legend of South African hockey. Making her senior international debut in 2001 at the tender age of 18, Cox – or Marsha Marescia, as she was known before her marriage to renowned Dutch hockey coach Alexander Cox – went on to represent her country a staggering 347 times over a 14-year career, competing at the Athens 2004, Beijing 2008 and London 2012 Olympic Games, captaining her country both in Beijing and London.

As well as the Olympics, she also played in four World Cups, four Commonwealth Games competitions and is a multiple African continental champion. It was a remarkable journey for Cox, who grew up in Durban and experienced apartheid in her early years before going on to become a trailblazing and iconic figure in South African hockey, not to mention a truly world class player.

In the first of two interviews, Cox – who lives in the Netherlands with Alexander and their daughter, with baby number two set to arrive in September – reflects on her Olympic memories as a player, whilst also recalling the day she was left completely star-struck by meeting track icon Usain Bolt in the Olympic Village at Beijing 2008.
Hi Marsha, thank you for talking to us! Looking back on your international career, what moment would you say that you are most proud of, and why?

Marsha Cox: "I would probably say that one of my proudest moments would be my first Olympic Games. I think that would always be something special. You know, growing up in apartheid South Africa, and being part of pretty much the first generation of change as a teenager, being exposed to the Olympic Games at a time when for the first time we were possibly even allowed to dream of it, it was a seed that was planted. In 2004, when I was part of the Athens Olympic team for South Africa, that was huge honour and a huge achievement, and something that I had dreamt about, but never, as a teenager, thought that could ever become a reality. So, when it did, it definitely marked one of the most special moments in my playing career."

What is your best memory from competing at the Olympics, either on or off the field?

Marsha Cox: "It's a bit tough! I think the first on-field amazing memory would be at the 2004 Games in Athens, which was my first Olympic Games. We were having a really rough start to the tournament, and in the pool stages we came up against Germany, and we ended up winning that game 3-1. As the tournament continued, it only got tougher of course, but Germany went onto win the Olympic gold medal. Actually, we were the only team to take points off Germany at the Olympics in Athens, so that one will definitely stick in the memory bank.

"Off the field, there have been so many great memories. I think one I'll always treasure was at the Beijing [2008] Olympic Games, the moment that I met Usain Bolt just outside the Jamaica House in the Olympic Village. It was after he had broken the 200m world record. I remember being so star-struck, not knowing what to do! I didn't have my telephone with me, I didn't have anything. I just had my SA gear that I would need to travel back home to South Africa [wearing]. I asked him for his autograph, and as I had nothing, he signed his autograph on the leg of my tracksuit pants. So, I travelled back to South Africa in the tracksuit pants that had Usain Bolt's signature on them. That is definitely one [moment] that I will remember as well."

This month would have been the start of the Tokyo 2020 Olympic Games, which has now been delayed by one year due to the COVID-19 global health pandemic. As a triple Olympian who captained the team at both Beijing 2008 and London 2012, what did it mean to both you and your family to represent South Africa on the biggest sporting stage in the world?

Marsha Cox: "I can totally understand the disappointment, for some athletes, that it has been extended by a year. But, for others, it is a great opportunity, to have an extra year of training and preparation. Being a triple Olympian is something that is special, and something that I am extremely proud of. For my family of course, growing up in a completely different time, this is something I think will always be dear to my family, the fact that I participated in three Olympic Games. It's an amazing event, and I think participating and being one of those very unique athletes thereafter makes it something even more special. You truly understand how unique it is, to be an Olympian. I can only imagine the excitement and anxiety as we build up to Tokyo 2021, for some of the players. But for myself alone, being an Olympian is something that I am forever grateful for."

South Africa's teams, both women and men, will both be involved in Tokyo next year, something you must be delighted about. Do you have any words of advice for those younger members of the teams who will be attending their first Olympic Games?

Marsha Cox: "It's fantastic that South Africa will compete in Tokyo 2021, both the men and women's hockey teams. For all the youngsters going to their first Olympic Games, I think the only advice I can give you is to cherish every single minute of it. It is going to be over before you know it, but one thing to bear in mind is that everyone is there to compete, and everyone is there with the winning mind-set. So, go out there with that exact same mentality, that exact same conviction, and do your best. But most of all, enjoy every single moment of every single experience that you are exposed to at the Olympic Games."

The second part of our extensive interview with Marsha Cox will be published in the coming weeks.
Image - Kym Clayton
In the wake of the devastation caused by the Corona Virus, world wide sports fixtures have been postponed. The gap left on the calendar has meant that an opportunity opened for China's national hockey team to have a training camp in South Africa and ultimately that has led to an unofficial four match series between the two Olympic competitors.
UCT Hockey ground in Cape Town will play host to four matches between Robin van Ginkels South Africa and a Chinese side that features Giles Bonnet as the assistant coach. Giles is no stranger to South African Hockey obviously having coached the national womens team at our last Olympic Game appearance in London. The matches will be played on 10, 11 and 13 March (14:30) and on the 14th March at 12:00. It is probably the last time Western Cape fans will be able to see the team in action before the Olympic Games begin in July this year.
China have seen their Pro League games against Belgium and Australia postponed, with other games likely to follow, so are looking for every opportunity to get some game time together. For the South Africans its an opportunity to build on the work done during the Summer Series earlier this year.
Although the matches will not have official test status and as such no ranking points, the South Africans will be excited at the opportunity to test themselves against a third top ten opponent of the year so far. China are currently ranked 10th in the World rankings, hot on the heels of India in 9th. The South Africans are currently ranked 16th.  
South Africa secured their spot at the Tokyo Olympics when they won the African Hockey Road to Tokyo event in Stellenbosch, while China came through a nerve wracking penalty shootout after a 2-2 aggregate score in their Olympic Qualifying playoff match against Belgium.
For China it will be their sixth successive games with a high of a silver medal in 2008 when they hosted the games. The South Africans will feature in their fifth with a best finish of 9th in 2004.
SA Squad vs. China (Unofficial Series)
Nicole Erasmus (Walraven), Tarryn Mallet, Nicky Veto, Erin Christie (Hunter), Quanita Bobbs, Izelle Verster, Sylvia van Jaarsveldt, Ongi Mali, Tarryn Glasby, Robyn Johnson, Lilian du Plessis, Kara Botes, Bianca Wood, Hannah Pearce, Stephanie Baxter, Onthatile Zulu, Marizen Marais, Lisa Deetlefs, Celia Evans, Kristen Paton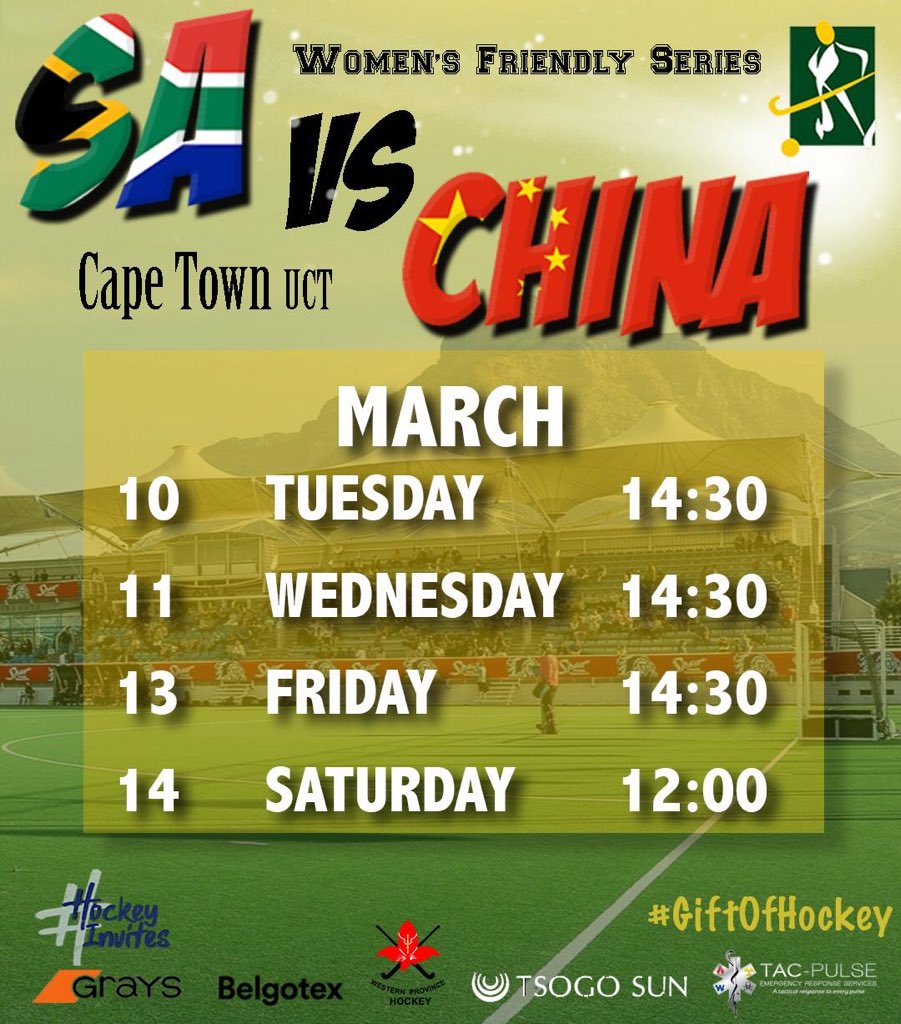 The South African ladies took on Germany in the final match of the three test Summer Series in Stellenbosch this morning. Although the Germans had already won the series by winning the opening two games, the South Africans knew that a shock victory would earn them more than just pride as ranking points are now available for every test match.
Having been completely outplayed on Sunday in the second test the South Africans wanted to give their fans a better showing in this match and for large portions they did just that. Kristen Paton continued to be a shining light for the South Africans while Erin Hunter and Onthatile Zulu themselves produced moments of quality to give real hope.
But in truth the South Africans were always second best to a very good Germany side. The South Africans were sitting back and absorbing waves of pressure looking to take advantage of counterattack opportunities. But once again the timing of a goal would have caused disappointment for Robin van Ginkel. Naomi Heyn beating her marker and finishing past Marlise van Tonder within a minute of break was perfect timing for the Europeans and more frustration for the South Africans.
The Germans finally made it 2-0 with their sixth penalty corner of the game when Sonja Zimmermans strike was deflected past Van Tonder and the resistance seemed to have finally been broken. Rebecca Grote made sure the Germans wouldn't need another six penalty corners before they scored again as she finished the seventh expertly to make it 3-0. Their eighth corner produced another goal this time for the impressive Pia Maertens which rounded up the scoring.
The South Africans did produce a wonderful break away in the final minute of the game but Nicky Veto, who was on the end of the move, was denied by a good save. The play summing up the South African series as end-product is a significant concern for the management team.
That ends the Summer Series for the South Africans who disappointingly lost their six test matches. There was some good work and good processes put in place, but the hard yards are only going to get harder before the team embark on Tokyo.
Summer Series Results
First Test – SA 0-4 Germany
Second Test – SA 1-8 Germany
Third Test – SA 0-4 Germany
Image - Kym Clayton - Not for Reuse
The second test of the 2020 Summer Series between South Africa and Germany will be one that the Germans will fondly remember, and the hosts will look at for lessons on efficient and precise attacking.
It took the visitors less than a minute to take a lead through Pia Maertens with her third of the series and they doubled the lead in the 9th minute through a Pauline Heinz field goal. The South Africans ended the quarter with the perfect response though hard-working midfielder Kristen Paton. Having had to defend for the previous five minutes, Paton played a precision one-two with Robin Johnson produced a wonderful run and finish into the bottom corner. It was a bright moment for the African champions, but unfortunately the last true bright moment of the game as the German juggernaut punished the hosts in the remainder of the game.
Although the second quarter was still competitive, the Germans only managing the one goal in the session through Naomi Heyns, who tapped in from less than a metre after the hosts failed to deal with the cross to re-establish the two-goal cushion.
The decent crowd in attendance were then witness to German efficiency picking up goals at regular intervals in the second half. Rebecca Grote made it 4-1 through a "wrong side" penalty corner attack and it was quickly 5 for Germany when Sonja Zimmerman with a low drag flick. The Germans were accumulating the penalty corners through a sheer weight of pressure and Lena Micheel was the next to benefit with a rocket strike from the top of the D to make it 6.
It was a penalty corner again for the 7th with Sonja Zimmerman sending in a low drag that probably should have been stopped and the Germans made it 8 with their final goal of the game. Rebecca Grote probably didn't catch the strike as well as she would like but the variation available to Germany made them a constant threat.
South Africa will be massively disappointed with their performance in the game, but this was more about just how good the Germans are. They are undoubtedly a medal contender at the Tokyo Olympics and have maybe laid down the mark for what South Africa need to do in our own road to Tokyo.
The South African side did not have a lot of time to mull over the series defeat to Ireland in Stellenbosch before they were back on the turf taking on the world number 4 Germany in a three-test series.
The Germans would be led by legendary captain Janne Muller-Wieland who has more than 300 caps for her country and would feature a mix of experience with Anne Schroder, Lisa Altenburg, Cecile Pieper all having more than 100 caps joined by Rosa Kruger, Pauline Heinz, Naomi Heyn and Pia Maertens all in the earlier part of their careers.
The South Africans obviously would keep the same squad that took on the Irish with Erin Hunter (Christie) leading the team, while Sandiswe Tabata was to earn her first cap in the opening test.
Germany started the game brightly earning an early goal through Pia Maertens. She picked up the ball just outside the D before doing a reverse turnaround to create a bit of space and her finish showed why she is so highly rated.
The South Africans to their credit managed to suffocate the play and frustrate the Germans throughout the contest but a 3-goal blitz from the visitors in the final quarter meant that the Europeans added some gloss to the score-line.
Maertens got her second and her teams second when she converted simply after a superb run by one of her team-mates, before Rebecca Grote and Lena Micheel added the gloss to the score-line.
For the South Africans the eyes turned to Sunday and an opportunity for revenge, and of course some much-desired world ranking points!
Photo – Kym Clayton Sport Photography – Not for re-use
The Summer of hockey between Ireland and South Africa came to its conclusion tonight at Maties Stadium in Stellenbosch. The summer of course kicked off with an indoor hockey test series between the two nations, before the outdoor sides locked horns this week with a firm eye on the Tokyo shaped horizon speeding towards us. The two teams will play their opening games against one another on the 25 July at the Olympic games.
Ireland had won the opening two games with convincing displays, but the character of a South African will shine through brightest when our backs are against a wall. And this is the way the hosts started in the bright sun of the Western Cape.
Robyn Johnson found space down the right-hand side and fired in a cross that the Irish defence was unable to deal with. Nomnikelo Veto was the quickest to react to the loose ball and fired home on the dive past a helpless Murphy in the Irish goal. It was Veto's second of the series and her fifth in her 15 International games so far. It was exactly the kind of start coach Robin van Ginkel would have been hoping for.
South Africa were having a fair amount of the ball in and around the Irish defensive quarter but were failing to get as many penetrations as their performance deserved and were left to pay for it in the second quarter. Ireland hit the post after a thrilling counterattack before winning a penalty corner from the same play. Although the initial slap was saved, the ball rebounded to injector Hannah Matthews, who after 145 test caps was never going to miss.
At 1-1 South Africa created a wonderful opportunity through a superb drive by Kristen Paton but her finishing was off target. Had she scored it would have been one of the goals of the summer. It was clear that Paton and Quanita Bobbs were growing in influence in the game in the third quarter which is why the timing of the Irish second would have frustrated the South Africans.
Just before the break at the end of the third quarter the South Africans needlessly gave away a penalty corner with a poor tackle. Roisin Upton showed the value of a quality drag flick as she finished superbly. The South Africans had two penalty corner opportunities to pull the game level and grab a few ranking points but were unable to breach the Irish defence and ultimately had to settle for a 2-1 defeat.
It was a clearly improved performance, but the South Africans will have their work cut out for the remainder of the Summer Series as they face Germany over three tests on 30 January, 2 February and 4 February. For Ireland its job well done and focus on further preparations.
Summer Series – SA vs. Ireland – Results
First Test – SA 0-1 Ireland
Second Test – SA 1-5 Ireland
Third Test – SA 1-2 Ireland
Image – Kim Clayton Photography – Not for Reuse
Since the opening test both teams have been hard at work in Stellenbosch working towards their goals for the Tokyo Olympics. The South Africans were in action against the SA Invitational U21's and Netherlands U21 while Ireland took on Netherlands U21 and Germany in a test match.
The South Africans had competed well in parts of the first test but the second test was all Ireland as they punished every mistake by the South Africans with ruthless efficiency. Anna O'Flanagan was at the heart of the first goal, laying off to Katie Mullan and then picking up Ellen Curran's pass, leading to a reverse across goal which Nikki Evans turned in.
Two goals in a minute before half-time made it 3-0. Shirley McCay's sweep hit a foot on the line and Lena Tice scored the ensuing stroke. Roisin Upton created and scored the third, stepping through to rob possession on halfway and she piled forward, feeding Evans who returned the favour for the Limerick woman to net.
O'Flanagan got her own goal early in the second half before Nomnikelo Veto got one back in 40th minute. Sarah Hawkshaw's corner goal, however, finished off the scoring toward the end of the third quarter.
For the South Africans it was a case of back to the drawing room with a lot of work to do over the remainder of the series, while for Ireland it was a happy result after their 4-0 defeat to Germany on Saturday.
The two teams lock horns again on Tuesday night at 19:00 for the final test of their series. Although Ireland have already won the series, there are still world ranking points up for grabs as the South Africans look to close the gap between them in 16th and Ireland in 8th.
Earlier in the night the SA Invitational side gave a spirited performance before going down 3-1 to the Netherlands U21, Mishka Ellis creating more highlights on an already impressive CV.
Picture – Kim Clayton Photography, not for reuse.
In 2018 Ireland headed off to the Vitality Women's Hockey World Cup and shocked the world as they produced a sensational run of form to make the final of the tournament. Since that tournament the Irish qualified for the Tokyo Olympic games, triumphing over Giles Bonnett's Canada, and played 32 test matches.
They would be the perfect opposition for Robin van Ginkel's SuperGroup South Africa as they began the next step of their preparation on the Road to Tokyo. The South Africans have been starved for Test Match hockey having played just 12 tests in the same time, but would be returning to Maties, the ground where they became champions of Africa in August last year.
The game had an added degree of excitement as firstly the two teams have been drawn in the same pool for the Olympic Games. Secondly, the new ranking system introduced by the FIH, is now live and for the first time ever a Summer Series Test match would earn ranking points. To round of the excitement the game marked Kara Botes 50th test cap for South Africa, becoming only the second South African women to earn 50 in both indoor and outdoor hockey after Kelly Reed.
The South Africans, giving Tarryn Mallet her debut, started the game well with some good possession but were unable to make their few big chances count. Quanita Bobbs arguably had the best opportunity but found her strike well saved by Elizabeth Murphy. Ireland on the other hand made the most of their big opportunity scoring a goal through Elena Tice who converted superbly from the penalty corner at a blustering Stellenbosch Hockey Stadium.
Coach Robin van Ginkel would have seen many positives from his team, but also have areas to work on ahead of their next games. Ireland will next be in action against Netherlands U21 on Tuesday, while the South Africans will take on the SA U21 Invitational Side on Wednesday.
SA Women's Hockey Summer Series Fixtures
19 January - SA 0-1 Ireland
22 January – SA vs. SA Invitational U21
23 January – SA vs. Netherlands U21
26 January – SA vs. Ireland
28 January – SA vs. Ireland
30 January – SA vs. Germany
2 February – SA vs. Germany
4 February – SA vs. Germany
Image - Kim Clayton - Not for reuse
The South African Women's Hockey side are bracing for a bumper 7 months that will culminate in their confirmed participation in the Tokyo Olympic Games in July. The first step of this journey is the squad heading down to Stellenbosch where they will take on the SA Invitational U21 side, Netherlands U21, Ireland and Germany.
The SA Hockey Women's squad has today been announced for the Summer Series. It's a massive opportunity for all the players selected to stake a claim for a place on the plain to Tokyo later this year.
Lilian du Plessis, the top scorer in the African Hockey Road to Tokyo event, as well as Ongeziwe Mali, player of tournament in Stellenbosch will return to their happy hunting ground. While Kara Botes and Robyn Johnson will hope to bring the great indoor hockey form to the outdoor team.
Erin Hunter and Nicole Walraven may both be wearing new names on their backs, following their respective nuptials, but that defensive brilliance will still be on show.
SA Women's Hockey Squad for Summer Series
| | | |
| --- | --- | --- |
| No | Name | Province |
| 1 | Stephanie Baxter | North West |
| 2 | Quanita Bobbs | Western Province |
| 3 | Kara Botes | Southern Gauteng |
| 4 | Dirkie Chamberlain | Western Province |
| 5 | Lisa Deetlefs | Southern Gauteng |
| 6 | Lilian du Plessis | Southern Gauteng |
| 7 | Celia Evans | Northern Blues |
| 8 | Tegan Fourie | KZN Raiders |
| 9 | Erin Hunter | Southern Gauteng |
| 10 | Robyn Johnson | Southern Gauteng |
| 11 | Ongeziwe Mali | Eastern Province |
| 12 | Tarryn Mallet | Southern Gauteng |
| 13 | Marizen Marais | Northern Blues |
| 14 | Mmatshepo Modipane | Southern Gauteng |
| 15 | Kristen Paton | Southern Gauteng |
| 16 | Hannah Pearce | Southern Gauteng |
| 17 | Sylvia van Jaarsveldt | Southern Gauteng |
| 18 | Marelize van Tonder | Southern Gauteng |
| 19 | Nomnikelo Veto | Southern Gauteng |
| 20 | Nicole Walraven | Northern Blues |
| 21 | Bianca Wood | Border |
| 22 | Ontathile Zulu | SA U21 |
SA Women's Hockey Summer Series Fixtures